House Democrats are presently occupying their chambers with a sit-in to force a vote on gun control, after a series of speeches imploring their colleagues to "do [their] jobs," as Rep. John Lewis (D-GA) says in the video above.
For approximately 20 minutes after the sit-in began Wednesday morning, both Democrats and C-Span accused Republicans of turning off the cameras, preventing the sit-in from being broadcast. (At press time, the cameras seemed to be turned back on, after pressure from Twitter users including C-Span and Rep. John Yarmuth (D-KY), who was documenting the sit-in from his account.)
G/O Media may get a commission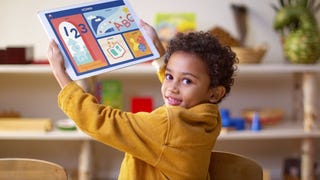 30-Day Free Trial
Homer Learn & Grow Program
"The soul of this nation cries out for a vote," said Rep. John B. Larson (D-CT). "We ask our colleagues to provide us with the simple dignity that every American is calling for... a vote."
After Lewis, a former Civil Rights leader who is leading the charge, spoke for a bit longer, Larson doubled down, saying "Rise up, America, rise up, Democrats, this cannot stand!"
By noon, after the House chaplain led representatives in prayer, the Democrats commenced their sit-in and the House went back to recess. As of press time, the sit-in was growing.
Democrats have been pushing Republicans to consider a gun control vote, last week executing an eight-hour-long filibuster. Thus far Republicans, some of whom are definitely NRA-influenced, have resisted. On Monday, the Senate blocked a total of four gun control proposals.
Update, 12:30 PM: As the Democrats sit in, KOMO News reports that another shooting has occurred, this one with three dead and one wounded, in Lacey, Washington, outside of the Olympia area.
Update, 12:52 PM: Senator Dick Durban (D-IL), Assistant Senate Democratic Leader, has joined the sit-in with the House, according to USA Today's Deborah Berry.
Update, 1 PM: The Huffington Post reports that this sit-in has been in planning for days, and suggests that more actions will occur. Additionally, it says that Senate Minority Leader Nancy Pelosi planned the "No Bill, No Break" tagline, which has been chanted by representatives in the House Chambers and has subsequently become a useful Twitter hashtag, along with Reps. Steve Israel (D-NY) and Mike Thompson (D-CA):
At a caucus meeting on Wednesday morning, Pelosi told members that a "great deal of planning is in the works" for the next few days and encouraged them to remain united in trying to force a vote. According to an aide who was present, she said she empathized with the desire of many lawmakers to show their constituents that they were not content with inaction.

"Many of you have said that we cannot have another moment of silence without action to follow. These moments of silence have almost become a moment of denial because it's a denial of what we need to do," Pelosi told members. "We have to turn it into a moment of truth and actions — where we go from here."

In addition to the Lewis-led sit-in, aides said to expect lawmakers to file repeated motions to adjourn and parliamentary inquiries demanding votes. Pelosi will also lead a press event on Wednesday calling on Ryan to keep the House in session until they vote on the two gun-related bills.
The cameras in the chambers are still shut off; C-Span is airing Periscope footage and breaking news tweets at present.
Update, 1:08 PM: CNN's Craig Caplin reports that Pelosi has joined the action:
Update, 1:10 PM: Rep. Charlie Rangel (D-NY) is streaming footage from outside the chambers on his Periscope.
Update, 1:16 PM: Minority Leader Pelosi and Assistant Minority Leader, Rep. James Clyburn (D-SC), are speaking on the steps with survivors and family members of those killed by gun violence stand behind them in support. "We want effective background checks," says Clyburn. "We want the no-fly list to be honored in such a way that potentially dangerous people cannot be able to casually purchase firearms."
As they speak, participants in the sit-in continue to update their Twitter accounts.
Update, 1:25 PM: Reporter Stephen Dial, of Jacksonville's First Coast News, notes that we likely won't see live footage of the sit-in on television anytime soon.
According to Vulture's Joe Adalian, it was House Speaker Paul Ryan himself who pulled the plug on the cameras:
Update, 1:56 PM: POTUS supports.
Update, 2:09 PM: NBC News's Alex Moe reports that more Senators have joined the sit-in, and that House Leader Kevin McCarthy (R-CA) and House Democratic Whip Steny Hoyer (D-MD) may be working on a way to get the vote.
Update, 2:33 PM: A source tells NBC News that the Republicans are going to drag this out as long as they can. They seem to be banking on the idea that Dems will become tired, or hungry, enough to shelve their priorities. With John Lewis at the helm, though, this could be a long stand-off.
Update, 2:50 p.m.:
With the C-Span cameras still turned off, C-Span is cleverly broadcasting a Periscope from the House floor.
Update, 3:23 PM: Pelosi rolls through with a beautiful son:
At present, Rep. Bobby Rush (D-IL) has the podium, viewable here.
Update, 3:36 PM: Rep. Debbie Wasserman Schultz (D-FL) breaks down during a speech that quotes her friend, former Rep. Gabby Giffords (D-AZ), who nearly died from an assassination attempt in 2011. "Speaking is difficult," she says, "but I haven't been silenced."
A stream from the House is ongoing here, via C-Span.
Update, 6:06 PM: Bernie Sanders has joined the sit-in.
This is a breaking news post and will be updated.