After nearly a year of widespread, stomach-churning speculation that Morning Joe co-hosts Joe Scarborough and Mika Brzezinski were engaging in a romantic relationship outside of their professional one, the two have confirmed to Vanity Fair that they are not only a couple, but that they're recently engaged.
Scarborough and Brzezinski have cohosted the nearly unwatchable MSNBC morning show since 2007, when they were both married to other people. Over 10 years, they've gone from sighing and rolling their eyes disdainfully at each other over coffee and smoothies while having unenlightening political conversations to sighing and rolling their eyes romantically at each other over coffee and smoothies while having unenlightening political conversations.
Brzezinski says the two never acted on their attraction for each other until "a year and a half ago," adding:
"Everyone talks about how there was always something there. Over the past year and a half, I realized I had to face these feelings and that it was time to stop putting them in a box. It was not an easy process and it was not an easy set of decisions for either of us. It was something I couldn't deny anymore."
G/O Media may get a commission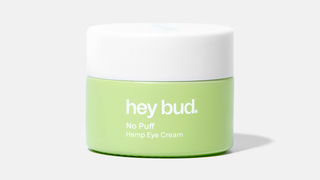 15% off
Hey Bud - No Puff Hemp Eye Cream
Last weekend, some 18 months after Joe transitioned from Brzezinski's Morning to her Morning, Noon, and Night, he proposed during a trip they took to France for her 50th birthday. Writes VF:
Scarborough...plopped down on one knee with an oval-shaped diamond ring set in platinum that he'd been hiding in his suitcase for days and asked her to marry him. "When I saw him on one knee, I started laughing nervously, almost hysterically," she said. "And then he asked, and I said, 'Absolutely.'"
Aww, sweet, right? Maybe if the story had ended there it would have left a sort of inoffensive but not exactly pleasant Stevia-like taste in my mouth. Unfortunately it didn't.
Later in the piece, Scarborough reveals that the subject of marriage came up in January, "when they went to visit Donald Trump in the White House just a little more than a week after his inauguration." (Typical 100th-date stuff.) During dinner, President Trump threw an offer on the table:
If they planned on getting married, they should consider doing so at Mar-a-Lago or the White House, they recalled. "That's when Jared interrupted and said, 'Hey, you know what? I've got my license. I could marry you,'" Scarborough said.
Trump then snapped, "Why would you marry them? They could have the President of the United States marry them."
When asked if she would take the President up on his offer to marry them "at Mar-a-Lago or the White House," Brzezinski said, "No, no, no, no, no." Nah, they'll just settle for dinner every now and then.