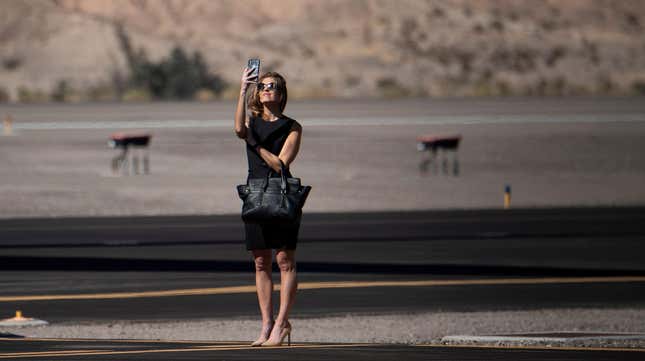 On January 6, 2021, as scores of domestic degenerates—from a fraudulent Palm Beach boating salesman to an Ohio exterminator who stole liquor and a coat rack—descended on Capitol Hill, Rep. Alexandria Ocasio Cortez feared rape; Rep. Ilhan Omar made what she thought could be a final call to her ex-husband and the father of her children; photographers and journalists suffered violent assault; and somewhere—quite likely from a secure location—President Donald Trump's favorite aide, Hope Hicks, fretted over future perennial joblessness, according to newly released documents.
America's Favorite Pasttime: Dunking On Dr. Oz
"In one day he ended every future opportunity that doesn't include speaking engagements at the local proud boys chapter," Hicks texted to Ivanka Trump's chief of staff, Julie Radford. "And all of us that didn't have jobs lined up will be perpetually unemployed."
"We all look like domestic terrorists now," lamented Hicks, who Trump affectionately nicknamed "Hopey" and "Hopester". The texts were part of the latest release of snort-inducing documents made public by the House select committee investigating the insurrection.
"I know, like there isn't a chance of finding a job," Radford replied. "Visa also sent me a blow off email today."
"Nope. Not being dramatic, but we are all fucked," Hicks wrote. Baby, you're from Greenwich, Connecticut. You're bred to survive ruin!
Perhaps the most amusing tidbit in this tête-à-tête is Hicks' inclusion of the tepid response to the insurrection from Ivanka Trump's sister-in-law, supermodel Karlie Kloss, who tweeted at the time: "Accepting the results of a legitimate democratic election is patriotic. Refusing to do so and inciting violence is antiAmerican."
Hicks shared a screenshot of the tweet with Radford, along with a reply from one user who wrote: "Tell your sister-in-law and brother law."
"I've tried," Kloss responded in another tweet.
"Unreal," Radford wrote to Hicks of the tweets. "She just called me about it." Whether "she" here refers to Trump or Kloss, I'm not sure. Either way, I have to giggle.
Now, I know it's unbecoming to begin a new year delighting in someone's misfortunes (Hicks doesn't yet appear to have a new gig), but I'm of the mind that anyone from the Trump administration—especially someone who was one of the former president's most trusted and longest-serving aides—deserves to be mocked relentlessly by default.
Besides, when it comes to finances, she's doing just fine. When Hicks left the White House in 2018 for a two-year stint as the chief communications officer and executive vice president of Fox News, she took home a whopping $1.9 million. (She returned to the White House in March 2020.) She also hails from one of Greenwich's most prominent families: Her father was once the regional CEO of Ogilvy Public Relations Worldwide, and executive vice president of communications for the NFL. He's currently the managing director of the Glover Park Group, a D.C. communications consulting firm. Methinks moving back in with mom and dad wouldn't be the worst thing in the world.
I'd be remiss not to add that Page Six reported in March 2020 that she was dating Goldman Sachs managing director and member of the president's Intelligence Advisory Board, Jim Donovan. This is a woman with options!
And hey, if leaning on rich parents (or yes, a man) to pad her bank account until she gets back on her feet doesn't appeal (can't relate), Hicks could always return to modeling. There's gotta be another mediocre book series begging for her to appear on its cover. I may be a bitch, but I'm a big enough person to admit that while Hicks will likely never serve time for enabling and empowering a serial imbecile, she has consistently served hair, body and face. The blowouts! The commitment to camel! This tuxedo moment!
Lest anyone worry for Hicks, perhaps comfort can be found in her senior yearbook. "The future belongs to those who believe in the beauty of their dreams," she erroneously quoted Jimmy Buffet beneath her composite photo. Never mind that Mr. Margaritaville did not say that, and the quote should've been attributed to Eleanor Roosevelt. Clearly, she's an optimist.
Keep your glossy-haired head up, Hopey.