An assistant director who has worked on a string of Hollywood blockbusters including Insurgent, Pirates of the Caribbean, and The Lone Ranger was arrested earlier this year and charged with secretly filming models as they changed in their dressing rooms at a commercial shoot.
According to a search warrant issued by the Los Angeles County District Attorney's Office* Kevin Thomas Roy is accused of being a prolific voyeur who stashed cameras in bathrooms, inside trailers, in his own home, and in hotel rooms. The warrant alleges that he was in possession of a hard drive containing 40 videos and over 400 photographs from hidden cameras.
Sources tell Jezebel that Los Angeles County Prosecutors have failed to notify dozens of other models, actresses, stand-ins, and others who worked with him that they may have been filmed without their knowledge. According to his IMDB profile, Roy has worked on more than 50 film and television productions since 1998, with actresses like Scarlett Johansen, Reese Witherspoon, Penelope Cruz, and Amy Poehler.
Jezebel spoke to two of the women who were secretly filmed by Roy; we are protecting their identities while they pursue legal action.
"He had access to everybody because he would run base camp on a shoot," said one of them, who worked with Roy and whom we'll refer to as "Jane." Base camp is where all the trailers, changing rooms, bathrooms are set up for the cast and crew. "No woman is safe with him on set," she said.

G/O Media may get a commission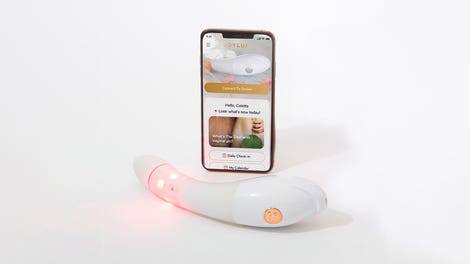 $50 Off
Joylux vFit Gold Device
"You can even see his face setting up the camera in different dressing rooms and bathrooms," said a second victim, "Cindy," who has seen footage from the confiscated hard-drives. "He set up a camera that filmed me while I was in the bathroom. When I saw the footage I was disgusted. I couldn't believe it."

Even though the hard drive contained evidence pointing to more than a a hundred instances of criminal behavior, the Los Angeles District attorney only charged Roy with two counts of misdemeanor invasion of privacy for secretly filming two models in their dressing room while on a car-commercial shoot in Los Angeles last summer.

Roy originally pleaded not guilty when he was initially charged in May but then changed his plea to "no contest" on June 26th. He was sentenced to three years summary probation and a 52 week sex-offender rehabilitation program, but he will not need to register as a sex offender.

Roy allegedly filmed and photographed women in multiple states including Louisiana, Georgia, Hawaii and Nevada, and jurisdictional issues made it difficult for the Los Angeles District Attorney to pursue all the potential crimes. However, victims say the department could be doing more to alert other women Roy filmed.

One victim, Cindy, was told by Roy's ex-wife that she was secretly filmed. It was Roy's ex-wife who found the hard drive and initially reported him to the prosecutor's office. Cindy went to the LAPD asking for help, and was told that she would need to file a police report in the state where she was filmed.
"No one in the Los Angeles District Attorney's office has contacted me about pursing this case," Cindy said. "I have spoken with other women who were filmed by [Roy] and they weren't contacted either. I don't think it's fair that other women were victimized and have not been told about it. Famous women and regular working women were all equally victimized by him."
Jane told Jezebel that at least one major movie star from the Pirates franchise was suspicious of Roy during filming and the star had their security detail look into Roy but found no police record. Nevertheless, rumors swirled on set.

A source to close to Roy said he had informed an Insurgent production staffer that he was being investigated for a "sex tape thing" related to a filmed "prank".
Red Wagon, the production company behind the Insurgent franchise, has not returned Jezebel's request for comment.
Jezebel reached out to the Los Angeles District Attorney's office to inquire about the other victims. Their press officer offered this statement: "While others also may have been filmed, only two victims were identifiable. The defendant was charged with two misdemeanor counts of unauthorized invasion of privacy pertaining to those two identified victims."
Roy has not responded to Jezebel's request for comment.
*The warrant was given to Jezebel with all the names redacted, including Roy's.
---
Contact the author at natasha.vargas-cooper@jezebel.com.

Image via Shutterstock.