I'm a touring musician, and as such, the two things that stress me out the most day-of shows—besides the inevitable gaggle of friends asking to be put on the guest list—are what I'm wearing and what my face looks like. When it comes to beauty, I'm low- to no-maintenance; a result of my strict parents who forbade me from using virtually all cosmetic products, my inherent lack of attentiveness to aesthetic detail and a marginal amount of healthy no-fucks-given. Three years ago on tour, I attempted to learn how to curl my hair, and fifteen shows later, my ass still has no idea how to do that shit. There's a screw loose somewhere. So, I chopped my hair off. My brilliant hair stylist Nina from Gold Comb Salon calls it a "wash and wear" style, herself perhaps just mildly appalled by my absence of fucks.

This is what it looks like when someone who knows what they're doing puts makeup on my face.
However, as the need to wear more makeup has arisen as the result of my career, I've finally begun to invest and Sephora's $50 full makeover service has become the source of most of my acquisitions. The makeup applications are always legit and very affordable when I'm rushing out for a photo shoot or performance, and I end up leaving with product my cheap ass would never otherwise buy off the shelf.

So, here's the 24 hour product diary of a girl on the go who learned the importance of primer, like, a year ago. I'm currently in New York to play shows this week with my band, so you get to see me on a typical travel day.
G/O Media may get a commission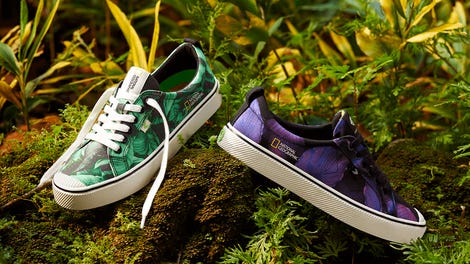 New New New
Cariuma + National Geographic
By the way, I have no Caboodle or shelving unit. If it can't fit in my backpack, it does not belong in my life. All of my beauty products fit in this adorable bag handmade by my friend Abbie Martin.
MORNING:

I wake up in my sister's bed in midtown Manhattan having flown in from Los Angeles the night before. The only things on my face are my (flaking off) eyeliner—Stila 'Stay All Day' Waterproof Liquid Eye Liner, which I wear nearly every day—and a couple of zits. Pretty typical. Oh, and my glasses.
I love my glasses because they are huge and cover up a lot of my face for when I'm way too lazy to put anything else. They are the welcome barrier between myself and the outside world.
Good morning, NYC.
After two hours of strong coffee and much Gmail, I hop in the shower and scrub my face with Dr. Bronner's Castile Liquid Soap in Peppermint because it makes me tingle. I often use my Binchotan Facial Puff—a sexy Japanese exfoliating sponge I bought at Poketo—to wash my face in the morning, but I left it at home. Womp-womp.

What I don't use in the shower: conditioner. When I was getting my hair cut, Nina remarked that my hair was super oily, and was likely a cause for my chronic acne around my hairline. So I stopped conditioning entirely. My skin is much, much, much better. And while I used to revel in the silkiness of my conditioned hair, my hair has generally been chillin' since. I use the OGX Coconut Water Shampoo. Why? Because it was on sale at the drug store, and they don't test on animals. It sufficiently cleanses my hairs.
AFTERNOON:
Time to cut out. I am the queen of the thirty second make up application. This is all I use on my face:
Fresh Umbrian Clay Oil-Free Lotion: smells great, is super light and keeps my face moisturized. That is all I know to know about this!

Make Up For Ever: Step 1 Skin Equalizer Radiant Primer, Yellow: I was skeptical of this primer at first. I had been using the Too Faced Primed and Poreless which I really enjoyed, having just learned how primer can eliminate the need for foundation during day-wear. Plus, when the makeup consultant told me that the yellow primer was the one for me, I was like skkkkkkrt #dasracist. I do have to say that once this primer settles, it's solid gold, and does not make my skin look chalky but does indeed even out my tone and reduce redness.
Globby Yellow primer, pre-smearing.
MAC Studio Careblend Pressed Powder: I don't really know what powder does (absorb oil? Even out tone? Other buzz-phrases for what you put stuff on your face to do?) but I use this on my face and my face looks better afterwards.

.... and there's that Stila pen again. If it ain't broke...
I generally just have a lipstick or two in every pocket of every jacket, plus a few in my wallet. I'm too scattered to do it any other way. Today I pulled out a Bite Luminous Creme Lipstick that my friend gave me. So I put that on my lips and away I went.
Luckily for me, my destination was checking into this wildly amazing Brooklyn brownstone called The Patch where me and my bandmates will be staying for the night before we play Wednesday at the Knitting Factory in Brooklyn.
THIS. PLACE. CRAY.
We jumped on all of the beds, and my beautiful sister Josephine cooked us a meal.
Turns out they send a professional photographer to capture the band in the house with all the vibes. Forgot my contacts back at the other crib, but I'm about to doll up underneath my frames so I look presentable for these pics.
There's Vito the photographer, and my silly bandmates, Parker and Lace.
EVENING:

In addition the products above, I throw the following on:
Urban Decay Naked Skin Weightless Foundation, which is a little darker than my currently paling face deserves and can be kind of chalky, but goes on smooth with the primer.
NARS Radiant Creamy Concealer. I Finally allowed myself the price point of NARS and it is sooo worth it. I had been using a Make Up For Ever concealer tube but now I love the way that this NARS product blends much more.
Tarte Park Ave Princess Contour Palate. I do not contour per se (the highlighting part fell out, to my chagrin) but I do rosy up my cheeks with the blush and brush the bronzer all over my face.
Eyebrow Gel & Brown Eyeliner: OK, I don't remember the eyebrow gel brand—my friend bought it for me from a fancy suburban spa—but it's a tinted gel/mascara that I brush through my eyebrows as if I know how the hell to shape them. Lately, I've been dipping a finger into this Dior brown eyeliner that my boyfriend's mom gave me a year ago that I never otherwise use, and filling in my brows with them. Looks better, so I'm gonna keep doin' it.
Maybelline Great Lash Mascara. Forever and for always.
Stila Stay All Day... YOU ALREADY KNOW!!! This pen makes me feel like I look like I know what I'm doing with makeup even though I generally don't.
Shameless selfie, and then me getting caught by my bandmate Lace…
You may notice in the primer photo up above that I have a pronounced zit on the left corner of my lip. I put a dab of Murad Acne Spot Treatment on it (a sample from a dermatologist that I'm surprised I still have), and just lightly brushed the blemish with concealer, but otherwise left it alone, because pimples happen.
Is this the time to say, also, that I apply any kind of liquid makeup application with my bare hands? I think that's supposed to be bad for you? These are my confessions. At least I wash 'em good before I smear skin-colored stuff all over me.
At the end of the night, my sister asked if I had brought any face wash, as she spontaneously decided to stay the night. When I remarked, "I'm just going to use the soap," she was appalled. "You have to take care of your skin! Soap will age your face!" I don't know. For me, it's a win if I muster up enough strength to fight my laziness and wash my face at all.
---
Hollis is a writer and the lead singer of the band The Flavr Blue, who plays in Brooklyn on Wednesday, Boston on Thursday, and in their hometown Seattle next month. Their newest album, Love Notes, comes out this Friday.