The prophecy came true this morning when Savannah Guthrie revealed that NBC's best employee Hoda Kotb had officially taken over for Matt Lauer as the permanent co-anchor of Today. "This has to be the most popular decision NBC News have ever made and I'm so thrilled," Guthrie said.

Kotb began filling in for Lauer after his firing late last year, and sources (a.k.a. myself) had been telling Jezebel (based on exactly zero insider knowledge) that she was the top pic for Lauer's permanent replacement for weeks. (It just made the most sense, you know? Who else were they going to choose, Carson Daly?)
In an email sent to staffers, NBC News Chair Andy Lack wrote:

"Hoda is, in a word, remarkable. She has the rare ability to share authentic and heartfelt moments in even the most difficult news circumstances. It's a tribute to her wide range and her innate curiosity."
I'm so happy for Hoda. I'm so happy for us.
[Page Six]
---
If you woke up this morning seeing the name Logan Paul everywhere and have no idea why, let me give you the abridged version, because it's not worth reading about for more than 30 seconds:
Logan Paul is a very famous YouTuber (he has 15 million subscribers) with no relation to Aaron Paul (despite this TMZ headline) who first became popular on Vine (this means teens love him) who shared a video on Monday of him and a friend wandering through Japan's Aokigahara forest and discovering the body of someone who had died by suicide. After viewers expressed their outrage, Paul deleted the video and shared this (from Notes App):
G/O Media may get a commission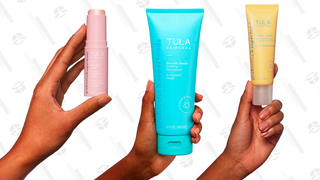 He is now canceled.
[CNN]
---
Britney Spears and Sam Asghari are #RelationshipGoals!!!!

---