After months and months of incurring a litany of salty tweets from melting orange popsicle Donald Trump, presumptive Democratic nominee Hillary Clinton has finally fired back, and it is glorious to behold.

After President Barack Obama publicly endorsed Clinton on June 9, Trump (predictably) tweeted his reaction—in this case, illuminating his disdain for the current POTUS and Clinton—all the while referring to the first female candidate in a national general election by his favorite epithet, "Crooked Hillary."
Clinton (or rather, one of the members of her social media team) responded to Trump's post with a curt and effective gem.
G/O Media may get a commission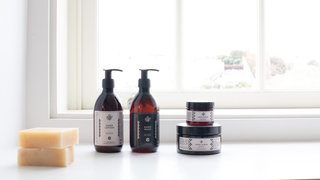 Exfoliate and Hydrate
The Handmade Soap Company
Vox broke down the meaning of "delete your account," which can be categorized as typical jokester jargon, rather than a literal request or order:
"Delete your account" is a pretty standard joke tweet, especially in political and media Twitter (which both the people writing "Hillary Clinton's" tweets and the people reading them in the middle of a Thursday afternoon are likely to be familiar with). But this is a well-executed iteration of it.
You don't tweet "delete your account" in response to an outrageous or offensive tweet, because it's not a serious demand. So many of the things that Trump tweets (or retweets) wouldn't be appropriate targets. Rather, "delete your account" is used when someone has tried to be funny on Twitter — for example, by attempting to land a sick burn — and failed.
After the tweet went viral, Trump attempted a retort with a strategy that can only be described as "part obvious redirect, part quasi-conspiracy theory."
Here's the answer, courtesy of Samantha Bee:
Mic: dropped.
---
Contact the author at jamie.reich@jezebel.com.

Image via screenshot/Twitter.