We were all aware that Hillary Clinton could smile like a winner, but who knew she is also skilled in not smiling at well-timed, seemingly inopportune moments? This tactic is called "deadpanning," and Clinton used it to wonderful effect as she subjected herself to an interview with comedian Zach Galifianakis on his sporadic web series "Between Two Ferns."

The video of the interview, published on Thursday, was viewed 30 million times in the first 24 hours after its release, giving it the highest first-day viewership in Funny or Die history, according to the Hollywood Reporter. That's way more views than Galifianakis' last interviewee/victim, Brad Pitt, who is having a decidedly worse week than Clinton.
The premise of the show: Galifianakis makes fun of you and in return, if you play your cards right, you come off as a person who can take a joke. This is not typically thought of as Clinton's strong suit, however she responded like a seasoned ironist to Galifianakis' lobs on the Trans-Pacific Partnership, debate attire, and the possibility of civil war should Donald Trump be elected.
"Are you excited to be the first girl president?" asked Galifianakis, tempting fate. Hillary took that in stride, maintained her composure, and gave a ten-second stump speech about how much little girls and boys look up to her. Galifianakis followed that up with my personal favorite line of the interview: "For a younger, younger generation, you will also become their first white president."
Clinton also had a chance to sharpen her Trump stand-up routine, with Galifianakis' help:
Galifianakis:" Do you wonder what your opponent might be wearing [to the debate]?"

Clinton: "I assume he'll wear that red power tie"

Galifianakis: "Or maybe a white power tie."

Clinton: "That's even more appropriate."
Haha, rich, yes, Donald Trump is beloved by white supremacists.
Galifianakis stressed the "Die" just as much as the "Funny." He creeps out to greet the Democratic nominee wearing a grim reaper mask, and Clinton's title when introduced is "Had Pneumonia."
G/O Media may get a commission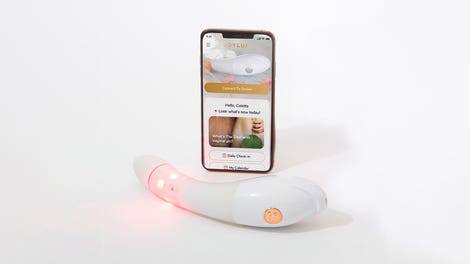 $50 Off
Joylux vFit Gold Device
I only regret that Bernie Sanders never got his moment in the "Two Ferns" hot seat too, for he is on auto-deadpan, or, one might say, he knows not of humor and wanting to be liked, and that's impossible to fake.
Watch it: