Hillary Clinton has opened up to media outlets about the robbery of her good friend and occasional selfie partner Kim Kardashian, telling the folks at Extra, "I felt really bad for her." I know you're asking yourself questions like, "Why was Hillary Clinton interviewed on Extra? Wait, Extra is still on television? And people actually watch it?" But please stop, as there are no good answers to be had.
Writes ExtraTV (bold mine:)
While commending Kanye West for rushing to Kim's side after the incident...Hillary added, "He was in the middle of the concert and he ran offstage, bless his heart. I'm just glad nobody was hurt."
I'm with her!
[Extra]
---
This next item is very good for two reasons: 1) Because Melissa Etheridge sort of gets into the dark side to Hollywood publicists, and 2) Because Melissa Etheridge sings a song about Brad Pitt.

G/O Media may get a commission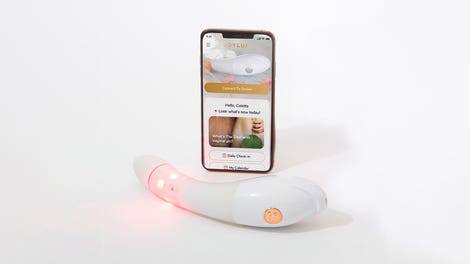 $50 Off
Joylux vFit Gold Device
Remember how we featured her in Dirt Bag earlier this week because she mentioned that she was on Team Brad and that Angelina was a no-good marriage destroyer who was not to be trusted? Well, while being interviewed by sentient wind-up doll Andy Cohen on Watch What Happens Live!, she claimed to have been "contacted by a 'fixer' for Jolie [who] issued a 'subtle warning.'"
She went on:
"There are people whose job it is to kind of fix things for celebrities… I haven't spoke to Brad in forever. Every time I say something it gets turned around and twisted and all of a sudden I'm saying something about [Angelina] … so I thought I would do what I do best, and I wrote a song about it today."
Would you like to hear the song? Of course you would.
Here are the lyrics, transcribed by the good folks at Celebitchy:
"Seems I said some things about an old, old, old friend that got some people talking. Well, I know broken hearts, a thing or two about divorce, I've been there before once, OK twice. And I have not seen my friend in over 10 years and I swear I have never, ever, ever, ever, ever met his wife…Fixer, I hope you understand to scandalize was never my plan. So the moral of this story is divorce is a bitch and nobody wins. Let's not do unto others and please forgive us our sins, life is too hard anyway. So when you chatting with Andy, you better watch what you say."
---
Wow. Who'd have thunk being married to be John Slattery would be great.

[Page Six]
---