What an... exciting day it's turning out to be: while Hillary Clinton addressed the Planned Parenthood Action Fund Friday, seagull dipped in tikka masala Donald Trump headed to the Faith and Freedom Conference, where he was briefly interrupted by protesters from the women's rights group Code Pink.
In her first major speech since clinching the Democratic nomination, Clinton laid out an extremely ambitious reproductive rights agenda in her remarks to the PPAF, including promising to repeal the Hyde Amendment, which largely bans federal funds from paying for abortions except in narrow, state-by-state instances. And unlike in the Democratic debates, she clearly and unambiguously named abortion access as a fundamental priority, worth defending.
Here's a big snippet of the speech:
We need to defend Planned Parenthood against partisan attacks. If right-wing politicians actually cared as much about protecting women's health as they say they do, they'd join me in calling for more federal funding for Planned Parenthood.

We also need to fight back against the erosion of reproductive rights at the federal, state, and local levels, and ensure that patients and staff can safely walk into health centers without harassment or violence.


We need to, we need to stand up for access to affordable contraception, without interference from politicians or employers. And let's invest in long-acting reversible contraceptives, so every woman can choose the method that is best for her. Let's strengthen and improve the Affordable Care Act, which covers 20 million Americans and saves women millions of dollars through no-copay preventive care.


Let's take action to stop the spread of the Zika virus, which threatens the health of children and pregnant women.


Let's repeal laws like the Hyde Amendment that make it nearly impossible, make it nearly impossible for low-income women, disproportionately women of color, to exercise their full reproductive rights.


And, it is worth saying again: defending women's health means defending access to abortion – not just in theory, but in reality. We know that restricting access doesn't make women less likely to end a pregnancy. It just makes abortion less safe. And that then threatens women's lives.

Meanwhile, in a fun, almost too metaphorically note-perfect coincidence, Donald Trump spent the same day courting the far-right evangelical contingent at the Faith and Freedom Conference, run by the Faith and Freedom Coalition. But before he could say too much about his love for Two Corinthians, Code Pink hopped in:
G/O Media may get a commission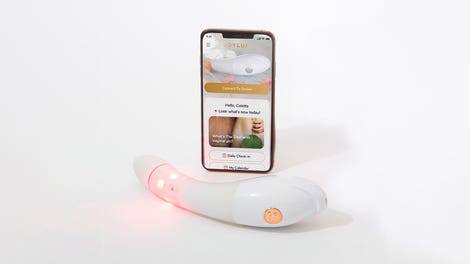 $50 Off
Joylux vFit Gold Device
After the demonstrators were removed, Trump, as reporters present noticed, pretended to be the most non-inflammatory version of himself:
Trump, who's spent weeks attacking a Latino judge for being Latino, also suddenly claimed that he believes no one "should be judged for their race or color:"
"Freedom of any kind means no one should be judged by their race or their color and the tone of his hue — should not be judged that way. Right now, we have a very divided nation. We're going to bring our nation together."
Your old friend Carly Fiorina and former presidential candidate also attended Faith and Freedom, where she dropped what was likely meant to be an incredible bombshell: "Hillary Clinton, newsflash: I'm a feminist - and I'm not voting for you."
Clinton rounded out her day burning Trump on Twitter for the policies he supports that would negatively impact women and reproductive rights:
---
Clinton addressing PPFA. Photo via AP