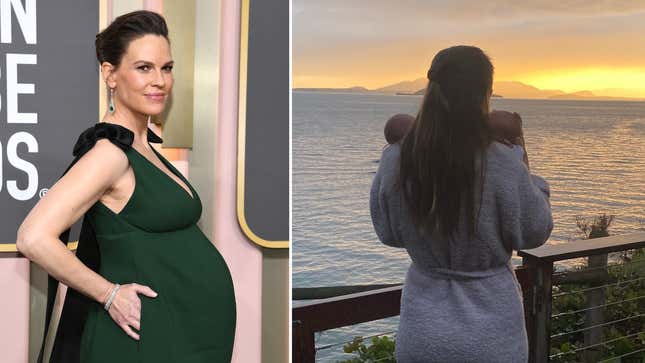 Hilary Swank announced on Sunday that she and her husband Philip Schneider welcomed their twins—a boy and a girl—over the weekend. Swank shared the news via an Instagram post of her holding the babies and watching the sunset, with the caption: "It wasn't easy. But boy (and girl!) was it worth it. 👼🏼🤍👼🏼Happy Easter! 🐣🐣 Posting from pure Heaven. 🙌🏽"

Is Emmy Rossum Old Enough To Play Tom Holland's Mom?
The birth comes after Swank, 48, announced her pregnancy on Good Morning America in October. "This is something that I've been wanting for a long time," Swank told the audience. "My next thing is I'm gonna be a mom. And not just of one but of two." In an appearance on The Drew Barrymore Show that same month, Swank revealed that her twins' due date was the same as her late father's birthday: April 16.
Swank's Sunday Instagram post didn't give the twins' exact birth date, but they seem to have arrived just slightly earlier than her expected due date.
In January, Swank said on the James Corden Show that pregnancy brought her a number of realizations about her body. "I feel like women are superheroes," she said, specifying she was then at the 27-week mark. "What our bodies do—I have such, like, a whole newfound respect. I mean, I love women, I've always loved women, but now, I'm like, 'Wow, we can do this!'"
As I wrote last fall when the actor announced her pregnancy, I couldn't be happier for her: Swank has spoken openly about wanting kids since 2006. For so many women and people with uteruses, infertility challenges can be heartbreaking and even traumatic. It's been heartening to watch Swank's pregnancy journey, as she's joined growing numbers of people who are starting families, becoming pregnant, and giving birth later in life.
After all, we live at a time in which young women are increasingly being targeted with invasive egg-freezing ads across their social media feeds, imploring us to get started on the process right-fucking-now with our biological clocks ticking. Swank's story is a reminder that everyone should be able to plan and build their family on their own timeline and have access to all the resources they need to do so.
Truly, at one of the bleakest moments in time for the rights of pregnant people, as our lawmakers do essentially everything they can to make pregnancy as dangerous and disempowering as possible, I've admittedly found some comfort in Swank's story. It's a reminder that pregnancy and parenthood should be a joyful, chosen experience at any time in life—not a dehumanizing state mandate.
So congrats to Swank, of course, and may her story bring some warmth and joy to anyone considering starting a family a little later in life.