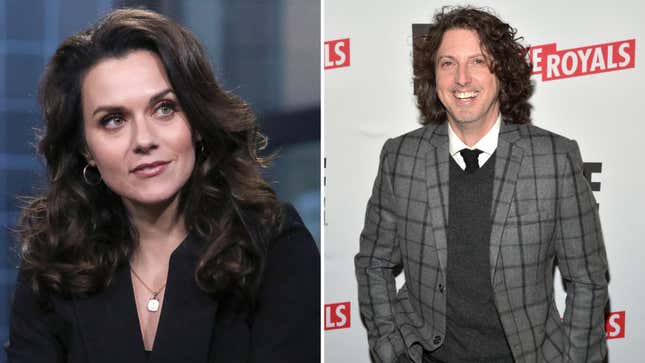 If you're a woman in Hollywood, a walk down memory lane isn't always a pleasant one—in fact, it's often traumatizing. In the latest episode of Drama Queens, a podcast hosted by One Tree Hill stars Hilarie Burton, Sophia Bush, and Bethany Joy Lenz, the three recap the OTH episode "It Gets Worse at Night," which they filmed in Honey Grove, Texas. And while the episode itself is heartwarming (their friend group bails Mouth out of jail), things were much darker—and much worse—on the set. Burton said that show creator Mark Schwahn assaulted her multiple times over the course of filming the episode, which aired in 2007.
The Housewives Have Kept Mum About NeNe Leakes' Lawsuit
Burton told her former co-stars that she and Schwahn—whom she only refers to as the "boss" on the podcast—traveled to Honey Grove prior to filming to surprise a local high school that had won a contest with the CW, the channel OTH aired on. "The flight back from that is when he assaulted me. He assaulted me again in the car on the drive from Raleigh to Wilmington," she said. (OTH filmed in Wilmington.) As if this wasn't already traumatizing enough, Schwahn immediately started spreading rumors on set about the encounters: "He went straight to set and he told Danneel [Ackles] that he and I made out the whole time, and it was fun, and he was trying to make her jealous," Burton recalled. "So, she confronted me about it and was like, 'What are you doing?' And I'm like, 'What are you talking about?'"
Schwahn's actions severely impacted Burton's ability to do her job. "I didn't know how to process it anymore and you can see it in the episode," she continued. "I didn't know how to process it anymore and you can see it in the episode. You can see that I'm not there…I look like shit, I'm not connecting in any way." According to Variety, Burton was one of 18 women who have accused Schwahn of sexually harassing them during their time on the show. It's been a while since I've rewatched the series, but knowing what was going on behind the scenes really taints the nostalgic love I have for the show.
Burton said she "told everybody" what Schwahn did to her but added that their co-star Chad Michael Murray (who played Lucas Scott) was the only one able to stand up to Schwahn: "He watched our boss grab me in front of a lot of people, and you know, Chad didn't have anything to lose because he knew our boss hated him anyway. A lot of people had a lot to lose, so you don't speak up when you have a lot to lose."
Bush pointed out that it was both Murray's fame and bad relationship with Schwahn that allowed him to speak up. "He had the most power, so he could come up and shove our boss off you and get in a fight...I want everybody to follow that lead," Bush said. "Thank God, Hilarie, that you had that moment with Chad, who was already so at odds with our boss." That's certainly one way to leverage your boss not really liking you.
While I'm glad Murray had the balls to stand up for Burton, female actors deserve to feel safe in the workplace and believed when they bring these incidents to light. Lucas was a bit of a knight in shining armor throughout the show, but Burton's character, Peyton, certainly never needed saving.