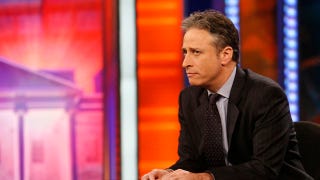 Rhett Felix, a first-year government and law teacher in Eureka, Illinois, has been suspended for six days and reassigned for showing clips of The Daily Show to high school students. The segments shown in class didn't focus on Jason Jones' vasectomy, but sexual harassment allegations against Herman Cain and the issue of health insurance discounts for exercising. Mayor Scott Punke, whose nephew was in the class, protested Felix's lesson because teens in their "conservative community" can't handle the Daily Show's dirty (and liberal) humor. He said:
"I did [support the suspension], because of the language and the sexual overtones that were included in the show that were being shown to sophomores in high school ... Many of the children don't even have TVs in their houses because of religious beliefs."
Felix has certainly learned his lesson about trying to get high school kids engaged in politics with sexy talk about health insurance discounts. Looks like it's back to reading from the textbook and watching old Schoolhouse Rock videos when Mr. Felix is out sick.
Daily Show Suspension: Teacher Who Showed Show In Class Is Suspended For Six Days [Chicago Tribune]