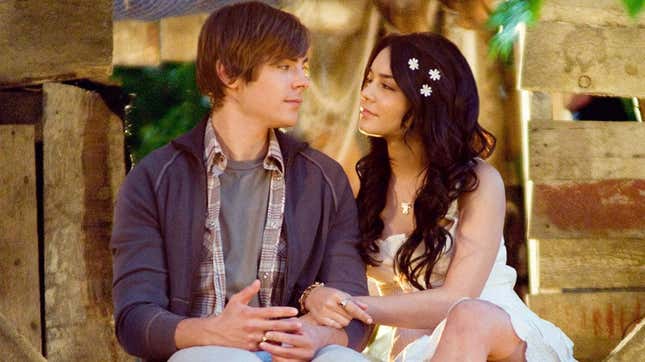 Ahh, just what I've been looking for: A status update on Troy and Gabriella's relationship, just over 15 years after High School Musical premiered in 2007.
In the premiere of High School Musical: The Musical: The Show's fourth and final season, a handful of cast members from the original movie trilogy appear as fictionalized versions of their real selves (??) returning to East High to film an imagined High School Musical 4 (???). I am an adult so I do not watch this show (though I was obsessed with the original franchise as a teen), and this universe-within-a-universe framing is a bit dizzying for me. (Are kids' shows meant to be this meta?)
But here's what caught my attention: Corbin Bleu, who played Chad in the movies, shares where all the main characters are now. "It is our 15-year high school reunion," Bleu (who, again, is playing himself) begins. "My character Chad is married to Taylor. Martha is a world-class choreographer. Ryan is happily partnered." Lucas Grabeel says that his character, Ryan, is out and proud now, and is expecting twins with his partner (who is portrayed by Pentatonix's Scott Hoying). And then, the most dramatic and perhaps least expected tidbit, Bleu says: "Troy and Gabriella are in couples' therapy."
Now, I'm going to level with you: I have a lot of feelings about the apparent rockiness of these fictional characters' present-day relationship. When I was a small child, Zac Efron and Vanessa Hudgens introduced me to the beauty of young love on my TV screen through song and dance. Their chemistry was palpable; it didn't hurt that Efron and Hudgens were dating throughout the bulk of filming the HSM movies, from about 2006 to 2010. I did not take their IRL split well at the tender age of 12—and nor am I taking news of their fictional characters' marital issues particularly well as an adult.
To cope, I have developed some theories about what, exactly, prompted these two to go to couples therapy—and I must say kudos to these two (fictional) kids for caring enough about their marriage to try counseling.
Theory 1: It's hard to make a high school relationship last. Do you know anyone from your high school who's still together? And if so, are they happy?? (And sure, maybe you do! In that case, sorry for being a hater, but I think it's fair to say that that's not the norm.) To have a longterm relationship start when you're both literally kids, and to grow in the same and/or complementary ways?? I cannot speak from personal experience, but that sounds like a lot.
Theory 2: Troy peaked in high school. A classic case of a big fish in the small pond that is high school transitioning to being a much smaller fish in like... an ocean. Troy was probably a mid at best basketball player on UC Berkeley's team, while Gabriella thrived at Stanford and is now both a world-renowned neurosurgeon and running for Senate. I can only imagine how insecurity, jealousy, boredom, and all the stresses of adult life compounded and took a toll on their love.

Theory 3: Troy and Gabriella forced their relationship and now they're dealing with the consequences. Sure, it all worked out seamlessly for the two at the end of HSM 3—how fortuitous that they were both admitted to prestigious schools right next to each other! But at some point their luck must have run out, and they were forced to make sacrifices they didn't want to in order to stay together, and now they're stewing in resentment. It could be that simple! "My prom is wherever you are," Troy famously tells Gabriella toward the end of High School Musical 3 after he throws away a quintessential high school experience to follow Gabriella to Stanford for an orientation program that falls during prom. Maybe you should've just gone to your prom, Troy!!
Theory 4: The writers are punishing Zac and Vanessa. Among the cast members who returned for HSMTMTS (including Bleu, Grabeel, Monique Coleman, Kaycee Stroh, and Bart Johnson), Efron and Hudgens—the franchise's biggest stars—were very notably absent. "Here's my fully transparent answer: First of all, Zac is busy. He has 20 movies going," HSMTMTS showrunner Tim Federle told Entertainment Weekly. "Vanessa's super busy and so gracious." That's all well and good, but Federle surely knows how essential Efron and Hudgens are to the HSM Cinematic Universe, and I wouldn't be surprised if this whole "couples therapy" twist is vengeance for the two biggest HSM stars declining to pull up.
Theory 5: The writers knew we could only suspend our disbelief so far. I have faith in the HSM Cinematic Universe writers, who, after all, gave us Zac Efron dancing out his feelings on a giant golf course in HSM 2. They probably knew we'd have our doubts about high school sweethearts sticking it out for 15 years, so, as a compromise, Troy and Gabriella are now in therapy—getting their heads in the fuckin' game so they can stay all in this together (sorry)—to inject some sense of reality.
Theory 6: Troy cheated on Gabriella with Sharpay. I have, at least in a couple cases I am not particularly proud of, hooked up with high school classmates after graduating—all people I probably never would have been with while we were actually in high school. Troy was never, ever into Sharpay, to the extent that it brought him great distress even just to use her as his college recruitment meal ticket in HSM 2. But, hey—things change when you peak in high school and are slapped in the face by the cold reality of adult life. And it might be comforting to indulge in some nostalgia—namely in the form of hooking up with the gal who was obsessed with you in your glory days. Surely adult Sharpay could do better than a washed-up Troy Bolton, but maybe he caught her on an off day?