If you have kids like me, you know that the optimal parenting situation is one where your children are close but not actively annoying you. Corporate America knows this, which is why they've gone to great lengths to accommodate parents who wants to experience the joys of the outside world without having to deal with their kids every five goddamn seconds. This is why chain restaurants have endless crayon supplies. This is why your gym has day care. This is why resorts have kiddie day camps. And now, according to the LA Times, movie theater chain Cinepolis has taken it one step further by putting a fucking jungle gym right in the auditoriums:

Look at that goddamn thing. Please note that this isn't like your standard Mommy Matinee, where they cut ticket prices and jack up the sound to drown out your kids' wailing. Cinepolis is gonna charge $3 extra if you want to watch Lego Batman in this glorified McMansion basement.
"It's really intended to make kids feel welcome and comfortable," said Cinepolis USA Chief Executive Adrian Mijares Elizondo. "The whole idea is to make it easier for parents to take their kids to the movies and let the kids have more fun."
This does not make it easier to take my kid to the movies. How am I supposed to focus on anything if I have to constantly peek to the side to make sure my kid didn't hang himself in the netting, or get in a fight with some other asshole's brat? There comes a point where you have to make so many accommodations to children out of the house that you never should have left it to begin with, and this is one such instance.
Furthermore, the whole reason to take the kid to a movie is so that they watch the fucking movie. They don't need to be entertained when there's already entertainment right there on the screen to enjoy. They can sit and they can watch and they can take in a story for 90 minutes. And if they can't do that, then they can stay home. I know that if I'm at home with the kids for too long, I HAVE to get them out of the house before I go insane. But this is not the answer. I can just run them around the mall instead and save $39.
G/O Media may get a commission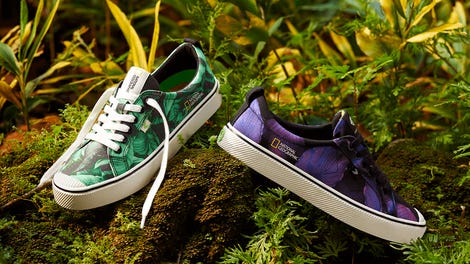 New New New
Cariuma + National Geographic
Or I can tell them that they have to figure out away to entertain themselves. The entire BIG PARENT economy now is centered on finding ways to occupy your kids when, really, they have to find a way to occupy themselves. You gotta teach kids how to be bored. If you're at a movie and the kid doesn't like it, then they can stare at their hands for an hour, or they can tuck into a ball and think about dragons. Whatever. Learning to be bored is a crucial life skill, and you won't acquire it if everywhere you go has a goddamn Ferris Wheel on the side.