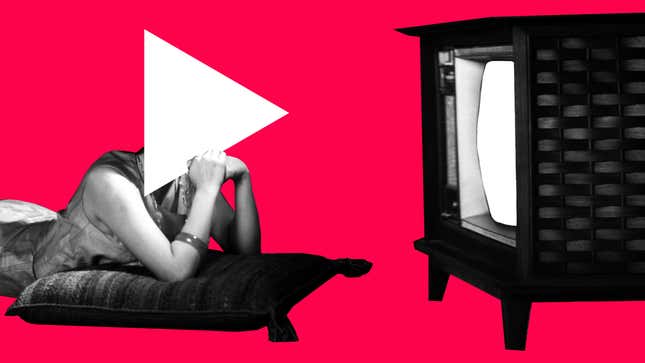 Every time Netflix releases something new, my telephone presents a small alert telling me that new content is available. This happens not every Friday or even every Tuesday or perhaps every other Wednesday, but almost constantly. It is not new or particularly interesting to say that there is too much content, but sometimes news that is not really newsworthy must be repeated so that it actually sinks in.

There are too many shows about cooking, storage facilities, and rich white men. Who can keep up? Not us—and maybe not you? Here's what the Jezebel staff is streaming instead of the one hundredth darkly-lit boardroom drama about fathers, sons, mothers, daughters, or a terrible family secret.
Julianne Escobedo Shepherd
I'm streaming Terrace House at any given moment, but also when my boyfriend makes me take it off we watch Netflix's I Am a Killer which is the exact spiritual opposite of Terrace House and features murderers on death row talking about their crimes as well as their victims' families, etc. Bleak, bleak shit. I don't recommend watching it right before you go to sleep because you will have disturbing nightmares.
Clover Hope
If we're speaking technically, everything I watch on my TV now is "streamed" since I switched from DirecTV satellite dish to DirectNow (this is not an ad for it; it's actually kinda spotty). But as far as which shows, Terrace House on Netflix still consumes my life and is my main source of comfort. After watching Opening New Doors and Boys and Girls, I'm now on to Aloha State. I've also been watching Floribama Shore's second season because I love that the show hearkens back to a time when cameras were grainy and the reality TV kids were, in addition to being too lit, also painfully raw.
Katie McDonough
I am, like everyone else I know, watching Terrace House, a show about horniness and quiet melancholy. I miss talking to friends and loved ones about things that aren't Terrace House, but I have learned to accept that this is what our life is now.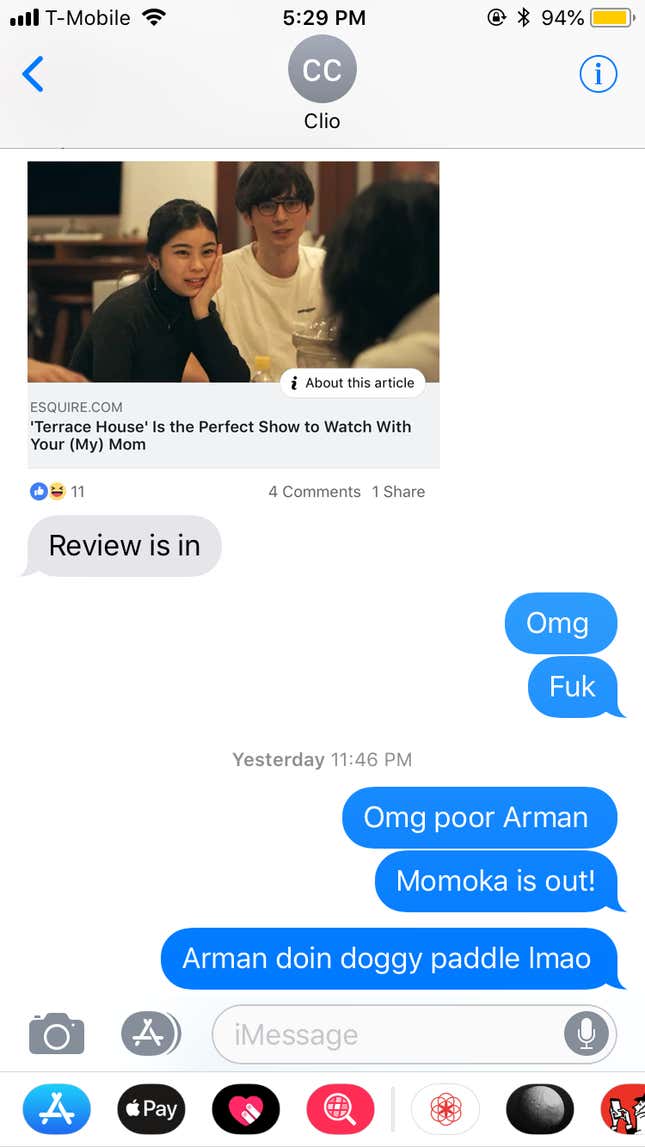 Prachi Gupta
I discovered the wonders of Terrace House when Clover described it to me as a reality TV show where everyone is really nice to each other, they talk about their hopes and dreams, and then a panel weighs in with fun commentary, just like you're doing at home. And that's exactly what it is! And I love it! I was sad when the third season of Terrace House: Opening New Doors ended so abruptly, but then I discovered that I hadn't seen the first season, Terrace House: Boys and Girls in the City, which I just started. So far, no one has charmed me as much as dear Tsubasa, the sweet ice hockey player I now follow on Instagram, but I have hope.
I'm also streaming The Americans, a show I'm late to, but also now more or less watch as a compulsion. I'm getting bored of Elizabeth and Philip's never-ending missions, the endless betrayals or killing off of the few characters I like, the confusing plot lines, and Elizabeth's borderline sociopathic apathy, because I like watching characters who develop and change. I've got a little more than one season left, at this point hanging on to find out when and how Stan is going to figure it all out.
Ashley Reese
I fucked up and ended up at a point in which I'm watching so many shows at the same time that I fear I'll never finish any of them. Here is the complete list:
Breaking Bad (finally on the last season)
American Vandal (one more episode left???)
Succession (almost done!)
The Vietnam War (Ken Burns docuseries, IDK, I will watch anything with a helicopter landing somewhere while Jefferson Airplane or some shit plays in the background)
Narcos (just finished the second season!!!)
The Deuce (I can't remember what fucking episode I'm on TBH)
Oh, and I'm rewatching My Mad Fat Diary again, kind of. I blame Insatiable.
Kelly Faircloth
Despite all my efforts to be an educated consumer of culture, almost every time I turn on Netflix I eventually just end up watching the 2004 BBC series North and South, which is about Northern English cotton mills NOT the American Civil War. That, or the funniest show I've watched in ages: Nailed It.
Rich Juzwiak
I am streaming what I am always streaming, which is whatever installment of TLC's vast 90 Day Fiance franchise is airing. Right now it's Before the 90 Days, an offshoot of the original series, which follows international couples as they attempt to cram their engagement into three months (the U.S.'s K-1 visa allows someone from overseas to stay in the country for up to 90 days before getting married or, ya know, leaving). Before the 90 Days follows international pairs who are not yet living together in the U.S. (most we see meeting in person for the first time in the non-U.S. citizen's country).
Many started their correspondence online. For a variety of reasons, including eccentric casting, what often seems like obvious production machinations, the pressure of having to make a quick decision about marrying a virtual stranger, nonstop questionable life/parenting choices, and the constant interrogation as to whether or not those from other countries are here for the right reasons, this show is a hotbed of drama. And just when you thought you saw all of the extreme human behavior possible in this scenario, 90 Day introduces you to a couple who met when they duetted together on a karaoke app. Meet Jon and Rachel, you'll be glad you did.
Megan Reynolds
Like a sheep, I have also started watching Terrace House as well as Love Island, a show that I feel is the way all reality shows should be from here on out. When I am not doing that, I will happily settle in to watch Grand Designs, the most wonderful British reality television show about kind people who build giant modern homes in the British countryside. It's my favorite show. Ever. Probably.
Hazel Cills
The final season of Mad Men. I especially go for the Joan and Peggy episodes, for obvious reasons. They are a nice reminder that things for women were bad then and are still just as bad now! Isn't that nice?