These days, what with all the Wall Street bankers and Washington fat cats breathing down our necks, it's hard for the average Joe to make a buck or—in some extreme cases—slurp down a tasty soda. Sure, if you're wealthy, you can drown in Cokes and Sprites and Orange Crushes, but what of the every man? When will HE or SHE or WHATEVER GENDER THEY IDENTIFY WITH get a break?

Well, America, William Powell—a 27-year-old IHOP waiter in Brooklyn, NY who describes himself as a "modern-day Robin Hood"—has heard your cries and is here to help by taking soda from his wealthy corporate overlords and giving it to the community's needy.
"I am not stealing," Powell—who was unjustly arrested for soda theft that adds up to over $3,000—told police. "I am serving the ones in need. I take from the rich and give to the poor. What's the big deal? I've been doing this since I started here."
He further explains, "It was me looking out for the community. There are certain people that couldn't afford the drinks. There was no malicious intent. Me and the owner weren't seeing eye-to-eye."
Of course they weren't! How could they see eye-to-eye when the IHOP big-wigs were too busy staring down at the soda-thirsty masses through their gold-rimmed monocles?
G/O Media may get a commission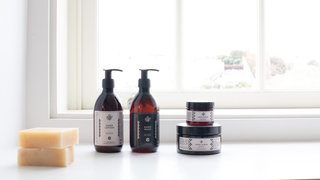 Exfoliate and Hydrate
The Handmade Soap Company
According to a report by the New York Daily News, Powell was caught when "restaurant owner Arkell Cox had reviewed receipts and found beverage orders amounted to just 6% of Powell's orders—compared with the 17% to 20% logged by his co-workers." He was arrested on March 2, 2016.
Now out of jail at the demand of the people (or "his own recognizance"), Powell—an honorary shero—just hopes he'll be able to go back to doing what he loves.
"I really like being a waiter, I love being a waiter," he tells the New York Daily News. "You can change people's day through jokes and everything."
Jokes, everything, and free soda. Thanks, Robin Hood.
---
Contact the author at madeleine@jezebel.com.
Images via Facebook/Warner Bros.