According to several reports coming out of Philadelphia, a former "hero cop" who was once rewarded for his bravery in the line of duty with a seat next First Lady Michelle Obama during a presidential speech is being held on $60 million bail (apparently one of the highest in Philadelphia history) for allegedly raping two women at gunpoint, among some other pretty terrible things.
Richard DeCoatsworth, a 27-year-old former police officer who attended President Obama's first congressional address in 2009, has been charged with more than 32 crimes in three cases, including a domestic violence incident back on May 9 when he allegedly assaulted his live-in girlfriend. The most recent reports of stomach-churning violence from the ex-cop, however, claim that DeCoatsworth forced two women to take drugs and perform sexual acts on him.
NBC10's account of DeCoatsworth's misdeeds is fairly brutal, so be prepared:
A source tells NBC10 former officer Richard DeCoatsworth, 27, met one of the women at a bar on North Front Street two weeks ago, then forced her into prostitution at a Days Inn hotel along Roosevelt Boulevard.

Between 2 a.m. Thursday and Friday evening, DeCoatsworth went to the woman's home along North Howard Street in the Fishtown-Kensington.
Once he arrived, DeCoatsworth forced that woman and a second woman, both in their 20s, to use drugs and perform oral sex on him at gunpoint, according to the source. The alleged victims reported the assault Friday only after DeCoatsworth went home, according to police.

Police raided DeCoatsworth's house on the 2700 block of Salmon Street in the Port Richmond section of Philadelphia around 6:30 a.m. on Saturday. He was charged with rape, sexual assault, terroristic threats and related offenses. Police also confiscated drugs and guns from the home, according to a source. No word yet on what kind of drugs were removed from the home.
Bail has been set at $25 million for each of the victims in the rape cases. Another $10 million in bail was added for the May 9 domestic abuse, bringing DeCoatsworth's grand bail total to a staggering $60 million, reportedly one of the largest in the long, sordid history of Philadelphia crime.
News of DeCoatsworth's arrest didn't come as a surprise to at least one of his neighbors, who, on the condition of anonymity, described him to NBC10 as "a thorn in the side of the neighborhood for so long." Since his 2007 hero-making incident when (as a rookie officer) he chased after a suspect who shot him in the face, DeCoatsworth has had what one might charitably call a history of violence: in April 2009, his gun reportedly "went off" while he was assaulted trying to disperse a crowd, killing the suspect who assaulted him, and in September 2009, after stopping a motorcyclist, DeCoastworth and a fellow officer shot and wounded a second man who jumped on the motorcycle and allegedly drove at them (local witnesses claimed that the two suspects did nothing wrong).
G/O Media may get a commission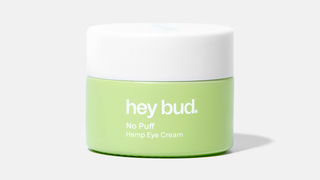 15% off
Hey Bud - No Puff Hemp Eye Cream
In 2011, Internal Affairs investigated an alleged physical confrontation between DeCoatsworth and another officer. Later that year, DeCoatsworth retired from the police force on disability.
Former Hero Officer Charged With Raping Women, Held on $60m Bail [NBC10]
Image via AP, Evan Vucci