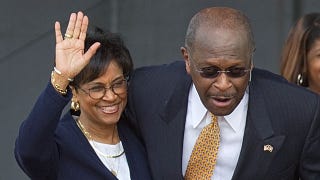 In an interview with Fox News' Greta Van Susteren, Herman Cain's rarely-seen wife Gloria says she knows he didn't sexually harass anyone, so we should all move on since spouses are rarely blindsided by infidelity accusations. The interview airs tomorrow night, but according to excerpts, Gloria Cain says:
"I'm thinking he would have to have a split personality to do the things that were said ... You hear the graphic allegations and we know that would have been something that's totally disrespectful of her as a woman. And I know the type of person he is. He totally respects women."
The Cains have been married for 43 years and Gloria is often described as "gentle" and "the nicest woman you'll ever meet," so we're going to be really bummed out if she winds up standing next to her husband at a press conference as he confesses to certain indiscretions.