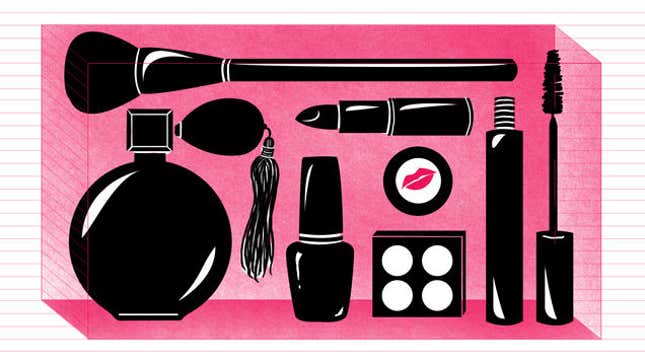 Welcome back to our review of subscription beauty boxes. Which ones are worth it? Which ones are full of junk? Reader Brandi Morgan Kirchgessner guides us through this world of mystery treats. Here's what she's received recently.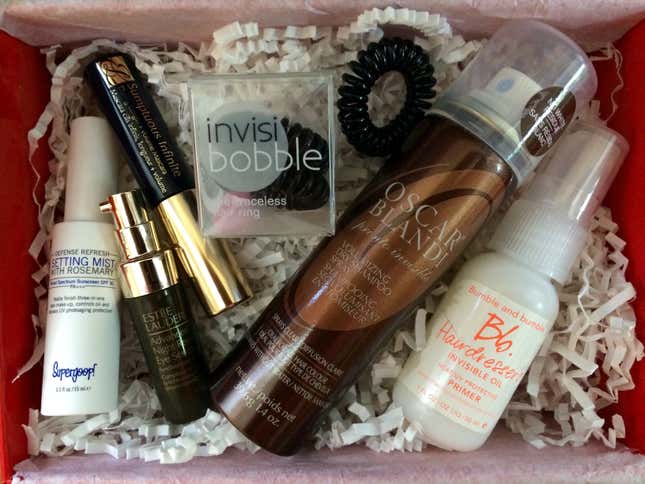 Allure magazine has completely taken over what was the Allure Sample Society box. July is the first month Allure has put the box out independent of Beauty Bar and they have changed the name to the Allure Beauty Box. The packaging and magazine that come with it each month are the same, but I expect that the curation will be much improved. So far, I am liking what I see! Allure sent me this box free of charge, so I gave the products away after reviewing them.
The July box was worth $54.73. I like that their value has gotten higher over the past couple of months. They used to have only five items in a box, but the past three months, they have had six. I am not sure if that is a permanent change or not, but I am hoping it is.
I did not like that the Oscar Blandi dry shampoo was volumizing. It added a ton of volume, which was not flattering on my already very full hair. I didn't find it worked well as a dry shampoo. It is invisible, so it's hard to see if you've fully and evenly covered your hair, so I tried to be very thorough when spraying it. I followed the instructions and my hair didn't look any less greasy than it did before. If you want volume, this is a great product. If you want a good dry shampoo, look elsewhere.
I quite like Estee Lauder's skincare line, so I was happy to see that her Advanced Night Repair Eye Serum was in this box. I love eye moisturizer, but I didn't realize that eye serum existed. The skin surrounding the eyes is usually the first area to show aging, so I am all about anti-aging products for the eyes. One pump of the serum was all I needed to cover both eyes, so this product, though small, should last for a while. Obviously, I haven't used this serum enough to see any real results, but it feels nice going on and I have had good luck with other Estée Lauder skincare products. Serum can help with the absorption of moisturizer, so be sure to put this on before your eye cream.
I hadn't tried an Estee Lauder mascara before, so I had no idea what to expect from the Sumptuous Infinite Daring Length and Volume mascara. It gave way more length than volume, which isn't necessarily a bad thing for someone like me who has very full lashes that aren't all that long. I generally don't have a problem with mascaras smudging under my eyes after a few hours of wear, but I looked like a raccoon by the end of the day with this on. I tried it for a few days and got the same result each time. I wouldn't recommend it.
Supergoop! products have been turning up everywhere lately. Supergoop! products all contain sunscreen, so they are a good choice for summer skincare. Their setting mist works to seal in your makeup and hydrate your skin, like all setting mists, but has the added bonus of sunscreen in it. They don't suggest using it as your only sunblock, but it is good to give you a little added protection and it is easy to reapply throughout the day as necessary. I found it gave my foundation some extra staying power and I liked the extra sunblock. Usually Supergoop! products are very overpriced, but this one is actually reasonable.
You might remember that I was in love with the Bumble and Bumble's Hairdresser's Invisible Oil a few months ago. I had high hopes for the BB Hairdresser's Invisible Oil Heat/UV Protective Primer. Is it a holy grail product like the Invisible Oil was? No, but it still made my hair look shinier and I appreciated the UV protection. Your hair can sustain damage from the sun and is often not protected, so this product definitely fills a gap. I need to get some more of the Invisible Oil so I can use both products together. I'm sure my hair will look absolutely amazing.
Invisibobble is a coiled hair tie that is supposed to keep your hair back without leaving that little dent in your hair when you let your hair down. I just got a haircut and don't have all that much hair to put back (and even when I do, I never use hair ties), but I gave it a try and found it worked quite well.
I liked four out of the six products in the Allure Beauty Box this month, so this is definitely a good month. I'm confident we're going to see some positive changes now that the Allure editors are completely in charge of the product selection.
---
Petit Vour ($15 per month US, $23 per month Canada)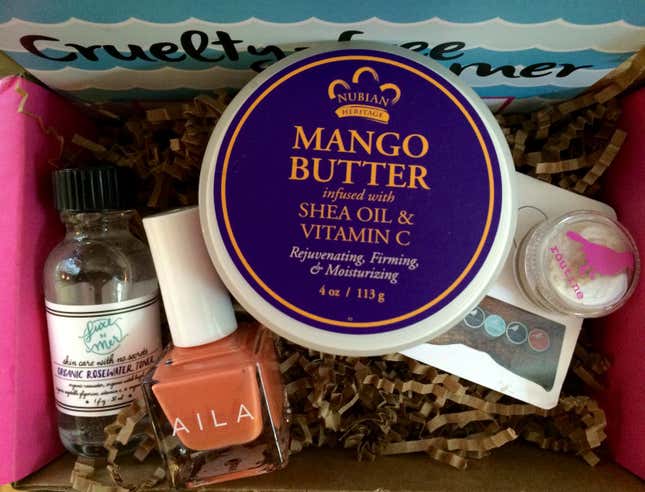 Petit Vour's theme this month was "Cruelty-Free Summer." It's a bit of a vague theme, but it allowed them to get a good mix of products in the July box. The curation was done by the new magazine Thoughtfully. I always enjoy it when beauty boxes have guest curators. It's fun to see what they come up with. Petit Vour sent me this box free of charge, so, as you know, I gave the products away after reviewing was finished.
In the July Petit Vour, there were the following items:
This box was worth $35.74. We're looking at another great month from Petit Vour. The value isn't extremely high, but it's more than double the box price, so I'm happy with it. There were two full size products and two small samples. The small samples really couldn't have been any bigger than they were because the two full size products took up so much space. Full size products are always a treat, so having some small samples in a box with full size samples is acceptable to me.

I almost never get toner in beauty boxes, so I was happy to see the Luxe de Mer Organic Rosewater Toner. I love rose, but it is very easy to overdo it and Luxe de Mer found the sweet spot with the scent of this toner. It's meant to hydrate, tighten your skin, and increase circulation, so this has some anti-aging properties. My skin definitely got that tightness that is so common after the application of toner, so I could feel it working. The sample was rather small, but toner lasts me a long time, so that doesn't bother me. I doubt I will purchase this, but I loved using it.
This is the second time I've gotten an Aila nail polish in a beauty box. I love the formula! I find I get really good coverage with one coat, but for optimal coverage, two coats are necessary. Doolish, the coral color I got in this month's Petit Vour, is really pretty. I love corals, but it is hard to find a coral appropriate for my coloring. Unfortunately, this wasn't quite the coral color I was looking for. It's a little too warm for my skin tone. Sometimes, even if I don't look so great in a color, I love it so much that I wear it anyway. This is one of those times. Aila is, of course, vegan and 5-free (i.e., free of the harmful chemicals found in so many nail polishes). Vegan and 5-free polishes are great, but keep in mind, you will be paying for those features. Only you can decide if it is worth the extra cost.
The Nubian Heritage Mango Butter smells absolutely amazing! It smells more like a creamsicle than it does mango, in my opinion. It's a pretty solid body butter when in the container, but once you pinch off a piece of it and rub it between your fingers, it softens quickly. It's mostly shea butter, but it contains mango butter also, and includes vitamins A, C, and E. My skin felt unbelievably soft after using it. The water, sun, and sand can be hard on the skin, so this is a great choice for the hot summer months when your skin needs some rejuvenation.
This is the second month I have gotten natural deodorant in a beauty box. It sounds good in theory, but I just really don't like rubbing cream in my armpits with my hand. I much prefer stick deodorant. Routine De-Odor Cream has a softer texture than the other natural deodorant I've tried, so that was a plus. The scent wasn't my favorite because I could smell the dreaded patchouli in it, but it wasn't offensive. It worked pretty well, but I just don't see myself using this type of deodorant regularly.
I loved three of the four items in my Petit Vour box this month. I think Thoughtfully and Petit Vour really did a great job. The product mix was good, although I would have liked to have seen some makeup in here. All the beauty boxes seem to be going light on the makeup this month.
---
Vegan Cuts ($19.95 per month, add $8 for Canada, add $15 for other countries)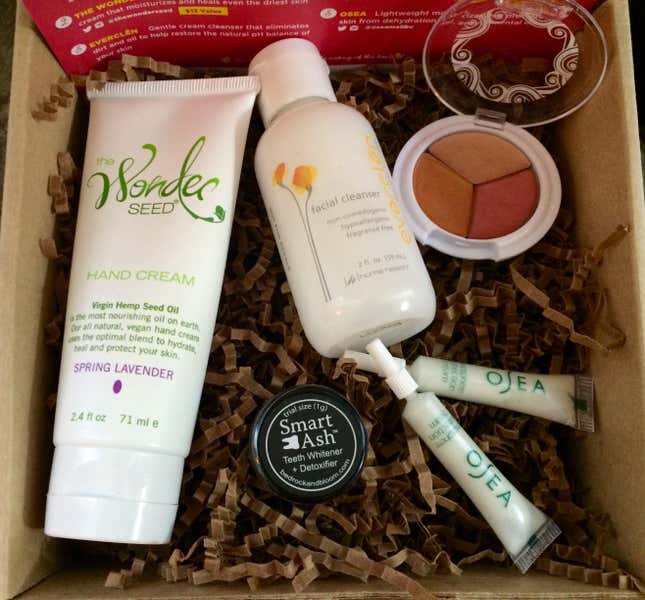 Vegan Cuts puts out both a food box and a beauty box. Although I don't keep vegan, I enjoy getting vegan boxes because it's a good way to discover some smaller beauty companies and find products that often have less of an environmental impact than more conventional products. I'm always on the edge of canceling Vegan Cuts because I generally prefer Petit Vour and Kloverbox.
Here's what was in the July Vegan Cuts box:
The July Vegan Cuts box is worth about $41.68. I had to guess on the Osea Atmosphere Protection Cream size, so the value is approximate. It's worth slightly more than double the price of the box, so it's definitely in the acceptable range.
Pacifica seems to show up in at least one box a month. It isn't my favorite company, but it slowly has been winning me over recently with a few products that were better than others I had gotten from them. This eyeshadow palette is called Breathless Glowing Sunset and doesn't seem to be sold anywhere, so I assume it was an exclusive for this box. It actually does remind me of a sunset when I apply it to my lids. Unfortunately, it is not long lasting at all, is not very pigmented, and isn't even buildable to get more pigment. I had my Urban Decay primer under the eyeshadow. Usually, if I have that primer on, my eyeshadow will stay put all day. This eyeshadow disappeared pretty quickly and I had to reapply in the middle of the day. I really do love the colors, so this made me sad.
The Wonder Seed Hand Cream is made of hemp oil. It looks thin and greasy coming out of the tube, but it goes on smoothly, absorbs quickly, and doesn't leave your hands feeling gross. It is very hydrating. The lavender scent was pretty strong, and it's not really my favorite scent. I would love to try some lotion from this company in a different scent. Beauty boxes have been giving out tons of lavender scented products the past six months or so. I am hoping the deluge of lavender ends soon.
I love the Everclēn Facial Cleanser! It feels soft and silky on my skin when I wash my face. It's meant for sensitive skin, so it's safe to use morning and night. It's fragrance free, which can be a nice feature in a face wash. I'm a huge fan of this face wash and can't recommend it more highly.
A teeth whitener is one thing I have never gotten in a beauty box before. I could definitely use one. It's a natural product made of only activated charcoal, bentonite clay, mint extract, and orange peel extract. A little goes a very long way — you just have to wet your toothbrush and then dip the tips of the bristles into the pot. My mouth felt extra clean after using it. I haven't used it long enough to see if it does whiten my teeth, but I am hopeful. My only complaint is that the teeny pot the sample is in has a small mouth. It's a little hard to get my toothbrush bristles into the pot to get the charcoal on them. You also have to be very careful opening the pot and using the charcoal because it can stain clothing if it gets on it. The $30 price tag for a full size might seem high, but it is supposed to last you a whole year.
I was a little disappointed in the sample size of the Osea Atmosphere Protection Cream. There were two very small tubes of it. While it only took a small amount to moisturize my face and I got a few uses per tube, there wasn't enough in there to allow me to use it long enough to see any results. It's supposed to hydrate, add elasticity, and prime your face for makeup. The full size is pretty expensive, so I doubt I would buy this.
This was a pretty good month for Vegan Cuts. It wasn't absolutely fabulous, but I made a couple of beauty discoveries. I understand Pacifica is one of the biggest vegan beauty companies out there, but I wish the vegan boxes would lay off the Pacifica products a bit. I decided to cancel Vegan Cuts after this month.
---
Kloverbox ($25 per month, US only)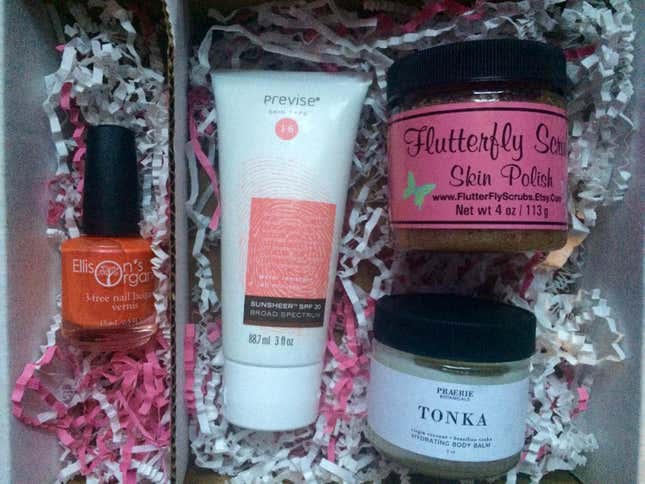 Kloverbox keeps impressing me. Their curation is just consistently excellent and it is always fun to see what is in the box each month. Also, I love that they work with smaller businesses. It helps me discover products that I would not normally discover from the more mainstream beauty boxes. The support of small businesses comes at a cost, though — this is often one of the last boxes I get each month because Kloverbox is waiting on a small company to get them the products. Personally, this is a price I am happy to pay. I would rather wait a little longer to get some amazing products from small businesses than get a box earlier in the month that contains products from huge corporations.
In the July Kloverbox, I received:
In total, it was worth $75.95. That's three times the price for the box, so it is a great value. All of the items are full size, which Kloverbox gets major points for. It is so hard to figure out if a skincare product is right for you if you have just a teeny sample, so big samples are much appreciated. It's a little heavy on the skincare and I would have liked to have seen a makeup item. That said, the summer sun can be brutal on skin, so it is nice that we're seeing a focus on skincare this month in most of the boxes.
Kloverbox had Ellison's Organics make them a custom nail color for the July box. At first glance, it looks like your basic orange. When you apply it, though, it had a holographic quality to it and there was a lot of pink in there. The color is just gorgeous. It went on smoothly and requires two coats. I am hard on my nails, so nail polish often does not last long on me, but this stayed in good shape for a few days. This is my first time trying an Ellison's Organics product, but I hope it won't be my last. It would be nice to see their products popping up in other beauty boxes because the quality is top-notch.
I'm a big fan of Praerie Botanicals Tonka Body Balm and think that this will be great for these cold, dry upstate NY winters. The consistency of the balm is rather thin, so I expected it to be watery and not very hydrating. I couldn't have been more wrong. It is very concentrated and contains no water at all. It's a mix of coconut oil, shea butter, mango butter, capric triglyceride, and tonka bean — that is the entire ingredient list. Its scent is light, but very sensual. Twenty bucks for two ounces might seem a little high, but it has high quality ingredients and a little bit goes a long way.
The FlutterFly Scrubs Emulsified Sugar Scrub comes in six different scents. I was happy to get Coconut Cream, although all the scents sounded great. It's a very dense sugar scrub and it just takes a couple of small scoops to scrub your whole body. It felt very exfoliating, but gentle. After my shower, I smelled very lightly of coconut. At $7.95 for a full size, it's a good value.
I tried a Previse product in a Boxycharm box months ago and wasn't all that impressed, so I had low expectations for this product. I ended up really liking it after I gave it a try. It is a thin sunblock, but I got some good coverage out of it. It can be a little hard to rub in with the zinc oxide, but it takes only a few extra seconds. I used this on a hot, sunny beach day and was bad and only applied it before I got out there. I never reapplied it during the seven hours I was on the beach. My pale skin loves to burn, so I was pleasantly surprised that it held up all day without reapplication. I had one little patch of burnt skin because I missed part of my back when I applied it, but that was my own fault. $36 is a little more than I would be willing to pay for sunblock, but it is good, high quality stuff that was very hydrating.
In the few months I have had Kloverbox, I've been quite impressed. I love that this box supports smaller businesses that I probably would not have discovered on my own. July was another amazing month for Kloverbox!
---
Beauteque BB Bag ($24 per month plus $3.95 shipping US, ships worldwide, check site for international shipping rates)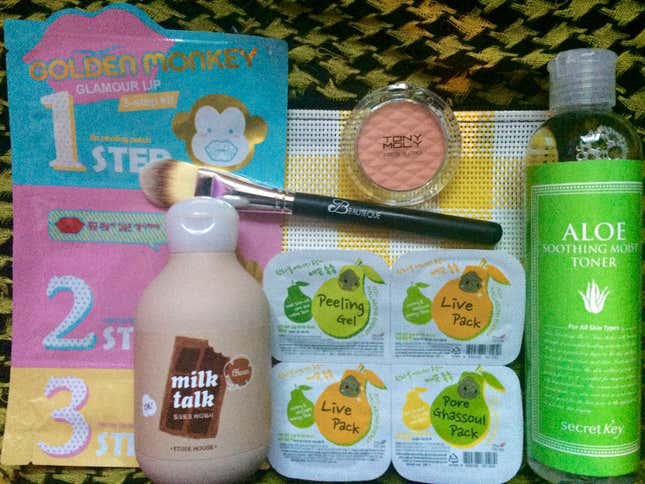 Beauteque's theme this month for their BB bag was "Picnic of Pretty." The bag, a yellow checker print that you can see peeking out from behind the products, definitely fits that theme, although I can't say I understand how the products fit into it. It is heavy on the skincare, which is my preference for Korean beauty bags.
Here's what I got in the July bag:
The July Beauteque BB Bag was worth $63.15. That isn't a bad value at all. I wasn't able to find some of the products available for sale online, so I had to use the values Beauteque printed on the information card.
I love getting toner in beauty boxes because I always use it but almost never get it in a box. This month, though, I got not one, but two, toners! This one is even full size. Subscribers got the Secret Key toner in either witch hazel or aloe, and I got the aloe. I was really hoping for the witch hazel because that is for problem skin and my skin has been breaking out like crazy this summer! I got the aloe, which is for hydration, and, while I would have preferred the other type, it's a good toner. The past couple of months I have gotten tons of aloe products, which are great for the summer, but I think I have a few too many at this point. I used this on my face after washing and it felt quite refreshing. My girlfriend Emily also put it on the little sunburned patch I have on my back and it offered a little relief.
The Tony Moly blush was okay. The color wasn't bad, but it wasn't anything special. It didn't have the best staying power.
The Etude House Milk Talk Body Wash is amazing. I got the Choco one and it smells just like chocolate. I love it. Subscribers could also get steam milk or strawberry. Fortunately, I didn't come out of the shower smelling like a chocolate bar, but I really enjoyed the chocolate aroma during my shower.
I love masks, so this four pack of one time use masks was exciting for me. One was a peel for exfoliation and brightening, another was a mask for exfoliation and deep cleansing of pores, and then there were two of the same type for cooling and hydration. I haven't had a chance to try the peel yet. I liked the pore cleansing mask and found my face felt really clean after using it. Emily used both of the cooling and hydration mask and really liked it. She has just about flawless skin, but it can get a little dry, so it was perfect for her. I would love to see more variety packs of single use face masks.
The Beauteque blending brush is supposed to blend your makeup together to give you a seamless look. I found it worked quite well. Also, if you were in a pinch, you could use it to contour.
Finally, we had the Golden Monkey Glamour Lip. I have gotten a number of face masks, but I have never gotten a lip mask. My lips can get a little on the dry side and I am prone to picking at my lips, so I was looking forward to trying this. It's a three-step process. The first step was a cleansing cloth that also exfoliated your lips. My lips felt really smooth after using that. The second step was a hydrogel mask for your lips. It didn't have a little cut out for my mouth, so I had to keep my mouth closed the entire time it was on. After having that on for fifteen minutes, I applied a honey treatment to my lips. My lips felt the softest they have ever felt after I used this mask! I loved it! I will have to buy some more of these.
Overall, I am happy with the July Beauteque bag. I am in love with the Etude House body wash and Holika Holika lip mask.
---
I'm going to go with Kloverbox as the winner in this round, although all the boxes put up a good fight. It was a hard decision, but I liked that they had four full size products and they were all useful, high quality items. Come back in a couple weeks for the August box review. I'd love to hear all about your boxes in the comments.
---
Brandi Morgan Kirchgessner has always loved getting mail and wearing makeup, so she was ecstatic to discover beauty boxes. She lives with her three dogs and five cats.

Illustration by Tara Jacoby.