The Hill's annual '50 Most Beautiful' list is up—an important reminder to us all that even in D.C., people are attractive.

(I am not.)
The list features some interesting folks like Rep. Hakeem Jeffries (D-NY) and Obama's personal secretary Ferial Govashiri, as well as people like Rep. Barbara Comstock (R-VA), who attempts to convince us that her favorite kind of exercise is "door-knocking." Whatever, Barbara! Mostly, however, the roundup features a bunch of ice cream-guzzling millennials trying to tell me how to live.
Let's take a brief look (click through for photos).
Sa'Rah Hamm, 25, Democratic executive assistant for the Senate Energy and Natural Resources Committee
Hamm admits she doesn't visit the gym as often as she should, but she preaches moderation. That, however, goes out the window when it comes to one guilty pleasure.

"Ice cream," she laughs. "On a daily basis."
Jessica Lonsberry, 28, Independent, State Dept. contractor
Jessica Lonsberry is a knockout — and she can deliver one, too.

The State Department contractor is a boxing coach. Her mother's father, a retired Navy captain southpaw, taught the family discipline through boxing, which Lonsberry applies to her everyday life.

She drinks a gallon of water every day before 4 p.m. She stays away from processed foods and sugar. When she does splurge, it's Belgian waffles with maple syrup.
G/O Media may get a commission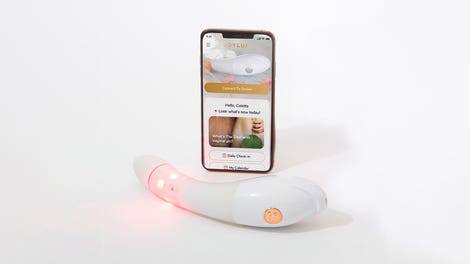 $50 Off
Joylux vFit Gold Device
Alexandra Hirst, 23, Republican, works for Rep. Jason Chaffetz
"Mormons love dessert parties. It's so bad how much sugar we consume," Hirst says.
Hirst may make up for her lack of alcohol calories in ice cream, but she also works out for at least an hour every day and "sometimes twice," she says.
Cameron Greene, 24, Democrat, staff assistant for Sen. Sheldon Whitehouse
"The hair definitely takes up a lot of my time, unfortunately," says the staff assistant for Sen. Sheldon Whitehouse (D-R.I.). "I've chosen to do this to myself. It definitely takes way too long," he adds of his high-maintenance 'do.
Erin Collins, 24, Republican, staff assistant to Sen. Dean Heller

The natural beauty stays active by doing yoga and barre classes but does not follow any strict diet.

"I try to eat balanced meals but that doesn't mean I don't love ice cream," says Collins, who counts "brunching" among her favorite activities.
Stephanie Rivera, 24, Republican, Executive Assistant
Though Stephanie Rivera says "good nutrition" is her secret to health and high energy, she has a hard time — like many conservatives in D.C — staying away from Tortilla Coast.

"It's great to go after a long week and just get together with friends," says Rivera, pointing out that chips and salsa isn't the least healthy option. "It does have tomatoes!"
Caroline Hurley, 24, Republican, Republican National Committee
When she's not fighting liberals, you can find Hurley brunching, Netflix bingeing or hunting Pokémon.
Nicole Merlene, 24, Democrat, Invest in the USA
Merlene loves to cook and tends to prepare Mediterranean-style food but says she'll "literally eat anything."

She's also a big believer in hydrating, saying that water is "so crucial to your whole-body health."
Jake Maccoby, 29, Democrat, speechwriter for Attorney General Loretta Lynch
"I sort of live in my office," Maccoby says.

He typically arrives by bike in jeans and a T-shirt and changes there. He keeps a sleeping bag in the office but hasn't used it yet despite a number of late nights working on an estimated 1,000 speeches.

"They're all my children," Maccoby says.
I feel like I've learned a lot! Please be sure to nominate me for next year's contest; I am not a resident of D.C., but have visited several times.