In the 8 years since Keeping Up With the Kardashians premiered, people have been asking, "Why is this family famous?" Some have argued that it's because of Kim's sex tape. Some dramatically blame the degradation of Western culture.
But a video recently "rediscovered" by the Daily Mail has finally revealed that true source of the Kardashian-Jenners' fame: witchcraft.
A 28-minute informercial for Wicks of Wisdom, filmed in what appears to be the early 2000s, begins:
Once in a very long while, a truly remarkable product comes our way that challenges what we think and can dramatically improve our lives. Hello, I'm Kris Jenner.
But the "truly remarkable" product Kris Jenner was mentioning wasn't Kris Jenner, it was a set of magic candles called Wicks of Wisdom. The candles, created by a spiritual psychic/very reliable source named Linda Salvin, are billed as "spiritual solutions" that "create the positive energy that's needed to go out in the universe to solve these issues."
Testimonials featured in the informercial include:
G/O Media may get a commission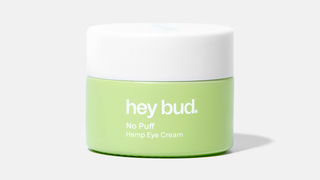 15% off
Hey Bud - No Puff Hemp Eye Cream
Before: "My life was very confusing at the time. I was going through very many different aspects."
Candle used: Good Luck Power®
After: Linda's candles "opened up the doors to opportunity."
Before: "Nothing was going right. We had legal problems. We had people problems. We had, just, it seems like blocks of negativities at every door. Nothing was happening right."
Candle Used: Good Luck Power®
After: "I really felt like it opened doors."
But I don't really want to talk about these people and their struggles with opening doors. (Grab and turn, ladies! Grab and turn!) I want to talk about how bizarre it is to see Kris Jenner sitting in front of a camera and telling people they can to improve their lives by purchasing magic candles from a woman whose attempts at proving her legitimacy look like this:

Initially the whole premise is laughable. Here's the momager we all know and have mixed feelings about, pre-fame and post-OJ, attempting to become a television personality in one of the least-respected segments of the medium. Who in their right mind would buy these things, let alone sell them, we think. There's no energy in anything she says. This could in no way lead to her becoming more famous.
Wait a minute...it did.
Kris Jenner, a woman whom no one outside of Calabasas cared about just a decade ago, made an informercial for magic candles...and then became a major celebrity. Could the darks arts be the reason for her fame? For her family's fame? Is Kris Jenner a practicing witch?
People have been calling her one for years now, but until seeing this video, I wasn't ready to agree.
---
Contact the author at bobby@jezebel.com.
Images via screengrab.