Welp. There ya go. There's that. Happy New Year.
"I'm sweating already," admitted the man who has covered atrocities in Rwanda, bedlam in Lebanon and calamity in Louisiana. Griffin didn't calm him with her response, which hinted at her future target: "I'm going to tickle your sac." Shortly after midnight, Griffin casually lowered herself to Cooper's crotch and delivered a kiss that was audible to the television audience.

...With all the chum in the water, Griffin wasn't about to let her victim off the hook and the broadcast devolved into a strange dance in confined quarters – it was like Life of Pi but this tiger was wearing lipstick. "You're scaring me," Cooper said in a flat voice of a victim who can't process the horror in front of them. He added: "This is getting to be the night bad things happen."
:-| Line. Mouth. Obv. [EW]
---
Lindsay and Dina Lohan reportedly "rang in the New Year with nonstop partying" in London.
The mother-daughter duo had glazed eyes when they left the trendy restaurant. Dina stumbled and had to have help staying on her feet.

Both wearing furry jackets and mini dresses to show off their legs, the ladies dined at the eatery in the heart of London's Mayfair district.

At one point, Lindsay looked strangely out of it while talking to a female friend during the dinner. And later, when leaving the restaurant, the actress looked at the camera with an vacant expression and her long red hair disheveled.
G/O Media may get a commission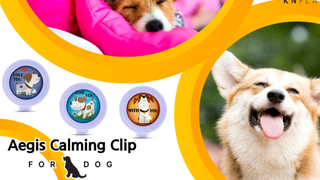 20% off
Aegis Calming Clip for Dogs
I mean...it's New Year's. Can't we refrain from calling Lindsay "haggard" on the most universally haggard day of the year? [Radar]
---
Robin Roberts says she's hit a "major milestone" in her recovery from a bone marrow transplant:
After undergoing a bone marrow transplant back in September, The Good Morning America coanchor has hit a "major milsetone" in her recovery and tweeted a picture of herself wearing a Santa hat holding a calendar with the caption: "Every morning I mark the day post my bone marrow transplant. Today I reached a major milestone…Day 100! Blessings..XO."

Roberts also posted a message on her Facebook, thanking fans for their support. "I couldn't let the year end without saying…thank you. Thank you for your prayers, positive energy and well wishes," she said. "My sister, Dorothy, always comes up with a family motto for the new year. This year's is: "All will be serene in 2013."
Happy New Year, Robin Roberts! [E!]
---
Fantasia Barrino would like "bloggers" to please stop "misrepresenting" her Instagram rant in which she throws gay people under the bus:
"I Rise ABOVE IT ALL!!! THE WORLD IS GONE MAD. KIDS, THE GOVERMENT, THE church House… Everybody Trying!!!!!!!," the singer wrote. "It's a lot that going on that the Bible speaks about we should Not be doing. Weed legal in some places, Gay Marriage Legal BUT YET IM JUDGED!!! Im not doing Nothing for you… My Life!!!!"
Because what she meant to say was this:
"I, Fantasia Monique Barrino, don't judge anyone because I don't want to be judged. The gay community is one of my largest supporters. I support the gay community as the support me. Bloggers please stop misrepresenting the facts."
I mean...k. [ONTD]
---
Hugh Hefner is married to Crystal Harris now and here is a picture of them. She is younger than his grandchildren. [E!]
Rob Kardashian says Kim's pregnancy is a "blessing," but that for him personally, "You gotta be married, first that's my rule: marriage then baby!" [E!]
At the dawn of a new year, Harry Styles and Taylor Swift put their mouths together and went all, "llaalaalalllalalalalalalaamphphphphmmpph." [People]
Miranda Kerr went outside without a ring on!!! Call the cops! [ShowbizSpy]
"Les Miserables changed my life," says Amanda Seyfried. [ShowbizSpy]
David Attenborough says he's a "bit of a fossil," and he's not sure if "his type of show" will continue. UGH THE MAYANS WERE RIGHT. [DigitalSpy]
Ryan Murphy's baby! [JustJared]
Mila Kunis has some necklace she likes. [E!]
Joe Bastianich thinks you should quit your job. [People]
Is it bedtime yet?