In the aftermath of Hurricane Maria some Puerto Ricans, lacking resources and with some islands all but destroyed, have been forced to evacuate the island. One primary destination is New York state, home to the largest population of Puerto Ricans on the mainland, where over 1 million call New York home. In response, the city is looking at ways to prepare for an influx of evacuees. Assistant Speaker Felix Ortiz, who was born and raised in Puerto Rico, has been among the local politicians leading efforts to assist in relocation. "The majority of the people coming here have already connected to relatives, family and friends in New York City," he told Jezebel over the phone.
About 50,000 people already relocate from Puerto Rico to the mainland every year, a number that has increased to 60,000 people in the past three years. After the hurricane, CUNY Hunter's Center for Puerto Rican Studies director Edwin Melendez told Newsday that he expects between 120,000 to 200,000 people to flee the island this year.
"The needs of those people when they get here to New York are going to be significant," he said. "We need to sort of transition from talking about triage and emergency . . . to planning for some of the long-term needs both here in New York and in Puerto Rico."
The damage from the hurricanes is so great, and relief has been so slow, that some believe Puerto Ricans fleeing the island may never return home. On Thursday, Congress approved a $36.5 billion emergency disaster relief bill, but has not taken action to permanently lift the Jones Act, a prohibitive bill that imposes a sharp import tax and other restrictions on goods delivered to the island. Meanwhile, Donald Trump has criticized and blamed Puerto Ricans for their own tragedy, threatened to abandon relief efforts, and has belittled the island's plight by comparing it to "a real catastrophe like Katrina."
"I believe that Washington still believes that Puerto Ricans are not citizens," Ortiz said. "Puerto Ricans are US citizens, but what we've been telling them is to make sure that they have some identification—social security card, driver's license, birth certificate, passport—make sure that whatever you may have that identify you, make sure you bring that with you."
G/O Media may get a commission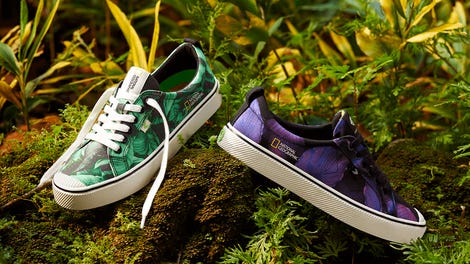 New New New
Cariuma + National Geographic
While Ortiz is among the local officials who have lobbied Washington for assistance, he is not waiting for cooperation from the Trump administration or Congress to take action. Ortiz estimates that 73 Puerto Rican evacuees have contacted his office for help, and estimates that his office has fielded between 300 and 500 calls about relocation efforts. "People started to call for assistance when the hurricane hit Puerto Rico, starting from Irma... They are looking for housing, they are looking for Medicaid," he said, adding that some have children suffering from depression, anxiety, or other health conditions.
Ortiz says his office has helped evacuees fill out Medicaid paperwork, housing paperwork, and coordinated with local hospitals to ensure evacuees get proper medical treatment. "In addition to that, we also are working close enough with some of the schools in our district to make sure that those few kids who have come, they will continue to carry on in their education," he said. (Statewide, upon Gov. Andrew Cuomo's request, public universities will offer students from Puerto Rico and the US Virgin islands reduced in-state tuition).
But Ortiz, who has held office for 23 years and represented the Brooklyn neighborhood of Red Hook during Hurricane Sandy so is familiar with the logistics of disaster relief response, says New York needs a long-term solution. Last month, Mayor Bill de Blasio announced 24 drop-off locations for donation supplies, encouraging New Yorkers to support disaster relief efforts. Ortiz says his office is now waiting for a "plan of action" from the mayor over how to continue to manage long-term care for Puerto Ricans who have relocated to New York City.
"Some of these people have managed to stay with some relative or friends, as we speak, but they only can be there for so long. so we are now in the process of helping them to get housing and to also get the health insurance that they need," he said. "My office opens at 9 o'clock and when they open at 9 o'clock, we don't know at what time we're closing every day."