Welcome back to our review of subscription beauty boxes. Which ones are worth it? Which ones are full of junk? Reader Brandi Morgan Kirchgessner guides us through this world of mystery treats. Here's what she's received recently.
Glossybox, $21 per month (US and Canada, also has many international versions)
Glossybox wasn't my favorite in August, so I was hoping it would make a comeback this month. Fortunately, it did.

Here's what was in my September Glossybox:
G/O Media may get a commission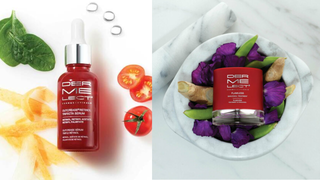 Save $19
Retinol Renewal Kit
This month's Glossybox was worth $68.50. That's a great value for a $21 box. It had a good mix of skincare, makeup, and nail polish.
First, we had the Coffea Coffee Scrub. It's been a while since I got a product for the body in my Glossybox, so this was a nice surprise. I love body scrubs. My face gets exfoliated regularly, but it is so easy to forget to exfoliate my body. This had some cinnamon and chocolate in it, making it smell particularly good. This is the first coffee scrub I've had that recommended you avoid water for five to fifteen minutes after applying it to your body so that it will have time to sink in. That's a long time to have to stand around while showering. It's not like you can get out of the shower and sit down while using it, so I wasn't really sure what to do. I ended up letting it set for about three minutes before rinsing it off. It felt moisturizing in addition to being exfoliating, so it probably would have been even better if I had left it on for fifteen minutes.
Biossance The Revitalizer, a serum, was in a very small bottle. You need only a couple of drops each time you use it, so, although it seems tiny, it should last for a while. At first, I was using five or six drops and my face felt really greasy. I reread the instructions, though, and noticed that it said to only use two drops each time. That felt very moisturizing and not as oily, so I was happy with it once I figured that out. The product uses squalane, which the company's website says is a moisturizer produced naturally by skin. I liked this product a lot and definitely noticed that my skin felt more hydrated. At $58, though, it's a little outside my budget for serum.
The Julep Luxe Up Your Lips in "Sheer Coral" was a warm, pretty pink. I just don't like lip gloss, so this wasn't the product for me. My lovely girlfriend, Emily, however, absolutely loved it. She said it was hydrating and made her lips feel very smooth. I don't get the Julep subscription box, so I don't mind getting Julep products in my Glossybox.
I was a little disappointed when I saw the Emité blush. It's a peach-toned tan color and I didn't imagine it would be a flattering color on me. The blush also had a very small crack in the top of the powder when it arrived, but it was superficial and didn't affect the integrity of the product. I was surprised by how good the color ended up looking on me. This blush is extremely pigmented, so you need to have a very light touch when applying it.

Lastly, we had the Nails Inc Nail Polish in "Uptown." I believe I've tried a Nails Inc base coat before, but I've never tried a color polish from them. This is an amazing formula. I got great coverage with just one coat, it dried so quickly I didn't smudge it (which is usually hard for me to avoid), and it had a gorgeous, shiny finish. The color wasn't my favorite, but I am in love with Nails Inc after trying this polish out.
I thought the September Glossybox was a big improvement over the August box. I loved how there was a good variety of products. There wasn't a hair product, but there was a little bit of everything else. I loved four of the five products and Emily loved the fifth. Also, I found the perfect nail polish formula for me. You can't beat that!
---
Petit Vour ($15 per month US, $23 per month for Canada)
In the September Petit Vour, there were the following items:
This month's Petit Vour was worth approximately $48.37. Petit Vour is a vegan and cruelty-free subscription box. The MSC scrub and the Mahalo mask did not have sizes listed on the containers, so I estimated the sizes of the products. Petit Vour is provided for me to review free of charge, so I gave the products away after testing them.
First, we had the Elate Clean Cosmetics lipstick in "Lively." I couldn't find the color Lively on the company's website, so I am not sure if it is a discontinued color or if it was a special color just for Petit Vour. It's a gorgeous color in the tube, but it didn't do much for my lip color when I applied it. Besides a little bit of sparkle, I couldn't tell I had it on. It felt moisturizing and I loved the wooden tube. I'd like to try other colors from this company because the formula seems really nice, but the shade wasn't dramatic enough for me.
The Mahalo mask came in the cutest wooden container. I was a little disappointed in the size of the sample because it is good for only a couple of uses. It is an expensive product, though, so I understand why the sample is so small. This is a dry mask that must be mixed with water or honey before applying to your face. Once mixed with water and applied to skin, the mask heats up a bit. My skin did have a glow to it after I removed it, so it's worth a try if your skin is looking a little dull.
I always love trying new face cleansers. It's nice when a face wash does double duty as makeup remover, but I often find they don't work that well and I end up using makeup remover anyway. The Blissoma cleanser removed my makeup pretty well and thoroughly cleansed my skin. My only complaint about it is the earthy smell. I have to really like the scent of something to put it on my face regularly, so this isn't something I would buy.
A sugar scrub! I absolutely love sugar scrubs, so getting the MSC Grapefruit & Spearmint Scrub was a real treat. It smells amazing. It felt even more exfoliating than other sugar scrubs I've tried and the shea butter, rice bran oil, and sunflower oil moisturized my skin. This is a fabulous product and I highly recommend it.
I loved the Mahalo mask and the MSC scrub! The Blissoma cleanser was good besides the scent and I wish the Elate lipstick were a different color, but I do like both products. I'm becoming a bigger and bigger fan of Petit Vour as the months go by.
---
Kloverbox, $25 per month (US only)
The September Kloverbox included the following products:
This month's box was worth an impressive $80.75. Kloverbox is one of the pricier subscriptions at $25, but the consistently high values of their boxes make subscribing well worth it. Kloverbox is a natural and organic box that is heavy on beauty products but has the occasional home item thrown in. It's not a strictly vegan box, but most of its products are vegan.
The One Love Organics Skin Savior is a multi-tasker, so it is great for travel. You can use it as a cleanser or a moisturizer. This is my favorite product this month. The scent is soft and sensual. It's solid in the container, but once you pinch of a teeny bit and warm it up in your hands, it goes on smoothly. Initially, it feels a little greasy, but it is quickly absorbed and leaves your face feeling silky. I tried it as a cleanser once and it worked well, but I strongly prefer it as a moisturizer.
It's always fun to get a candle in a subscription box. Subscribers got one of eight different fragrances of the Paddywax soy candle. I was lucky enough to get the Verbena Eucalyptus, which had a light, fresh smell to it. The scent filled the room, but was in no way overbearing. I couldn't find the burn time listed anywhere, but it burned slowly and evenly, so it should last a while.
The Posh Skincare Bergamot Face Oil is not my favorite. I thought I was going to love it because it is a high quality face oil, but I can't get past the smell. It has a very smoky scent that I just do not like.
I knew as soon as I saw the BAGGU reusable bag in my Kloverbox that it would be claimed by my girlfriend. She loves elephants, so she was so happy to get this. I've gotten a BAGGU bag before in another box months ago, but it was a different size and color. It's a reusable bag that folds up into a little pouch so that you can stuff it in your purse or pocket when it's not in use. It's a sturdy, practical product. This one was the baby size, which is a little bigger than a lunch bag. Emily has been taking it everywhere with her.
Another fantastic month for Kloverbox! I love that the box often works with very small businesses. It always introduces me to companies and products that I never would have encountered otherwise.
---
Beauteque BB Bag ($24 per month plus $3.95 shipping US; ships everywhere, check website for international shipping rates)
Here's what was in the BB bag this month:
The Saem Mint Jungle Foot Cream (full size, worth $12)
Secret Key Holic Pigment Glitter in Glistening Gold (full size, worth $8)
Modeling Pack Mixing Bowl and Stirrer in Pink (worth $5)
Inner Kallia Special Model Care Mask Powder Pack in Vitamin (worth $6)
Aritaum Aloe No-Wash Cleansing Water (full size, worth $22)
Acqua Gems Herbal Soothing Cream (full size, worth $18)
I couldn't find any of these products for sale individually on U.S. based websites, so I used the values given by Beauteque on the product information card. Going by the values listed by Beauteque, this bag was worth $71. The navy bag with leaves on it is the bag the products came in this month. The Beauteque BB Bag contains mostly Korean items, but occasionally has a product from Japan or Taiwan. I love being introduced to different Korean skincare products as Korea's are purportedly the best of the best, so this is always a fun bag for me. This month was no exception.
The Saem Mint Jungle Foot Cream smells heavenly. I love mint scented products, so this was made for me. The smell is light, but long-lasting. It has three types of mint in it — apple mint, spearmint, and peppermint — and it also contains honey. The consistency is quite thin, which is nice because it soaks into your skin quickly. It's very hydrating and made the skin on my feet feel like silk. My only complaint about this is that I can't find this for sale in the US. I hope Beauteque will offer this product for sale on their website soon.
I generally prefer to not get makeup in my BB bag because I want to try the fabulous skincare products Korea is known for. When I opened the bag and saw the Secret Key Holic Pigment, I was not all that excited. It looked like coarse glitter in a small container. I stupidly opened it up on my bed and put a little in my hand. Despite looking coarse, once you touch the glitter pigment, you realize it is very soft and powdery and gets everywhere. I ended up with sheets covered in glitter. Even though it made a mess, I was happy it ended up being so fine because it makes for some beautiful eyeshadow. I am all about sparkles, so I fell hard for this product. It had amazing pigment and lasted all day when applied over eyeshadow primer.
The mixing bowl and stirrer weren't the most exciting of things to find in a beauty box. The Inner Kallia mask was a modeling pack which you must mix before applying, so I had a chance to try out the bowl when I used this mask. The stirrer helped me get a more uniform consistency than I usually get with my powder masks and it applied the mask very evenly to my face. I got the Vitamin variety, which includes collagen and is supposed to help with wrinkles. Once mixed, it looked and felt like cake batter. The scent was so light as to be almost unnoticeable. The instructions said to peel it off after fifteen to twenty minutes. I tried peeling it off, but it mostly flaked off. I ended up getting tired of trying to peel it off and just rinsed it off. My skin looked radiant after using this.
While I was excited to get tons of aloe products in beauty boxes in June, I feel like I've gotten so many this summer that I'm tired of them. The Aritaum Aloe No-Wash Cleansing Water cleanser removes makeup and moisturizes skin. It's 91% aloe. It removed my makeup well, but I didn't feel like it got my face as clean as a traditional face wash.
Finally, there was the Acqua Gems Herbal Soothing Cream. It can be used as a face moisturizer, hand cream, and can help soothe burns. I used it on my face and loved it as a moisturizer. The consistency was thinner than many facial moisturizers, so it soaked into my skin within a few seconds.
Beauteque was a lot of fun this month. I loved everything except the Aloe Wash. The mixing bowl might seem a little silly, but it works well for its intended purpose and the applicator is a great shape to put liquid masks on evenly.
---
Beauteque Mask Maven ($15 per month plush $3.95 shipping US; ships everywhere, check website for international shipping rates)
Like BB Bag, Mask Maven is also put out by Beauteque. This bag contains Korean masks of all types, but it tends to have mostly sheet masks for use on the face. This month, they were all sheet masks, but one of them was meant for the eyes and another was meant for lips.
Here are the masks I received:
Hanaka Hydrogel Hyoluronic Acid and Cactus Eye Patch (worth ~$2.50)
Hanaka Hydrogel Lip Patch (worth ~$2.50)
Annie's Way Lavender Sleeping Mask (worth ~$2.50)
Face Q Aloe Moisturizing and Soothing Mask (worth ~$2.50)
Baviphat Urban Dollkiss Korean Won Lifting-Up Mask (worth ~$2.50)
Baviphat Urban Dollkiss US Dollar Moistfull Mask (worth ~$2.50)
2 Baviphat Urban Dollkiss China RMB Clean Mask (worth ~$5)
Baviphat Urban Dollkiss Japan Yen Revital Mask (worth ~$2.50)
Baviphat Urban Dollkiss Europe Euro Solution Mask (worth ~$2.50)
Baviphat Urban Dollkiss UK Pound Essential Mask (worth ~$2.50)
I had to estimate the value of each mask because I couldn't find them for sale online. Individual sheet masks usually run anywhere from $2 to $5, so I just went with $2.50 per mask, giving us an estimated value of $27.50. There are only so many face masks I can try in the short period of time between getting the Mask Maven and submitting this article, so I am never able to test them all. Emily helped me out by trying some of them, but, even between the two of us, we didn't quite get to all of them.
We weren't able to try out the Hanaka Hydrogel Lip Patch or Eye Patch or the Baviphat Lifting-Up Mask, Clean Mask, or Solution Mask. The Hanaka Hydrogel Lip Patch is a teensy gel mask for the lips and the eye patch is a set of gels that goes beneath the eyes; both are meant to moisturize and soothe the skin. The Lifting-Up Mask contains collagen and peptides to revitalize aging skin. The Solution Mask is supposed to help stressed out skin and, well, I bet you can guess what the Clean Mask does.
Emily loves lavender, so she claimed the Annie's Way mask the second she saw it. This sheet mask is ultra thin. That made it a little hard to unfold and apply. The description of this mask on the Mask Maven card says that the thinner mask makes it easier for the liquid to absorb into the skin. Emily said the scent was perfect and her skin felt very soft after using it. She also tried the FaceQ aloe mask and said it was very refreshing and that is smelled good.
The Baviphat Urban Dollkiss Masks are not my favorites. My big complaint with them is that the sheet mask feels a lot drier than sheet masks usually do. The dryness of the mask makes it a lot harder to keep it on my face. I always have to readjust these sheet masks multiple times while they are on because they keep trying to fall off. I tried the Moistfull, Essential (meant to increase elasticity), and Revital masks. I couldn't tell all that much of a difference among the three. My skin felt more hydrated after using them, but that was the only thing I noticed.
This wasn't my favorite month of Mask Maven. If half of the bag hadn't been Baviphat masks, I would have been happier. I love Korean sheet masks, so I will continue to get this subscription, but I hope that the Baviphat masks aren't included regularly in the future.
---
Allure ($15 per month, US only)
The September Allure box contained the following:
The September Allure box was worth $56.69. I have to say that Allure is really stepping it up after taking over the box curation from Beauty Bar. The value of the box has really gone up and the products are topnotch. Beauty Bar used to put five items in each month's box, but Allure started putting six items in after taking over. This month, there were seven items! I have no idea if this will be a regular occurrence or if they just spoiled us this month. Also, Allure provides this box to me at no charge, so, per usual, I gave the products away after testing.
I loved the Jane Iredale primer. Usually I prefer primers that are a little thicker, but this one ended up being amazing. This primer is a thin, sheer liquid with a very slight tint and a citrusy scent. It goes on smoothly and feels like it gives better coverage than other primers I've tried. I worried that it wouldn't keep my makeup on all day because of how thin the formula is, but my makeup stayed on beautifully. In fact, I loved how my foundation looked at the end of the day when I used this. It absorbs oil, minimizes the appearance of pores, and moisturizes your skin, so this might just be a wonder primer. It's a little on the expensive side, but a primer that gives you this kind of coverage and staying power is worth it.
$45 bars of soap exist?! Apparently so. Erno Laszlo was even kind enough to provide users of this soap with a video on how to wash your face with it.
The soap smells great, cleansed my face really well, and felt so soft and silky going on, but there is just no way I will pay $45 for a little bar of soap. I did not rinse in the way Erno Laszlo recommends, but I think my personal face rinsing method is perfectly adequate.
Pixi is a good quality, affordable brand that is available at Target, so I always enjoy trying a new product from them. I'm all about finding inexpensive alternatives for high-end beauty products. Sometimes the prestige brands are worth the extra money, but, many times they aren't. This Pixi toner is alcohol-free so it's not drying. It contains aloe vera for hydration, glycolic acid for exfoliation, and witch hazel for its antiseptic properties. I wish the sample had been a little bit bigger because it is going to be hard to see results with a sample this small. I liked what I saw with the amount I used.
The Tangle Teezer came at the perfect time for me. I get my hair cut to about chin length, then I let it grow out for two months before cutting it again. I always know when it is time for a haircut when the fine hairs at the back of my neck start tangling up and making a little rat's nest. Most of my very full head of hair is medium thickness, but all the hair underneath is baby fine. I could never do long hair again. My little rat's nest had just started when I got the Tangle Teezer and this little brush quickly took care of the tangles and, best of all, it was painless. My only issue with the Tangle Teezer is that there isn't a real handle; you have to grip the backside of it and I found it a little hard to hold onto at times. I'm willing to overlook that, though, because of how well it works.
I don't use much in the way of hair products, but I really do love Alterna's line. The Moisture Milk is a leave-in conditioner, one of the few types of hair products I will use. This spray helps repair thin, damaged hair, hydrates, and adds some extra sheen to it. I like to spray it onto the Tangle Teezer and then brush it through my hair after towel drying. After my hair is dry, it looks noticeably shinier when I use this product. I'm a big fan of the Moisture Milk.
The Soap and Glory gloss has some sting to it because of its "plumping" ingredients: peppermint and flower oils. I did not like how it felt and I also didn't notice any real plumping effect. The chocolate scent of it is yummy, but that is the only thing I liked about this product. It has that sticky lip gloss feel that I absolutely hate (which is why I never wear lip gloss) and its color, a pale pink, was barely detectable. I would pass on this one.
Last but not least, there was the Kaplan MD Cellular Rejuvenating Concentrate. I could not believe it when I saw that one ounce of this stuff costs $170. Obviously, with a price like that, the sample was very small. Two drops is all you need to cover your whole face, so you can get a few uses out of the sample. This is an anti-aging serum that claims to reduce the appearance of wrinkles and increase the production of collagen. It felt great going on and it did have a bit of a smoothing effect, but I could never justify spending $170 on a serum. One of the fun parts of beauty box subscriptions, though, is sampling stuff you could never afford.
I loved Allure this month. The only product I wasn't all that impressed by was the Soap and Glory plumping gloss, but the other six items were fabulous. I liked that there was a mix of drugstore brands, high end brands, and middle tier stuff. They've set the bar very high for themselves. I hope they don't let us down in October.
---
Overall, September was a great month for beauty boxes. Mask Maven was my least favorite of them all, but I loved all the others and would be hard-pressed to pick a favorite. Picking a favorite product of the month was easy, though. The One Love Organics Skin Savior that was in my Kloverbox is one of my favorite beauty box discoveries ever. I'll give Kloverbox the win this month for introducing me to that product.
Brandi Morgan Kirchgessner has always loved getting mail and wearing makeup, so she was ecstatic to discover beauty boxes. She lives with her three dogs and five cats.

Illustration by Tara Jacoby.