When I clicked on this link, I didn't expect to fall in love. Oh, okay, another disposable Tumblr parody—this one is Conan O'Brien's "Reasons My Talk Show Host Is Crying," a riff on America's current sweetheart "Reasons My Son Is Crying"—do I really need that? I will not be manipulated by your cynical corporate riffing, TBS! I will not laugh at your little Tumbl—oh. OKAY, FINE. ALL OF THE REASONS THAT CONAN IS CRYING ARE THE BEST. Also, Conan's cry-face is the best. Conan O'Brien's cry-face, will you accept this rose? [Tumblr]
---
Here's some exciting news! Every day Melania Trump slathers her 7-year-old son Barron Half-Trumpen "from head to toe" with a vat of caviar. Well, more specifically, it's "caviar face cream" from Melania's own skin care line—the goal being, I guess, to keep Barron as young as possible for forever as possible. Because everyone loves a moist, fish-smelling perma-child. Anyway, here's Melania talking:
"He's not a sweatpants child, he doesn't mind putting on (a suit) — but not every day — and he likes to dress up in a tie sometimes like Daddy."

"He has a lot of energy and is very cute," she gushed. "I call him 'Mini-Donald.' He's my priority."
G/O Media may get a commission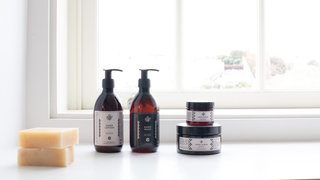 Exfoliate and Hydrate
The Handmade Soap Company
(Caveat: There is no genuine danger of anyone turning into a perma-child, because bullshit "anti-aging" face creams invented by odious socialites might as well be made of an actual bull's shit. Because magic isn't real.) [NYDN]
---
Whut? Rick Ross finally issued a genuine apology (sorry-YES-sorry) for his rape lyrics, and it's actually really, really good!
"Before I am an artist, I am a father, a son, and a brother to some of the most cherished women in the world. So for me to suggest in any way that harm and violation be brought to a woman is one of my biggest mistakes and regrets. As an artist, one of the most liberating things is being able to paint pictures with my words. But with that comes a great responsibility. And most recently, my choice of words was not only offensive, it does not reflect my true heart. And for this, I apologize. To every woman that has felt the sting of abuse, I apologize. I recognize that as an artist I have a voice and with that, the power of influence. To the young men who listen to my music, please know that using a substance to rob a woman of her right to make a choice is not only a crime, it's wrong and I do not encourage it. To my fans, I also apologize if I have disappointed you. I can only hope that this sparks a healthy dialogue and that I can contribute to it."
That is how you do it, fellows. [KarenCivil]
---
Lindsay Lohan is headed to Coachella. Beware. [E!]

Look at Jenna Dewan all pregnant and wearing these shoes! The moxie! [JustJared]

Here's Kate Walsh wearing a dress that is apparently E!'s nemesis. [E!]

Meryl Streep is going to narrate the audiobook of Nora Ephron's Heartburn. Sob. [EW]

Kristen Bell challenged Tom Arnold to a baby-off. [Us]

Here's Reese Witherspoon dressed up as "What Lindy Thinks She Looks Like in Her Head Circa 1999." (1999 Lindy was mistaken.) [E!]

Jay-Z's stylist, June Ambrose, says she'd love to make over Lindsay Lohan because the star has "amazing potential." (Sick burn, Jambrose.) [E!]

Simon Cowell has never voted. [E!]

Joan Rivers is super jazzed that Gwyneth Paltrow made fun of her face, because it means Goop is tuning into Fashion Police (no, it dooooesn't!). [E!]

Jerry O'Connell says he's too old to slide into the role of Christian Grey. [E!]

Here's Ke$ha. [TMZ]

Chaz Bono and Cher are in a fight, maybe, because:


Cher loves Chaz to death, but she stopped talking to him because they just don't see eye to eye on the very public way he's continued to deal with his transformation. She's really at peace with the transgendered aspect it's just that she still sees Chaz as her little girl and the dramatic physical changes are really hard on her.

"Chaz understands completely so they both agreed to take a little family sabbatical — from each other. Cher even joked that Chaz reminded her too much of his dad Sonny and you know how well that turned out."

That seems...not at all true. But okay. [Radar]

Oh, let's just go dance.
Photo credit: Getty.