Katrina Pierson is truly a woman for our time, the spokeswoman that our era deserves. Trump's chief apologist is uniquely adept at switching the narrative on a moment's notice, confusing helpless CNN anchors media with her verbal tricks, and inventing facts when the moment calls for it. Indeed, some have described Pierson's unique acumen at television news appearances "genius."

If a genius is someone who takes conservative Facebook memes shared by avid Drudge Report readers and turns them into a string of words, then Pierson is, indeed, a genius. In the span of this presidential election, she has questioned whether or not Marco Rubio is a natural born citizen (he is); blamed Barack Obama for the war in Afghanistan; again blamed the President for the 2004 death of Captain Humayun Khan, the son of Ghazala and Khizr Khan who spoke at the Democratic National Convention. Pierson's most recent appearances birthed the Twitter hashtag #KatrinaPiersonHistory.
Most recently, Pierson furthered the conspiratorial narrative that Hillary Clinton suffers from a neurological disorder, the kind best diagnosed by messages boards on the fringes of the internet. While defending Trump's comments earlier this week, Pierson said during an MSNBC segment that Clinton likely had dysphasia, a disorder that affects speech and comprehension. That same diagnosis was offered by a Fox News contributor earlier this month.
G/O Media may get a commission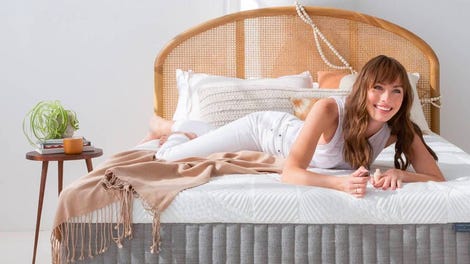 Sleep Sale
Sleep Sale - Brentwood Home
She also denied the recent staff shakeup at Trump's campaign, deflecting by suggesting that Clinton's campaign infrastructure was questionable, ostensibly because of Huma Abedin's presence, and then said some words about Russia. The response from CNN panelists shows the range of facial expressions that "disbelief" can take:

But these are only the most recent of Pierson's masterpieces; her oeuvre extends back over the last year and a half. That history includes a defense of Trump's sexism which, according to Pierson, is not sexism if the Republican nominee treats everyone like shit. A radical approach to equal opportunity, indeed. There are also references to "extreme vetting" of immigrants, Monica Lewinsky, Vince Foster and the Clinton Body Count. There was also her bullet necklace, a piece of jewelry so memorably and purposefully provocative that it spawned one of the best tweets to ever appear on Twitter.
Pierson's regular appearances are the epitome of this election's id—the spectacle of incoherence coupled with conspiratorial anger, at once both irresistible and loathsome.