This morning I woke up and opened my eyes and it was still true—Donald Trump will be the 45th president of the United States. And then I realized there's not a damn thing I can do about it.
I'm having trouble coming to terms with how this happened, and it's hard not to think about all the things that could be in our future, what with one party controlling the White House and Congress and the blatant racist and sexist promises now-president elect Trump made during the campaign. And I've found myself obsessing over what's going to happen, only to look up twenty minutes later with a clenched jaw and bitten-off fingernails and still have more worst-case scenarios to run through.
So what are we to do instead of repeatedly imagining potential doomsday scenarios? The answer is simple, and stupid, and obvious. Breathe.

It sounds insincere to suggest meditating will make everything okay, because, of course, it won't. But it's a nice reminder that you don't have to feel bad just because there are things to feel bad about.
Here's what I do: find somewhere quiet, set my phone timer for five minutes, sit down and breathe. Think about breathing. Then keep doing it. Some people breathe in for four, hold for seven and exhale for four. Other people don't. Find a slow, easy pattern that feels good for you. And when your mind wanders, as it does, observe the fact that you're thinking the thought that you're thinking, let it go, and focus back on the breathing. Breathe in... breathe out... breathe in... these fucking idiots don't realize Trump thinks he's better than them (I am feeling angry)... breathe in... breathe out... who fucking voted for him anyway (I am feeling scared).. breathe in... breathe out... bagels (I am feeling hungry) ... breathe in... etc.
G/O Media may get a commission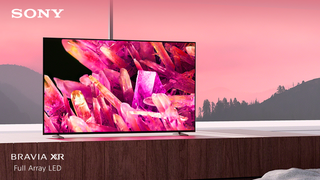 $400 off
Sony 55 Inch 4K Ultra HD TV X90K Series
I didn't say I was good at it. But it helps.
I used to think meditation was kind of dumb; I still do, but now I do it anyway because it reminds me that there's a calm, indifferent perch in my brain for my sanity to hang on when everything is going to shit.