In recent weeks, a humanitarian crisis in the Russian republic of Chechnya, where authorities are reportedly rounding up gay men to torture and kill them, has been a subject of increasing media scrutiny. Earlier this week, after an April 4 story in the Russian paper Novaya Gazeta detailing the prison camps in which the gay men were held made the internet rounds (which almost invariably referred to the captivity as "concentration camps"), celebs like Ellen DeGeneres, Matt Bomer, and Billy Eichner spoke out against the human rights violations.
Ana Gasteyer Satirizes the Girl Boss in 'American Auto'
Now, The Guardian has published the clearest English-language account of life inside of one of those camps. "Adam" (not his real name) was held for more than 10 days, after being set up by another gay friend who asked to meet him (those in charge of imprisoning and torturing the gay men are said to go through their phones, demanding to know which of their contacts is also gay). According to The Guardian:
At least once a day, Adam's captors attached metal clamps to his fingers and toes. One of the men then cranked a handle on a machine to which the clamps were linked with wires, and sent powerful electric shocks through his body. If he managed not to scream, others would join in, beating him with wooden sticks or metal rods.

As they tortured him, the men shouted verbal abuse at him for being gay, and demanded to know the names of other gay men he knew in Chechnya. "Sometimes they were trying to get information from me; other times they were just amusing themselves," he said, speaking about the ordeal he underwent just a month ago with some difficulty.
Adam says he was returned to his family eventually, with the authorities telling them, "Your son is a faggot. Do what you need to with him." His father stopped talking to him. He soon fled the country.
The Guardian writes:
In Chechnya's ultra-traditional society, based on strong codes of family and clan allegiance as well as Islamic faith, having a gay relative is seen as a stain on the entire extended family. Brothers and sisters of a known gay man would find it hard to get married as the family would be seen as tainted.
G/O Media may get a commission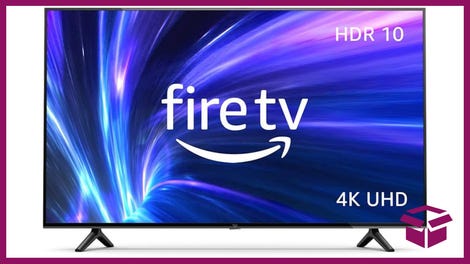 42% Off
Amazon Fire TV 50" 4K Smart TV
Further, in its initial report on the matter, the New York Times said:
In the restive Muslim regions, Mr. Putin has empowered local leaders to press agendas of traditional Muslim values, to co-opt an Islamist underground.
Chechnya's leader, Ramzan Kadyrov, denied the claims of Novaya Gazeta, which broke the initial story April 1 and estimates this may have affected over 100 gay men (and left at least three dead). A Kadyrov spokesperson, Alvi Karimov, told Interfax that Novaya Gazeta's story was "absolute lies and disinformation." Karimov continued:
You cannot arrest or repress people who just don't exist in the republic. If such people existed in Chechnya, law enforcement would not have to worry about them, as their own relatives would have sent them to where they could never return.
In its April 4 followup, Novaya Gazeta reported (via Google Translate):
Official representatives of the Chechen Republic habitually declared "slander" and disseminating "gossip." Interior Ministry's press-secretary of the Czech Republic expressed the opinion that it was "a bad April Fool's joke."
The Guardian reports:
Putin's spokesman Dmitry Peskov said he had no information about the allegations and advised those with complaints to contact authorities: an unlikely recourse given the authorities themselves are implicated.
Gay rights activist Igor Kochetkov, who started a help center to emancipate gay Chechens, told The Guardian:
We are talking about the mass persecution of gay people, with hundreds of people kidnapped by authorities. This is unprecedented not only in Russia but in recent world history. There is little doubt that we are dealing with crimes against humanity.