Here's a tremendously bad idea that no one should actually do: supporters of guns on campus are planning to stage a mock mass shooting on the University of Texas at Austin campus. The "shooter" will be taken down by other people "armed" with cardboard guns. There will be fake blood and gunshot noises played through bullhorns. Hey: this is a really fucking bad idea.
The Austin-American Statesman reports that two gun rights groups are planning the event: Come and Take It Texas and DontComply.com. Matthew Short, a spokesperson for the groups, told the Statesman they haven't sought any kind of permit or permission to execute the event:
"It's a fake mass shooting, and we'll use fake blood," he said. He said gun noises will be blared from bullhorns. Other people will then play the role of rescuers, also armed with cardboard weapons.

He said the group was not seeking any sort of permit for the event from Austin or UT. University officials were not immediately available for comment, but in November, university President Gregory L. Fenves spoke in favor of a faculty resolution opposing campus-carry.
In a press release posted to Facebook, Come and Take it Texas said the point is to show that "gun free zones are killing us." They asked for "crisis actors" to volunteer:
Life And Liberty Event To End Gun Free Zones

Open Carry walk and Crisis Performance Event happening at UT Austin this weekend. Local groups Come And Take It Texas and DontComply.com will once again take to the streets armed with rifles and pistols on display followed by a crisis performance on UT campus. In the wake of yet another mass shooting one thing is clear, Gun Free Zones are killing us. These target rich environments are letting our children be murdered by evil people. Now is the time to stand up, take a walk, and put pressure on politicians to ban Gun Free Zones.

*Crisis Actors Needed

Date: Dec 12th

Time: 12:00pm

Meetup: 2426 San Antonio St

Austin, TX

Murdoch Pizgatti

President/ Co-Founder DontComply.com

admin@dontcomply.com
Another thing that kills people is guns. Specifically on the UT Austin campus, where Charles Whitman climbed the Tower and killed 16 people in 1966, armed with three hunting rifles and three pistols. Whitman had killed his wife and mother earlier in the day. He was then shot and killed by an Austin police officer responding to the scene on campus.
G/O Media may get a commission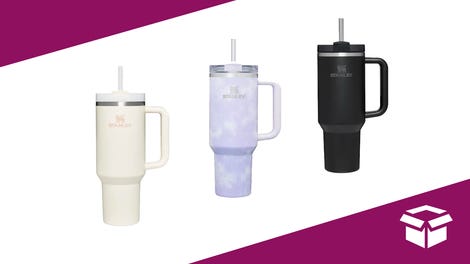 Up to 45% off
Stanley Cup Sale
In 2010, 19-year-old student Colton Tooley opened fire with an AK-47 on campus, then died by suicide in the library. With a gun.
Event organizer Murdoch Pizgatti of Come and Take It Texas assured the Dallas Morning News the event won't be "realistic," and said he wasn't particularly worried it might appear to be in bad taste: "Not at all."
Journalist S.I. Rosenbaum called for cosplayers to "disrupt" the event, or at least make it look a little more fictional:
UT Austin issued a statement of their own Wednesday afternoon, indicating that "outside groups" who might want to come on campus, and, say, stage a fake mass shooting would be criminally trespassing if they did so without a permit:
The university is aware of media reports about an outside group's intention to stage a group performance of a mass shooting on the UT Austin campus this weekend. Our Board of Regents' rules designate our campus as a space reserved for the business, research and educational purposes of UT Austin. Within the university community, the campus is a place for the vigorous exchange of diverse viewpoints, which is an essential part of the educational experience. The property or buildings owned or controlled by UT Austin are not, however, open to outside groups for assembly, speech, or other activities, including theatrical performances, as are the public streets, sidewalks, and parks. Only the university itself, faculty, staff and student groups may engage in such activities on campus. This applies equally to an outside protest group, an outside theater troupe, or any outside group wishing to use the facilities or grounds of the university.
---
Contact the author at anna.merlan@jezebel.com.

Public PGP key
PGP fingerprint: 67B5 5767 9D6F 652E 8EFD 76F5 3CF0 DAF2 79E5 1FB6
Murdoch Pizgatti of Come and Take it Texas protesting in front of the Texas State Capitol in Austin last year. Screengrab via Facebook/Come and Take it Texas