Ever since Sarah Maslin Nir's investigative pieces on the poor working conditions and human rights violations at nail salons, manicure fans might be wondering what the most responsible nail route is going forward. While it's great news that Governor Andrew Cuomo quickly stepped in, ordering investigations to be conducted and establishing new regulations, this whole thing can turn a person off from stepping their well-manicured foot into a salon forever. If you'd rather keep your manicures and pedicures as guilt-free as possible, why not try giving yourself an at-home treatment? You'll be able to get your talons pretty and on your own terms—like while simultaneously being topless, having a plate of fine cheeses nearby, and catching up on some Netflix.
What polish is safe to use
Over the past few years more information has come out in regards to the life-threatening dangers of nail polish chemicals. In the second part of the New York Times' "Unvarnished" series, the effects these chemicals had on the health of some nail salon workers was revealed. Breathing issues, birth defects and even cancer are some of the problems that were suspected to be caused by ingredients found in nail polish. Many nail polish brands—both big and small—have changed their formulas to be more healthy and eco-conscious. There are brands that boast a 5-free formula (meaning they're free of harmful ingredients such as dibutyl phthalate, toluene, formaldehyde, formaldehyde resin and camphor) and 3-free (only dibutyl phthalate, toluene, and formaldehyde are absent.) If you haven't already, survey your polish collection at home to see what brands have followed through with this very necessary safety trend. Brands like Deborah Lippmann, Zoya and Jin Soon and are all 5-free, while Chanel's nail products, the brand Essie, and indie polish company Floss Gloss are all 3-free.
Polish remover usually contains acetone, which has a strong odor and can be harsh on nails and skin. Julep has an acetone-free remover and RGB makes soy-based remover pads.
Mani how-to:
Whitney Gibson, a Los Angeles-based nail artist repped by Nailing Hollywood, provided this easy step-by-step for your at-home manicure.
G/O Media may get a commission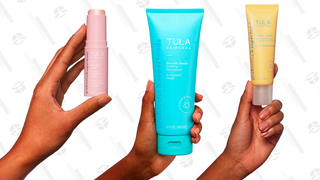 First, pick up the following tools: nail clippers (small for hands, large for toes), cuticle softener, a cuticle pusher, a file, base coat, top coat, your polish, a small brush for cleanup, towels, nail polish remover and cotton balls or pads. Next, you'll need to figure out the best area of your home to convert into your own personal salon. "Make sure to choose a spot with good ventilation so you're not inhaling more fumes than you need to," Gibson advises.
Clean the nail bed thoroughly with nail polish remover, taking extra care to get rid of any old polish.
File nails into preferred shape. (She recommends a glass file for extra precise filing.)
Apply cuticle softener to the base of each nail and gently push cuticles back using your pusher.
Wash hands and apply moisturizer.
Do another round of polish remover or use a cleanser. This step will help to ensure the base coat really sticks to the nail.
Apply a thin coat of base coat to each nail.
Then apply two thin coats of color to each nail, being as careful as possible to avoid getting polish on your skin. The most effective way to apply polish is the three stroke method—one down the middle of the nail and one on either side. Try not to let the polish pool anywhere because the thicker the application, the longer it will take to dry and the more likely you are to get annoying bubbles.
Apply a generous coat of top coat and make sure to sort of seal the edges.
Clean up by dipping your small brush (an angled one designed for eyeliner works great) into polish remover and carefully clean up any spots where polish meets skin.
Give your polish about an hour to completely dry and retouch with topcoat every three days or as necessary.
The at-home pedi
Pedicures pretty much follow the same steps as manis. Brooklyn-based manicurist Claire Beaudreault recommends using a bit of Epsom salt and a couple of drops of your favorite aromatherapy essential oil to soak feet, whether you use a tub or a fancy foot spa like this one by Conair. Just make sure to dry the foot before going at it with a foot file—you'll get more dead skin off than if you do it wet.
"Make it snow!" exclaims Beaudreault. "And don't use credo knives. They're illegal in salons and you could hurt yourself. Your foot is supposed to have a little callous. It protects you! Slather some heavy lotion on and put socks on before bed."
Another important tip for your mani/pedi: If you're annoyed at dead skin around your cuticles, cutting them can be dangerous. It's best to leave that to the professionals. In some states, it's actually illegal for manicurists to cut them. Beaudreault suggests keeping them moisturized and just pushing them back. "Ride out the roughness and you'll be happy you did."
Keep things sanitary
"Even if you're the only one using your tools, be sure to clean thoroughly between uses. In salons we use different hospital grade disinfectants, but there are other less hardcore options for home," says Beaudreault.
Clean your tools by scrubbing them with a nail brush using warm, soapy water. Then disinfect with cotton balls and rubbing alcohol. Make sure they dry completely to prevent rusting.
Gel nails
If you prefer giving yourself the gift of long-lasting gel nails, there's several at-home systems available. Gibson suggests CND's Shellac line which is very popular and has a wide range of colors. You can also try out Red Carpet Manicure's Gel Polish Starter Kit, which has everything you need to give your claws a professional-looking gel mani right at home. There's also this techno-soundtracked instructional video available to walk you through.
Of course, if you're lazy as fuck to do your own nails and can't convince a friend or lover to do them for you, there's still hope. On-demand beauty apps like Priv and The Glam App can bring a professional manicurist right to you, without all the salon shame. Plus, you'll feel just like J-Lo, having your own personal nail buffer at your fingertips.
Images (the first of Anne Hathaway's Hathahands) via Getty, Conair, Red Carpet Manicure.
Contact the author at marie.lodi@jezebel.com.