Jem and the Holograms creator Christy Marx wrote her own movie script for the cartoon she created after Hasbro and Universal cut her out of the 2015 reboot. And while it's rude she wasn't contacted for the redux, maybe we Jem fans shouldn't be so upset. It looks like Marx's omission was just business. Rude business, but business nonetheless.
Back in the 1980s, Marx was a writer on the G.I. Joe cartoon, a product of Sunbow animation studios, before Hasbro made a line of rocker chic dolls and came to Sunbow for a storyline. The company liked Marx's work and brought her onto the project, where she created a whole world around the dolls as Jem and the Holograms. From a 2011 interview with the Mary Sue:
I was able to create the full names, biographies and major elements of the show.

I came up with the Starlight Girls, Starlight Foundation, Starlight Music, Eric Raymond, all the other secondary characters, the Jerrica/Rio/Jem love triangle and so on. … I was quite happy with the way the series went in general. I'm proud of how it turned out. … As much as I loved Jem, it was someone else's property, whereas I created and own The Sisterhood completely.
In a chat with Steed, Marx added that while she didn't write Jem to represent a specific political position, the character did develop one naturally.
I'm not sure I'd make a sweeping statement about the development of the Jem movie as representing some movement for men to take over feminist properties. There are those who would likely shy away from calling Jem by that label. While I think it was a show that is worthy of feminist ideals, I didn't set out to make anything deliberately feminist. I've always been drawn to strong, independent female characters. I'm a strong, independent woman in my own right. So it only makes sense that I'd write Jem that way.
G/O Media may get a commission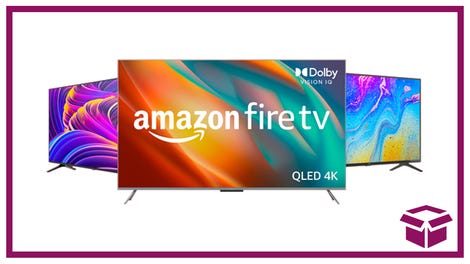 Ooh. stunning.
New Amazon Fire TVs
This is why Jem fans are so pissed that Scooter Braun, along with other bros Jason Blum, Bennett Schneir, Brian Goldner, Stephen Davis of Hasbro Studios and director John Chu are producing the film—it's like a congressional hearing on birth control over there. Even the script's writer is a dude, Ryan Landels.
In a chat with Steed, Marx admitted she's still not sure why no one from the new film based on the 1980s cartoon—produced by Braun, manager of Justin "Padded Calvin Klein Model" Bieber and Ariana "Known Adult Baby" Grande—has contacted her about contributing, outside of a courtesy call from Hasbro publicity to say the film was happening last spring. In a 2014 Facebook post, Marx says that Jem is "franchise IP" and Hasbro, which owns the intellectual property, can "do whatever they want with it, and they have no obligations whatsoever to me."
Jezebel contacted Marx to find out if she ever had a chance to own a bit of her creation.
"No, no such option existed for animation writers," she tells Jezebel. "We aren't protected by the WGA, so we lack many rights that protected writers have. Even so, owning a piece of a toy company's IP wouldn't have been one of those rights."
Universal announced October 23, 2015 as the release date for the new Jem, starring Nashville's Aubrey Peeples as Jem alongside co-stars Molly Ringwald and Juliette Lewis, according to Variety. And while the lady line-up sounds great, there are still a ton of dudes on the production side, which Marx pointed out to her dismay last March in the aforementioned Facebook post.
Many people wonder how I feel about it. I don't think I can hide that I'm deeply unhappy about being shut out of the project. That no one in the entertainment arm of Hasbro wanted to talk to me, have me write for it, or at the very least consult on it. I wouldn't be human if that failed to bother me.

My other unhappy observation is that I see two male producers, a male director and a male writer. Where is the female voice? Where is the female perspective? Where are the women?
In that same post she rhetorically asks if not owning a piece of Jem's franchise opportunities was a smart situation, though she never really had a chance.
"That type of animation job was a standard work-for-hire contract," she tells Jezebel. "It wasn't a matter of neglect or leaving anything out because no toy company would make a deal that gave away ownership of their property in any way."
This is certainly a tough pill to swallow, for her and all of the fans of her work who happen to have a vagina.
Image via Facebook and Tumblr.