Some men donate sperm for money, others out of a desire to help. But some do it because the idea of getting women pregnant turns them on.
In a piece for Newsweek/The Daily Beast, Tony Dokoupil writes about men who give sperm to strangers for free, even though they could make $12,000 a year doing it. Some of these men want to spread their so-called "amazing genes," and some are motivated by an altruistic desire to help women have kids. Some, however, have an impregnation fetish. There's Ray, for instance, who says, "I actually have little interest in even a stone-cold fox if she isn't going to get pregnant" (seems like kind of a bummer for his wife, with whom he already has two kids). Ray prefers to donate by actually having sex with women, which he erroneously claims is more effective than artificial insemination, and he explains, "I guess in some ways, helping lesbians, I am like an astronaut of inner space, going where no man has gone before."
A less bombastic example is Trent Arsenault, who operated his own sperm donor website until it was shut down by the FDA. Arsenault drinks vitamin-rich "fertility smoothies" twice a day and has fathered at least 10 kids. He says, "I describe myself as donorsexual, so my sexual activity is limited to donation." He's also appealing the FDA's closure of his site, claiming that donating sperm for free is actually a sexual practice, and thus beyond the agency's purview.
Many sperm recipients might not be psyched to think of the practice as a form of sex. Of course, all sperm comes from masturbation, so it's not quite like donating blood — there's always going to be a sexual component. But women who are hoping to start a family might not be excited to learn that what's a life goal to them is a fetish to their donor. And if their donor thinks of getting them pregnant as a form of sex, even if there's no penetration, they should have the right to know that. Amber Pigott-Robertson, who conceived her now-one-year-old daughter with Arsenault's sperm, describes his first meeting with the child:
When he saw her for the first time, his face just lit up. He was a perfect match. He gave us what we had been longing for, what we felt would complete us. So there's no expressing how much gratitude I have for him. People like Trent come once in a lifetime.
G/O Media may get a commission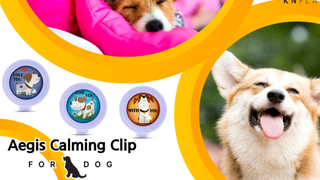 20% off
Aegis Calming Clip for Dogs
This is sweet, and there's a definite argument for letting children get to know their donors. But that same spirit of openness should apply to donors' motivations too. When people try to conceive the natural way, they know when they're having sex. Women who seek to conceive artificially should be aware when a donor is having "sex" with them.
The Coffee Shop Baby [Newsweek/Daily Beast]
Image via Levi Lenaerts/Shutterstock.com