Wondering who the nicest, most popular man in your state is? A dating app has done some research to help you find out.
Lulu is the dating app that is supposedly like Yelp, but for ranking men instead of leaving incomprehensible comments about restaurants. Women can use the app to anonymously rate men, which predictably caused some backlash. Earlier this year, the company changed their app to be a little less harsh on the poor dudes who didn't know all their awful shit they did to women were ending up costing them points on a dating app.
So now, instead of focusing on calling out lousy men who have treated women like shit, Lulu is celebrating men who don't suck and are actually pretty damn popular. The men (all Lulu users) were graded by women who know them, on a scale of 1-10. In the graphic below, via Business Insider, shows the winners in each state:
While there are no perfect scores in the US, a man in Texas and a man in Illinois men both received a 9.7 score. Their friends used the following hashtags to describe them: "#DoesDishes," "#RemembersBirthdays," and "#OneOfTheGoodOnes." (All descriptions in Lulu are hashtags — free form answers could put Lulu's users in libelous territory.) Business Insider blurred out any NSFW hashtags too.
And don't worry, Business Insider contacted all the men on the list to make sure they were cool with being named as the number one man in their state. You can get to know all of the men, one by one and state by state, here.
G/O Media may get a commission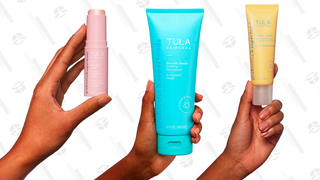 A man from Texas, where I live, got one of the highest scores. Twenty-five year old Regan McConnell got points for ambition, doing his own laundry and being a "man's man." He also has very pretty hair, but I do not see that listed as one of his winning traits.
So the next time someone tells you there are no good men left, remember these flower-bringing, laundry-scrubbing, giving heroes of online dating.