Iliza Shlesinger is a stand up comedian with a number of Netflix specials, a Freeform show called Truth & Iliza, and an upcoming show for ABC called Forever 31. Also, for the last 24 hours, she has been tweeting herself into oblivion.
It all began with some comments that Shlesinger made to Deadline in an interview published on June 12, in which she generally disparages other women comics:
When you're a woman in comedy and you get a break, people get so excited about it, but while we have to work hard to get that attention, I do think many women think, "Oh if I just act like a guy, if I go for that low hanging fruit…" Everything's about sex, or how weird I am. It all just kind of runs together.

I could walk into The Improv, close my eyes, and I can't tell one girl's act apart from another. That's not saying that 30-something white guys don't all sound the same sometimes, but I'm banging my head against the wall because women want to be treated as equals, and we want feminism to be a thing, but it's really difficult when every woman makes the same point about her vagina, over and over. I think I'm the only woman out there that has a joke about World War II in my set.

I think shock value works well for women, but beyond that, there's no substance. I want to see what else there is with such complex, smart creatures.
That's why women like Tina Fey do well. It's smart, and men can laugh at it, too. I consider myself one of those comics, and quite frankly, I'm appalled by what is expected of women, and what women offer in response in that.
On Thursday, she went out of her way to highlight these comments on Instagram:
G/O Media may get a commission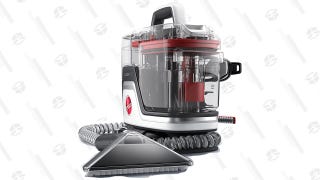 Save $10
Hoover CleanSlate Plus Carpet & Upholstery Cleaner
Then the backlash began.
In a series of tweets that have since been deleted, Shlesinger ranted against people criticizing her fairly offensive perspective towards other women in her industry:
And got dragged by other women comedians, who found Shlesinger's hype about her groundbreaking "World War II joke" particularly ripe for mockery:
Shlesinger's threat to talk about this in a Facebook live has been walked back, perhaps because her manager finally got in touch with her. She shared a final statement on the matter (for now) Friday afternoon:
In an effort to Lean In to our best work, the Jezebel staff came up with a number of WWII jokes that at times border on the deeply offensive. Feel free to share yours in the comments. Here was mine:
Here are some others that no one said they wanted their name on:
How do you find your way to Berlin? Take a Reich.

Something my grandpa and I have in common: He was in Europe on VE Day, I got VD in Europe, both of us have pieces of a German explosion still in us.

The women in my barre class are so white I call 'em Eva Brauns.
Every Saturday is D-Day for me, because young American men keep falling into my bush and crying about it.

Are you happy to see me or is this the Battle of the Bulge?
Hitler? I hardly know her!

Bunker? I hardly know her!

Dwight D. Eisenhower? I hardly know her!

Dunkirk? That's what she said!!!!!!

Actually, maybe we didn't appreciate what Shlesinger has to offer.