Today, Donald Trump held a listening session on healthcare. As everyone has only just recently learned, healthcare is actually very complicated. Who knew? (No one.) And because President Trump was discussing such a complicated topic, he repeatedly placed his hand on and around his face in consternation. Here are some unaltered photos of that same face and hand, both of which belong to one, single human.
Here is Trump's face and hand at a slightly different angle.
And here is a zoomed-in but otherwise unaltered version of the exact point where Trump's face meets Trump's hand.
G/O Media may get a commission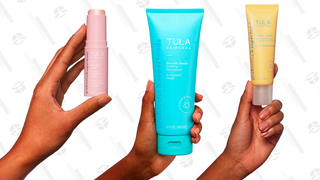 Stunning.
The photos above were taken by the Associated Press. So for good measure, let's see what another photo service has to offer us in the way of Trump's face and hand. Here are Trump's face and hand as seen by Getty Images.
That's Trump's face and hand alright.
Here, again, we have Donald Trump's face, and Donald Trump's hand.

This has been Donald Trump's face and hand.