The 2016 MTV Movie Awards air tonight and, as expected, the red carpet was full of some A-list celebrities and a lot of randos I had to Google. I'll let you surmise who are the whos, because we're really here to look at the ensembles; some whos really know what's up in that realm, thankfully for us all. Above, Cara Delevingne's make-up look is flawless, particularly the brownish-raisin tone of her lippie...
And her full look, a cut-out bustier top and trousers by Balmain, set the stage for the night's severity, in this world of late-stage Balmainiacs. Erin Lim toned down the look, though—is that a shrug??—with a sweet braid crown that added some softness to a style most often taken to its roughest edges.
Gigi Hadid, freshly shorn with fringe and a shag, worked business casual in Versace pinstripes, while her friend Kendall Jenner—unfortunately obsessed with the extreme gladiator bondage sandal—played on the theme of leather shoelaces in Kristian Aadnevik.
G/O Media may get a commission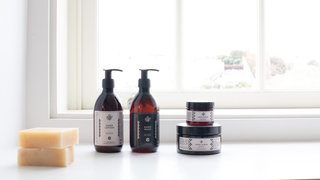 Exfoliate and Hydrate
The Handmade Soap Company
The cropped and short-shorts two-piece was a reminder that Los Angeles is much more temperate than virtually anywhere else these people might be, and therefore people are feeling like summer. Chanel West Coast kept it tropical in a cute print, though the black accents weighed down the vibe of it, plus the slouchy sandal boots were way too clunky for what could have been a vibrant estilo. Faring better: Egypt Criss, whose beaded, scalloped two-piece is bright and party-ready, and Halsey (in Idan Cohen), a pretty shade of peachy pink. No one really pulled it together like Ta'Rhonda Jones, though, who kept it simple and cool and accessorized smartly. I want to go to her pool afterparty.

Charlize Theron (in McQueen) and Jessica Chastain (Givenchy) didn't toootally get the memo that MTV is where you can let loose a bit, so they arrived looking regal and frankly too big for the damn thing, thanks probably to their stylists. Let them live, stylists! Holland Roden and Nargis Fakhri did party demure a little more loose and cute, though, spoiler, I had to google them both. Maybe there's something to be said for dressing for the event you wish you were at.
To MTV, this is the cast of the 31st season of The Real World—Sabrina Kennedy, Kailah Casillas, Chris Hall, CeeJai' Jenkins, Dean Bart-Plange, and Dione Mariani. To me, this is perfect style inspo for a girl group like Fifth Harmony—personal style expression within a specific spectrum of hue coordination without spiraling into the ether.
Ashley Rickards kept it casj in a pretty gunmetal fringe top, while Farrah Abraham gussed it up in sunray sequins. Kat Graham's corset dress looks incredibly cute and modern in a sweet blush, but is vintage Dolce & Gabbana from 2003, which terrifies me for the trend cycle, but we lived through it once and will, apparently, again. Lizzy Caplan's bob cut is a winner, though I almost wish that sequin party frock cut off before the sheer skirt; more fun!
Rachael "Steak" Finley, here with her husband Blake Anderson, is honestly one of my favorite looks of the night; she seamlessly blends party (neon camo) with trash (semi-sloppy tied t-shirt) with flossy (beaded mini, strappy sandals) and seems like one of the most fun people at this whole steez. I would like go to her pool after-afterparty. Baddie Winkle is always doing her thing, although I feel like she's been increasingly conservative, if one can say as much about an octogenarian wearing a hot-pink sequin suit, rave platforms and a faux-rabbit stole. Salt 'n' Pepa look fun, too, especially Spinderella's sweet, psychedelic-print two-piece.
Chris Pratt is very dadly in that buttery leather, while Miles Teller—with sister Dana and gf Keleigh Sperry—is very sonly in a bomber. I would like to say I'm not angry at Ed Skrein's eggplant three-piece suit, but I am still angry at him leaving his role as the original Daario on Game of Thrones and forcing us to deal with a far less Daario-like guy, just so Skrein could further his career in Deadpool. SOO SELFISH, WARRING NERD FACTIONS. Hugh Sheridan is maybe or maybe not Rebel Wilson's boothang, but either way they make a cute date, and are wearing total third-date looks, chill and party but not too party.
I love the Angulo brothers—stars of Crystal Moselle's documentary The Wolfpack, about their lives holed up in an East Village apartment and the way they use their imaginations to recreate films—that same imagination clearly translates to their looks, too. Bowtie with whiskers? Sailor pants and an anti-fracking patch? Throwback metalhead chic? All of it, so great.
Common, with Straight Outta Compton's O'Shea Jackson Jr., Corey Hawkins, Jason Mitchell, Neil Brown Jr. and Aldis Hodge, all looking casually fly as the event calls for, though I would like to know if Common is wearing double flight jackets? Is this going to be a thing?
Key and Peele have mastered the art of stunting on the red carpet, though I have to say that Michael J. Willett's all-over-print suit is slaying (and I want to borrow it). Tweet comedian Brandon Wardell is dressing aspirationally in smedium OVO sweats, and apparently trying to resurrect the backpack era. As previously noted in this post, 2003 is back, so why not?

---
Images via Getty