Are you so pumped for the official arrival of 2017 awards season, in which fancy people don fancy things and try not to smudge shit in front of 30,000 cameras? Us, too! The Golden Globes is, of course, always the best because there is drinking allowed, so who better to host than your mans Jimmy Fallon? Let's see what everyone's wearing in our annual, constantly updating red carpet showdown!

Above, Anna Chlumsky and Tracee Ellis Ross—two of our perennial faves—have what appears to be a ring-off. Tracee wins (and Anna knows it).
Karreuche Tran in hot pink mermaid; Ron Cephas Jones (of Mr. Robot and father to Hamilton's Jasmine) in a nice tie clip; Jocelyn Towne in pretty florals and Simon Helberg in contrasting velvet; Yvette Nicole Brown went with pretty sequins.
G/O Media may get a commission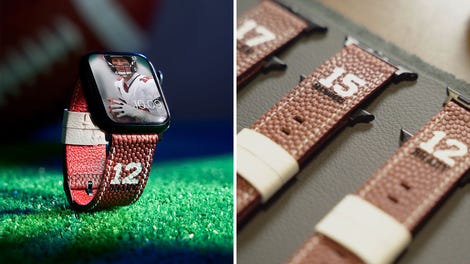 Official NFL PRODUCTS
Official NFL Apple Watch Bands
Anna Chlumsky's kelly green bias-cut is Grecian and lovely, though we need more angles for the fit; Questlove's signature accessory, the red Dee & Ricky lego heart, shines for every occasion; The People vs. OJ Simpson's Sterling K. Brown and Ryan Michelle Bathe are flossing what appears to be an early trend—shiny, sparkly, pretty as can be. Meanwhile, the Beetlejuice gown on Atlanta's Zazie Beetz is fantastic and unlike we'll probably see much tonight. Very '90s chic, but also extremely runway Winona.
Two of the best actors in Hollywood and power couple Courtney B. Vance and Angela Bassett look like they mean business, as usual; I particularly like the tulip effect on Bassett's shoulders, and the tulip-y hue. Emily Ratajkowski is typically vampy in diamond-encrusted, butter satin Reem Acra, and your girl Lola Kirke is very soft and romantic in violets. Tracee Ellis Ross, style maven, is typically great in Zuhar Murad; let's also shout out her hairstylist for easing an intense dress with a pretty, playful pony.
Gwendoline Christie typically chooses great shapes, though I'm not sure about the paleness of this shade; Jill Soloway remains a red carpet hero, this time in a pajama tux and sneakers, the most comfortable person at this joint so far. Lily Collins's Zuhair Murad Couture is very beautiful, and this pic doesn't really do the intricacy of the detailing justice; I presume it's the same with Olivia Culpo's Zuhair Murad gown, which I die for. Related: everyone's freakin' wearing Zuhair Murad.
Velvet rules! Chrissy Metz of This Is Us went for a pretty royal purple; Kathryn Hahn is vamping in this sensual menswear look; Australian actress Teresa Palmer is wearing custom Armani Privé and I'm in love with the cap sleeves. Here is young bae Trevante Rhodes looking fantastic and hopefully winning the first of a zillion awards.
Sparkle motion in action: Kristen Bell going for that deep-V/covered everywhere else look; Kristin Cavallari, Millie Bobby Brown and Regina King all went with gorgeous silver embellishment, but it's King who's blowing me out of the water here with the asymmetrical bustline and glimmery train.
Felicity Jones appears to be our night's first Gucci gal, as evidenced by the inimitable Alessandro trompe l'oeil; Katharine Borowitz and John Turturro arrived in business black, as did Mandy Moore, in a superheroine style Naeem Khan. Actor and rapper Riz Ahmed looks pretty sharp, though I'd particularly like to point out his tiny bowtie, which seems chic.
The Night Of's Amara Karan is lovely but I would like this gown to be toned down by about half its fabric; both Amy Adams and Ruth Negga are doing some liquid metallics right here but I don't remember Amy Adams's after seeing Ruth SHUT THE SHIT DOWN with this short-sleeved, front-zipped robot Louis Vuitton number! BEST. Octavia Spencer is usually in bright gowns, so it's a refreshing shift to see her in a navy tuxedo, and she looks great.
Hello Judith Light, amazing as usual in zebra-print sequins. Wild-ass Michael Shannon is being very Michael Shannon in sunnies and a black-and-blue tux; Natalie Portman is very clearly inspired by her main character, Jackie Kennedy, in this pretty mustard look. Priyanka Chopra looks fantastic in gold; this v-neck/long sleeve/long length situation is emerging as a trend for the night.
Busy Phillips's marigold-embellished dress is a nice contrast to Carrie Underwood's origami freakout of a wedding topper. Drew Barrymore continues the evening's silver trend with a swanlike Monique Lhullier, and Michelle Williams is giving us Westworld in Louis Vuitton.
Never not wearing sequins tonight! Claire Foy of The Crown is dainty in baby blanket pink; Riley Keough went more for a flapper look and it's stunning; Simone Biles has a cool lizard texture on her top, while my queen Maeve aka Thandi Newton is just like, yeah dude, there are bronze flames on my skirt.
Justin Timberlake of Trolls and trolling arrived with actress Jessica Biel, stunning in Elie Saab though I'm not 100% on that skirt pattern. Issa Rae is murking the competition with a regal white gown, as is Janelle Monáe doing a signature polka dot. Sophie Turner's Louis Vuitton selection, however, is questionable, with too much happening and I don't know where I'm supposed to focus the eye. Why the scooped skirt lining?
Anna Kendrick in a Grecian grey is somewhat underwhelming; Julia Louis-Dreyfuss is dressed like our next (sob) president (sob) should. Maisie Williams normally dresses in a more unorthodox fashion, so I'm surprised to see her looking like a pageant queen. Maybe an homage to Elizabeth II? Sienna Miller is also here, with some abs.
Aly Raisman went simple and formal in a nice tangerine; Brie Larson also has an "occasion" vibe. Kerry Washington as ever chose a look that is cued into her refined personal sense of fashion, an unexpected and cool-looking Dolce & Gabbana; Zoe Saldana is our second Gucci gal of the night, and it's elaborate and pretty as it was meant to be.
Gal Gadot, aka Wonder Woman, echoed the night's passion for sequins (and babies!); Isabelle Huppert's gown is gorgeous in that gradient ice blue beading; Kurt Russell and Goldie Hawn SHOCKED attendees by not dressing entirely in Fabletics; Winona Ryder, though, went in a full Lydia getup; hopefully she and Zazie Beetz will meet up and goth out later.
Dev Patel is growing into adulthood quite nicely. Gillian Anderson's look is a little bit out of character, and I'm really feeling the romanticism of it; the tulle and updo are unexpected but really lend her a softness that suits her. Heidi Klum is giving straight Memphis graphic movement vibes, while Monica Belluci is the coolest witch at the ball.
Donald Glover! I am loving this fully brown velvet tuxedo, which is hopefully a little bit vintage, and hopefully was adorned while listening to his own latest album. Laura Dern's embroidered gown suits her, as does Kelly Preston's layered skirt (with John Travolta aka Robert Shapiro, who I will never be able to unsee without The People vs. OJ's tape-on brows). Sofia Vergara went with the golden theme, too, this time with sheer.
Blake Lively came with pockets. The regalness is nice, but cannot beat the ensembles of these three stunners: Emma Stone's Valentino gown is encrusted with stars like a nod to La La Land, Evan Rachel Wood's fanciful tuxedo is bold and chic, and Chrissy Teigen's berry-embellished Marchesa gown is scrumptious and effortless at once.
Connie Britton's pretty half-sleeve gown works for her; Naomi Campbell is freaking Naomi all day; Reese Witherspoon is wearing the most Reese Witherspoon dress I think I have ever seen. Meanwhile, Nicole Kidman is KILLING IT in Alexander McQueen, a cirrus cloud of a gown that reiterates how lowkey awesome she is at this red carpet shit.
Jessica Chastain's cascading floral beads look lovely on her, while Keri Russell went with a more vampy '70s resort look. Viola Davis's lemon-yellow beaded gown is simple, chic and queenly, while Kristin Wiig's lacy number and cute short 'do are playful and remind me that she once dated that dude from The Strokes.
Hailee Steinfeld's lavender tulle thing is wonderful, but of course the best accessory (and trend!) tonight is a baby bump, as Mahershala Ali notes with his wife, the artist Amatus Sami-Karim (looking great in stripes)! Naomie Harris came correct in a lovely but not too try-hard beaded column gown.
And finally, here's Sarah Jessica Parker in a stunning, dramatic Vera Wang. I didn't watch Divorce, but babe, I'll always watch for your ensembles.