Allure ($15 per month, US only)
The Allure box is always fun because the editors at Allure are the ones who choose the products for the box. Given that they try just about every beauty product on the market, I trust their judgment and love to see what they recommend. Allure sends this box to me free of charge for review, so, for ethical reasons, I give the products away after trying them out.
What did I get in my October Allure box? Here's the list:
If my estimate on the value of the Kryolan lipstick sampler is correct, the value of the October Allure box is $51.05. I had to guess how big the lipstick sample was as it was not marked anywhere on the package.
So often, facial cleansers can be drying. The Red Flower cleanser doubles as a moisturizing mask, so you don't have to worry about drying your skin out with this product. I took Allure's suggestion and put it on before my shower started and then rinsed it off at the end of the shower. I got the both the cleansing and mask effects out of it that way. My skin looked great afterward and felt moisturized. It is a little on the pricey side, but if you're like me and need a serious, non-drying cleanser, this might just be the one for you.
G/O Media may get a commission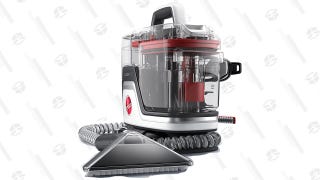 Save $10
Hoover CleanSlate Plus Carpet & Upholstery Cleaner
I've loved other Rituals products I've tried, so I was happy to see the hand balm in this box. It seems small for a full size lotion, but you need just a tiny amount each use. The scent isn't my favorite, but it's light, so I don't mind it. It's a very thick cream and it takes a couple minutes for it to feel fully absorbed. I wouldn't go out and buy it myself, but it's not bad.
The Kryolan Lipstick Matt has a poor design for the samples. Unless you want dust to collect on top of the lipsticks, you have to keep the packaging because the little lipstick pots are not covered. I loved the bright colors and I've actually never tried Kryolan before, so I couldn't wait to give this a whirl. Unfortunately, the samples were already very dry and I could get very little out of the pots using my finger and nothing at all with a brush. What I did get on my lips wasn't opaque and didn't last all that long. I'm not sure if the full size Kryolan lipstick is like this or if my sample somehow got opened, but I don't have a very good impression of Kryolan lipstick after sampling these.
Subscribers got either the Jouer Daily Repair Treatment Oil, for anti-aging, or the Jouer Daily Clarifying Treatment Oil, for acne. I got the Repair oil. The sample itself was extremely small. It took only two to three drops to cover the face, so you can get more uses out of it than you might expect. It's hard to tell if this works because it is such a small sample, but the serum is very silky and it left my skin feeling moisturized. I can never get enough serums in my boxes, so this made me happy.
I got the Cargo eyeshadow in Flint, a deep grey-brown color. Besides Flint, subscribers could also get pink, yellow, or green eyeshadow. Flint was the one I wanted least because I have so many similarly colored eyeshadows. It had some great pigment, though, and the color seems like it would be almost universally flattering. It stayed on all day with minimal creasing.
Finally, there was the Bumble and Bumble blow dry cream. I don't blow dry my hair, but I put a little in my hair after showering. My hair did seem smoother and shinier the next day, so this is worth a try.
I'm just loving the Allure boxes as of late. There's always a great mix of products and all of them have been new to me. Some are hits and some are misses, but they have all been worth trying out. The Red Flower cleanser was my favorite item in this box. I also liked the Cargo eyeshadow and the Jouer oil a lot. The Allure editors are making some great picks.
---
Glossybox ($21 per month, has many international versions)
This month's Glossybox has a French theme! I know a lot of people were very excited for this month's box, so it will probably sell out. Glossybox doesn't have themes all that often, so it's a fun treat when they do. I hope they will have a Korean-themed box in the future.
I got the following items in my October Glossybox:
The October Glossybox had a value of $74.02. Strangely, I couldn't find the De Bruyère gloss for sale online, so I went with the value Glossybox gave for it on the information card.
The Phyto spray protects your hair when you style with heat and also has detangling properties. I never heat style as my hair can't hold a curl to save its life, but I do like detanglers. It worked well as a detangler, but I didn't notice any effects besides that. If anyone who heat styles has given it a try, let me know how it works for you in the comments.
I got a Nuxe hydrating mask in my Glossybox last December and fell in love with it, so I was elated to find the Nuxe Gentle Exfoliating Gel in this month's box. I love the rose scent. The scent is subtle and was gone after I rinsed the gel off my face. Fortunately, the exfoliant in this is crushed walnut shell and not the dreaded microbeads, so it is safe for our fishy friends. My skin felt so smooth after using this exfoliating gel. I am in love with it. Best of all, at $24, it won't break the bank. I can't recommend this enough.
Every subscriber is supposed to get the bright, orange-based red Lollipops nail polish. I haven't been impressed by the other Lollipops products I've gotten in my beauty boxes, so I didn't have high hopes for this polish. I was pleasantly surprised by how much I ended up liking it. It went on smoothly. I got good, semi-sheer coverage with one coat and opaque coverage with a second coat. It held up pretty well, which is rare for a nail polish as I am hard on my hands.
While I often don't like getting perfumes in my subscription boxes, I look forward to getting them from Glossybox. Most other beauty boxes give you a teeny vial of perfume, but Glossybox always includes a more generous sample. Also, I have loved every fragrance Glossybox has ever sent me. The Maison Francis Kurkdjian was no exception. The bergamot, lemon, and lily of the valley notes in this are just beautiful and I got tons of compliments when I wore it. I'm a little sad that I love it so much because, at $185 for a full size, there is no way I will ever be buying this.
I loved that there was a bold red lip gloss to go with the nail polish in this box. All subscribers got this gloss. Red is such a gorgeous, classic lip color and I am always attempting to get people to try it on (much to butch friends' chagrin). While I don't normally like gloss all that much, this wasn't all that bad. The color stayed on a long time for a gloss and it was not as sticky as most glosses are.
Glossybox did a fabulous job with this French-themed box. I wish that they had replaced the lip gloss with a lipstick or other makeup item, but that is the only thing I would have changed. They included a hair product, a skincare product, makeup, nail polish, and perfume, so the mix was wonderful. There was something for everyone.
---
Petit Vour ($15 per month in US, $23 per month in Canada)
Petit Vour is a monthly vegan beauty subscription box. They include a lot of products from premium, smaller brands, which I really like. Because I receive this box free of charge for review, I give away the products after testing them.
At first glance, I was disappointed in this month's box. Nothing really struck me. After sampling everything, though, I realized my first impression was incorrect. Petit Vour really outdid themselves this month!
Here's what was in the October Petit Vour:
$44.17 in products is a great value for a $15 box! I do wish the sample sizes of the Essence of Vali Sleep and the Ursa Major face wash were a little bigger. There was ample product for proper testing, though.
I've never gotten something like the Essence of Vali Sleep in a beauty box before. It's a blend of oils including ylang ylang, marjoram, lavender, and cedarwood. Besides helping you sleep faster, this also is supposed to help with stress. As stressful as my life has been lately, I was really hoping this would work! I applied it to the corner of my pillow at bedtime and found it quite relaxing. The vial is small, but it just takes the teeniest drop, so it should last a while. My girlfriend, Emily, went crazy for it and insists that I have to buy her a full size one.
I have tried many an eye cream, but I've never tried an eye oil before. The eye area is usually the first place to show signs of aging, so keeping the skin surrounding my eyes moisturized and healthy is very important to me. The Hana Organic Skincare Eye Oil contains only four ingredients: Vitamin E, rose essential oil, jojoba oil, and rosehip oil. I like that it is made up of only a few things and that every ingredient is fantastic for skin. It made the skin around my eyes feel soft and supple, didn't leave the skin feeling greasy, and smelled absolutely wonderful. The smell lasted for maybe an hour after I applied it. If you hate the scent of roses, this isn't the product for you, but everyone else will fall in love with it.
The Ursa Major Fantastic Face Wash is not your average face wash. Besides washing your face, it also moisturizes, brightens, exfoliates, tones, protects skin, and fights acne and aging. I loved how my face felt after I used this. If you are traveling and have to pack light, you could pack just this and leave the rest of your skincare regimen at home. I wouldn't recommend doing that long-term, but it would be fine for a few days.
Finally, there was the Habit nail polish in Deep Sea. Deep Sea is a gorgeous dark blue color. This nail polish contains myrrh, which Habit says is very good for nail health. Usually, I complain that nail polish doesn't dry fast enough and I end up hitting a nail on something before it is fully dry and smudging it. That's not the case with this polish. In fact, I'd almost say it dries too quickly. I never thought I would say that about a nail polish! When I was putting my first coat on, I would be painting a nail and then try to smooth it all out once I got the nail fully covered — the polish would already be sticky and hard to manage. We're talking just a few seconds here, so that was a big surprise. As long as you work very quickly, though, you should be fine. I got good coverage after one coat and perfect coverage after two. I'd love to try more colors in the Habit line.
Petit Vour had another great month! I was not familiar with any of these companies, so I feel like we made some good discoveries here. I want all these products in full size. I think that might be a first for me.
---
Terra Bella ($37.95 per month for full box, $17.95 per month for lite box; US only)
This is my first time reviewing a Terra Bella box. The subscription service just started in September. Terra Bella boxes have natural, handmade products from smaller companies. I absolutely love subscription boxes that get most or all of their products from small businesses. Besides the fact that I like to support small businesses, I also like sampling items that I would not have normally encountered.
I am reviewing the full box, which comes with five to six items, but they also have a lite box with two to three items. If you want to see what Terra Bella is all about without committing to a subscription, you can get a trial box that includes samples of products that have been in past boxes. I like that they have these options. They have a coupon code, BEAUTY, to get $3 off your first box, so be sure to use that if you subscribe.
I received the following items in my first Terra Bella box:
This month's Terra Bella was worth $42.75. As you might have noticed when you read the list of products above, this box has a cute Halloween theme for October.
Truthfully, I am so tired of seeing pumpkin spice everything. Pumpkin spice has never really been my thing, so I wasn't sure what I would think of the Live Beautifully Whipped Lip Butter. The vanilla in this lip butter, however, balanced out the pumpkin spice scent nicely, so I liked this more than expected. The scent and flavor were noticeable, but not overbearing.
Despite having tons of masks, I am always excited to try a new one! Batty's Bath Dead Sea Mud Mask is made of mud from the Dead Sea. That is the only ingredient. A lot of similar masks retail for $30+, so I was pleasantly surprised to see that this costs only $9.95. Mud from the Dead Sea is supposed to have amazing benefits for skin because it has a high concentration of salts and minerals, according to the product page for this mask. It is said to hydrate skin, remove excess oil and dead skin, and have anti-aging properties. My skin felt silky smooth after using this. While it kind of squicks me out to be using actual mud, I quite enjoyed this mask. I was worried it would smell bad, but there is almost no scent to it and the faint scent it does have is completely inoffensive.
The Three Sisters Apothecary soap smelled so yummy. This mix of apple and cloves makes for the perfect fall scent. The freshly picked apple smell dominates and the clove scent is a little more subtle, which I liked. It works well as a bar soap, but it's almost too pretty to use.
While pale pink eyeshadow isn't the first thing that comes to mind when I think of Halloween and fall, the Blackbird loose mineral shadow Immortals makes for a great highlighting color for your brow bone. It's very light, but it adds a little shimmer and color. It also has great staying power. It's pale and shimmery enough that I think it could work as a general highlighter. I liked this, but I wasn't wowed by it.
Toner is one thing I wish beauty boxes would send more often, so I was happy to see it included in this box. The Bare Bones Toner is very simple: its only ingredients are witch hazel and lemon juice. Unlike most toners, this didn't sting when I applied it after washing my face. Lemon juice and witch hazel are both great for your skin. This would be pretty easy to make on your own, I suspect, but if you don't want to go to the trouble, give this toner a try.
Finally, we had another eyeshadow, this one by Hex Potions. Generally, I would prefer if beauty boxes didn't include two of any one product category, but both of the eyeshadows in this box were nice. The color of this loose mineral shadow, Apparition, is gorgeous. It is a sparkly green with hints of grey and blue. This is the only eyeshadow I have in that color. This shade is great for fall, so it will go into heavy rotation for me.
Terra Bella is off to a great start in the beauty box subscription business. It is definitely on the more expensive side and the value isn't all that much higher than the price of the box, but that is to be expected with boxes that work with smaller businesses. While big name companies can afford to give discounts on bulk orders of their products, small companies often can't give quite so steep a discount to beauty box subscription services. To me, that is worth it in order to support small business. I would like to see the values of future Terra Bella boxes to go up a little, but I suspect that will come in time as it picks up subscribers and builds relationships with cosmetics companies.
---
Beauteque BB Box ($24 per month $3.95 shipping US; ships to all countries, check site for shipping fees)
Beauteque's BB Bag includes Korean beauty products for the most part, but they occasionally throw in a Japanese product. It's a more expensive subscription, but the products are usually full size, so it is worth it.
This month's theme was Beauteque's Life of Luxury. Each month, Beauteque includes a makeup bag with the products. This month, there was a lacy black plastic bag (you can see it a little bit peeking out from under the products in the picture above), which I thought was a little on the tacky side. I have so many makeup bags, though, so I don't really care about what the makeup bags included in subscriptions look like at this point.
In the October BB Bag, I got the following products:
Baviphat Urban Dollkiss Easy Looks Soft Lipstick in Color 2 (full size, worth $5.24)
AngelLooka Ultra Moisturizing Hand Mask Pack, Heating (one mask, worth $6)
Beauteque Contour Brush (worth $12)
Happy Bath Facial Yogurt Foam Cleanser in Grain Essence (full size, worth $12)
SNP Cactus 90% Soothing Gel (full size, worth $18)
Secret Key Glam Romance Perfume Body Lotion (full size, worth $20)
Because the products are imports, I often have trouble finding them for sale online. I used the values given by Beauteque for the products whenever I couldn't find the products on a reputable website. With the values listed by Beauteque, this bag is worth $73.24. Beauteque's main site sells tons of Korean beauty products, so I wish that they would sell everything they include in the subscription in their shop. It's so frustrating when you find a product you love in a subscription, but can't find the product for sale anywhere once you run out of the sample.
I didn't have high hopes for the Baviphat lipstick. It looked a little on the cheap side, so I doubted it would have much in the way of pigment. Imagine my surprise when it had amazing pigment and lasted several hours without retouching. I got Color 2, a soft coral color, but the colors subscribers received varied. This isn't my favorite lip color, but it was nice enough.
I haven't had a hand mask before, so I was happy to see the AngelLooka mask in my BB bag. Subscribers got either a warming mask to soften skin or a cooling mask to soothe skin. I received the warming mask. I didn't notice any actual warming, but my dry hands looked and felt a lot softer and smoother after I removed the mask.
I'm always happy to give a new brush a try. The contour brush blended powder well, making the transitions from contour to highlights, bronzer, and bare skin smooth and subtle. This isn't a high end brush, but it serves its purpose.
The Happy Bath Facial Yogurt Foam Cleanser ended up being my favorite item in this month's BB bag. I got the Grain Essence type, which is meant for sensitive skin. The scent of this brought me back to when I was four-years-old. This cleanser smells exactly like the tiny Care Bear soaps I got my mom to buy me each time we went to the local drug store. It comes out like regular face wash, but it turns into a fine, foamy lather once you start rubbing it on your face. It cleansed my face thoroughly and felt very hydrating.
The bottle for the SNP Cactus 90% Soothing Gel is so pretty. It's the bottle that looks like a big green jewel in the picture above. It can be used on both your face and body. It is extremely hydrating, as you might imagine. The cactus gel is very similar to an aloe gel in appearance, scent, and texture. It felt a little sticky after I applied it, but it was absorbed after a minute and the stickiness went away. I thought this was an okay product, but my girlfriend absolutely adored it.
Finally, there was the Secret Key body lotion. Besides being moisturizing, this lotion is meant to act as a light perfume. Everyone who smelled it agreed it was a little too heavily scented for a lotion. I also found the formula to be quite thin. Personally, I prefer a thicker lotion. This was my least favorite product in this month's BB bag.
I really liked the October BB bag. The Secret Key lotion was a definite miss for me, but I enjoyed the other items. I love discovering new Korean skincare products, so I like that they go heavy on the skincare and light on the makeup. The Korean makeup I've tried has been okay, but the moisturizers and masks I've tried have been out of this world. Beauteque always provides a great variety and has introduced me to so many things I never would have tried otherwise.
---
Beauteque Mask Maven ($15 per month plus $3.95 shipping US; ships to all countries, check site for shipping fees)
Mask Maven is Beauteque's other monthly beauty subscription. As the name suggests, Mask Maven sends out only masks. They generally send sheet masks for the face, but I've also gotten liquid face masks, foot masks, hair masks, eye masks, lip masks, and the like.
This month's Mask Maven theme was Beauteque's Brunch. All the masks were made from different kinds of food. I don't know why, but I love trying fruit and vegetable masks. They are always my favorite, so a whole bag of them was a real treat.
I received these masks in my October Mask Maven:
It was difficult to find most of these masks for sale online, so I estimated each one to be around $2.50 if I couldn't find a website selling them. This month's Mask Maven was worth about $25.42.
As you might imagine, there are only so many masks my face can take in the short period of time between receiving this beauty box in the mail and writing this article. While Emily is always happy to help, we aren't able to try all the masks. I'll tell you how the masks we did try worked and then just give a quick overview of the others.
The Esfolio Egg Essence sheet mask contained egg yolk extract. It is a moisturizing mask. The liquid in the mask had a more viscous, eggier feel to it than the liquids in other masks. My face was hydrated after I used this.
The Skin 9 Village Puppy Mask was pretty cute. The sheet mask had a puppy print on it. This mask contained honey, which is supposed to help with acne, aging, and brightening. What more could you want from a mask? I loved how my face looked and felt and it did clear up some after I used this. The Skin 9 Village Panda Mask was very similar to this mask. I haven't had a chance to try that one yet, but it also contains honey.
My girlfriend gave the Skinfood Everyday Facial Yogurt Mask a try. I've tried yogurt masks before and have always liked them. This one deeply hydrated her dry skin, so she was a big fan. It also smelled really good.
Emily used the Beauty Friends II tomato mask. This reduces oiliness and brightens. Emily really liked the effects of this mask. The mask smelled just like tomato soup, though, which can be a little off-putting. You have to wear the mask for twenty minutes, so you are smelling tomato soup for quite a while. I wouldn't mind using something like this once just to try it out, but I could not handle the scent regularly.
The Mediheal Cacao Mask had a very light chocolate smell. This contains antioxidants and moisturizes the skin. Emily claimed this mask as soon as she saw it because she loves chocolate so much. She loved the mask and found it to be soothing. She did wish the chocolate smell were a little bit stronger.
We didn't have a chance to try out the 3-Step Vitamin Skin Renewal Mask, the tangerine mask, or the Botanic Farm Green Tea Mask. The 3-step mask contains a cleanser, a soothing solution, and a vitamin mask, to be used in that order. There are fruit extracts in the mask to help with dry skin and elasticity. I can't wait to give that one a try. The tangerine mask brightens and moisturizes skin. The green tea mask is supposed to reduce inflammation of the skin.
The brunch theme this month was fabulous. This is my favorite Mask Maven theme so far. I really enjoyed the masks I was able to try. I do wish they had included a mask that was for a part of the body other than the face or a mask that wasn't in sheet form just to mix it up a bit. Nine masks all for the face is a lot in one month and, besides, my other body parts could use a little love, too.
Amor Naturals ($19.99 plus $4.99 shipping quarterly, US only)
Amor Naturals is a quarterly box that contains sample size bath and beauty products handmade by the owners. Subscribers generally get the same items, but those who prefer vegan products can indicate that when subscribing so they can avoid items with honey. Each quarterly box has a theme. This season's theme was Spellbound.
Here's what was in the Fall Amor Naturals box:
Apple Hyoluronic Essence (sample size; full size cost unknown)
Spellbound Spice-Warming Body Polish (sample size; full size costs $29.99)
Mandarin Cacao Body Balm (sample size; full size costs $29.99)
Blue Agave Mask (sample size; full size costs $18.50)
Facial Steam Bouquet (sample size; full size costs $16)
Because every item is made by hand, the quantity of full-size products on their website is often very limited. They sell out fast and go in and out of stock, so check their site often if there is something you sampled and want more of. I was not sure of the sample sizes and there is no price listed for the Apple Hyoluronic Essence as it is not available at this time, so I did not estimate a value. FYI, they have a coupon code for free shipping on your first box, FREESHIP15, so be sure to use that.
The Apple Hyaluronic Essence might be one of my favorite beauty box finds ever. Essences are great moisturizers for those with more sensitive skin. Amor Naturals recommends using this essence as either the first step or the last step of your skincare regimen. This contains lots of antioxidants from the apple, hyoluronic acid for moisturizing, anti-aging, and skin repair, and pumpkin seed oil to boost up your collagen production. There is a very light apple scent to it that goes away after your skin has soaked the essence up. I've been having skin problems since the beginning of the summer. After I started using this, my skin started looking better than it has in many months. Trust me, you need this product in your life. I hope Amor Naturals has the full size for sale on their website soon so you all can give it a try.
I love sugar body scrubs! I really can't get enough of them, so I immediately had to take a shower and use the Spellbound Warming Body Polish as soon as the box came in the mail. The sugar crystals gently exfoliate and the scent of the vanilla, fall spices, lavender, coconut, and pumpkin was luxurious and relaxing. It is supposed to make you feel warm all over, but I wasn't able to notice that effect in my hot shower. If you take cooler showers, it might be more obvious.

The Mandarin Cacao Body Balm smells scrumptious. I love the orange chocolate scent. The balm is hard in the container, but once you pinch off a small amount and rub it between your fingers, it warms up and liquefies. A little bit goes a long way. It is very moisturizing with both shea butter and cacao butter. This is definitely a treat.
I tried Amor Naturals' Blue Agave Mask back in the spring box, but the Blue Agave Mask in this box is reformulated and better. This is a hydrating mask that also has anti-inflammatory properties. I liked the Agave Mask in the spring, but found it to be extremely sticky and hard to work with. This reformulated version is a little less sticky and made less of a mess, so they made the right choice with the reformulation.
Finally, there was the Facial Steam Bouquet. I've never gotten something like this in a beauty box. You boil some water with the herbs in the packet and then steam your face with it. It was very relaxing.
Amor Naturals really knocked it out of the park again. They make high quality, natural, organic products that always smell amazing and make my skin happy.
---
I'm finding it impossible to choose a winner this month. Each box was amazing and most had fun themes. I made a lot of great product discoveries this month. Terra Bella is off to a great start and has tons of potential, so I am excited to see what happens as this box grows. I didn't get Kloverbox in time to include it in this review, but I look forward to reviewing it next month. Holiday special edition boxes will be coming out soon, too, and those are always fun.
What did you get in your boxes this month? What did you love and what did you hate? Are there any new boxes I just have to try? I can't wait to hear about your beauty box subscriptions in the comments!
Brandi Morgan Kirchgessner has always loved getting mail and wearing makeup, so she was ecstatic to discover beauty boxes. She lives with her lovely girlfriend, three dogs, and a cat in upstate NY.

Illustration by Tara Jacoby.