Whatever you think of Helen Thomas's comments about the Jews and Israel, it's clear that her status as a pioneering icon for outspoken women in public life will forever be colored by this controversy. And maybe that's okay.
Let's put aside, for these purposes, your stance on Israel or its policies towards the Palestinians, on whether Thomas meant "the Jews" or Israelis, or whether she really thinks that you can unravel history and return Jews to Europe, at least the estimated 20 percent whose heritage is mostly European and not African or Asian, whether or not she could have meant anything but the sites of annihilation, or your stance on the feasibility of a "return" being unraveled or reversed. (I should disclose my bias as an Israeli-born Jew, whose European grandparents and great-grandparents were among the few in their families to survive Nazi genocide because they were Zionists in what was then known as Palestine.)
Let's momentarily sidestep that entanglement and think about how those of us who wanted to look up to Helen Thomas — because she was an outspoken woman in an arena of public life with historically very few of them — now have to face the uncomfortable reality that maybe we didn't know her that well after all. It's easy to praise the woman who shouts out when everyone seems to be meek, and to laud audacity and outspokenness as inherent virtues, without paying much attention to the substance of it all. It's even easier to project heroism on one woman when she is, in fact, just one woman.
This ambivalence is clearly being felt by people who may disagree with Thomas's comments or her politics in general — which were pretty manifest before these comments for anyone who wanted to know them — but don't want her legacy as a long-running, fearless, beloved crank to be thrown out with the bathwater. Amid the broad denunciations, one member of the White House Correspondents' Association, April Ryan, was more measured:
Historically, Helen helped with opening the door for many of the reporters at the White House. She was one of the forces back then who got President Kennedy to sit out the correspondents dinner because women were not able to come. Kennedy did go to the dinner once women were allowed. Once that happened the dinner and other parts of the whlte make dominated press corp were eventually opened up to women and other minority reporters.
In other words, Ryan wants to remember the Thomas we got to know in the HBO documentary previewed here, not the one being represented now.
G/O Media may get a commission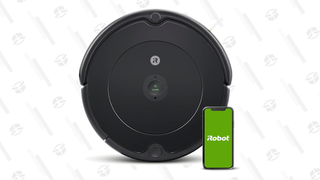 35% Off Black Friday Deal
iRobot Roomba 694 Robot Vacuum
The contours of icon-hood are often conveniently fuzzy. The other week, I watched people eagerly show up to watch Gloria Steinem speak at Harvard — the person next to me called her a rock star — who then seem puzzled or taken aback by what she actually said, which they seemed to find radical or edgy. I didn't see it that way, and it's an imperfect analogy to Thomas, but in both cases it seemed that people who wanted them to look up to preferred not to even know what either of them actually thought of anything. These historic firsts could represent some vague notion of badassery and leave it at that.
There may be only one Helen Thomas — who refused to follow the script for a woman, who has pushed back at every single president since Eisenhower, and who has now disappointed a lot of us. But maybe we've moved to a point where she no longer has to stand in for all loudmouthed, fearless women. There have been plenty of firsts and seconds and thirds since then, so even though she is harder for me to admire now, I hope that we no longer need her as badly.
Update: Thomas has announced her retirement.
Helen Thomas: What Others Are Saying [Politico]
Columnist Denounced [WP]