The grieving mother of Heather Heyer, the 32-year-old woman who was run over and killed by a white supremacist in Charlottesville last weekend, does not have time for Donald Trump's bullshit.
"I understand that President Trump wants to speak with me… and it's not that I'm trying to be calloused, it's that I have no interest in speaking to politicians just to hear them say, 'I'm sorry,'" Heyer's mother Susan Bro told ABC News on Thursday. "If I felt like that's all they wanted to say, that would be different, but I feel like I'm wanted to be used for political agendas and I'm resistant to that."
Speaking on ABC's Good Morning America on Friday, Bro said that Trump and other White House staff made frantic attempts to get in touch with her on the day of her daughter's funeral, but she won't talk to them. "I have not and now I will not," she said, when asked if she has talked to Trump.
"The call — the first call looked like actually came during the funeral. I didn't even see that message," she said of Trump's initial call, which she had missed.
"There were three more frantic messages from press secretaries throughout the day and I didn't know why that would have been on Wednesday, and I was home recovering from the exhaustion of the funeral and, so I thought well, I'll get to him later and then I had more meetings to establish her foundation, so I hadn't really watched the news until last night," she said.
Trump issued a tweet acknowledging Heyer on Wednesday, but it was way too little and way too late. Then he undid any goodwill his tweet generated in his grotesque press conference hours later, in which he failed to condemn neo-Nazis and inisisted that "both sides" were to blame for the violence committed. In his speech, he also refused to call Heyer's murderer, 20-year-old white supremacist James Alex Fields Jr, a terrorist due to "legal semantics."
G/O Media may get a commission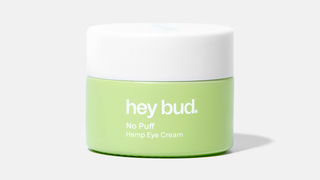 15% off
Hey Bud - No Puff Hemp Eye Cream
"I'm not talking to the President now," said Bro, explaining that now that she's caught up on the news now and has seen his comments. "I'm sorry. After what he said about my child—and it's not that I saw somebody else's tweets about him. I saw an actual clip of him at a press conference equating the protesters like Ms. Heyer with the KKK and the white supremacists."
"You can't wash this one away by shaking my hand and saying 'I'm sorry.' I'm not forgiving for that," she said.