I have some fairly significant news to share with you: Noah's Ark is real, officially.
On Thursday while real things in the world were happening, a group of good Christian people in Kentucky known as Answers in Genesis opened the doors to its long-anticipated, $100 million Noah's Ark "replica"—you know, a smaller model of a thing that actually existed.
The ark, which is housed at the Christian theme park Ark Encounter, has zero animals on board (so it's not technically NOAH'S Ark), stands at 55-feet high and 510-feet long, just like the real thing. Via CNN:
The massive exhibit, claimed to be the largest timber frame structure in the world, sits on the grounds of a Christian theme park, Ark Encounter, a for-profit enterprise founded by Ken Ham. He said the park is an evangelical tool aimed at teaching creationism, a literal interpretation of the Bible's Book of Genesis.

"I find some of the aggressive secularists try to shut down people talking about the bible," Ham said. "So for us it's 'How can we get a message out there about the Bible?'"
G/O Media may get a commission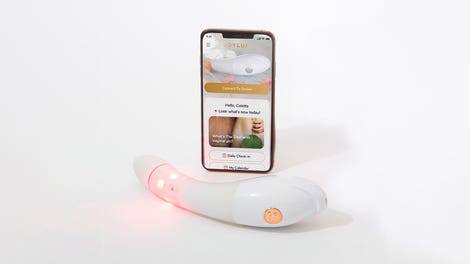 $50 Off
Joylux vFit Gold Device
Who paid for this big ass boat? A group of donors chipped in $38 million and investors raised $62 million, to go along with tax incentives provided by the city of Williamstown and the state of Kentucky:
The city created a special tax district to forgive 75% of Ark Encounter's property taxes over 30 years.

Ark Encounter is also poised to tap $18.25 million in sales tax rebates over 10 years, granted by the Kentucky Department of Travel and Tourism. It will collect $2 per every $100 paid to Ark Encounter employees, in an effort to repay the bonds.
Woof (woof). Love it or not, the Ark will help boost employment and tourism revenue. It's already a miracle. Look at these happy people.
Except, well, this ark has very specific hiring practices:
As a condition of employment, all Ark Encounter applicants must sign a statement of faith, attesting to the creationist vision and disavowing homosexuality, same-sex marriage and premarital sex.
In other words, it's like a really dope club. In Kentucky.
The above restrictions aren't specified on the site, where Ark Encounter reps ask that potential job applicants be "passionate about the Ark Encounter's vision and serving others." Also must "pass a felony/misdemeanor background check, confirm agreement with Ark Encounter's Statement of Faith, and adhere to our drug-free workplace policy."

Sounds fun, but we all know the real Noah's Ark is here in Wisconsin. Take a video tour of the Kentucky "replica" below, via Mashable.
---
Images via Ark Encounter; Mashable screenshot