One question many artists have been openly discussing since the election is how they can contribute, especially when all signs point to an ever-more hostile environment for them in the incoming administration. At the same time, the incoming administration is hostile to... a lot! So it seems like a good idea for all of us, not just artists, to diversify our resistance portfolios, so to speak.
Nashville rock band Reality Something decided the best way to use their resources is to donate all proceeds from their new song to Planned Parenthood. It's a thematically resonant gesture since the single in question, "Bail," is included on tonight's soundtrack for MTV's new feminist show, Sweet/Vicious, about two young women in college who act as masked vigilantes seeking revenge on perpetrators of sexual assault. In conjunction with the announcement, the band released a strong statement in support of Planned Parenthood, pointing out that the organization's services are vast and vital:
We need to get the message out anyway we can that women's health does not just = "abortions." It is SO much more complex than that. Unfortunately so much of women's health and sexual health in general is closeted already and if Planned Parenthood didn't exist there would be a lot of very depressed and confused (not to mention sick) people feeling very alone with nowhere to turn. Cancer screenings and prevention, HIV/STD testing and treatment, contraception, prenatal care, pap tests, vaccinations, are just a few of the services offered. Care no matter what.
Like Sweet/Vicious, the spirit of "Bail" is a bit of a bait-and-switch; singer Elena Franklin's soprano has the immediate and visceral sense of being airy and pure, but her lyrics bite and, at certain moments, she lets her tone sharpen, too. In the spirit of some of the best '90s alt, there's a tension between her major-key chorus and the way the guitars (Kingsley Brock, Grasley) drift into minor riffs; it's familiar and haunting in both its sound and its angst. Can relate!
G/O Media may get a commission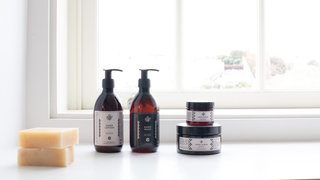 Exfoliate and Hydrate
The Handmade Soap Company
You can purchase "Bail," for Planned Parenthood, at Bandcamp here.