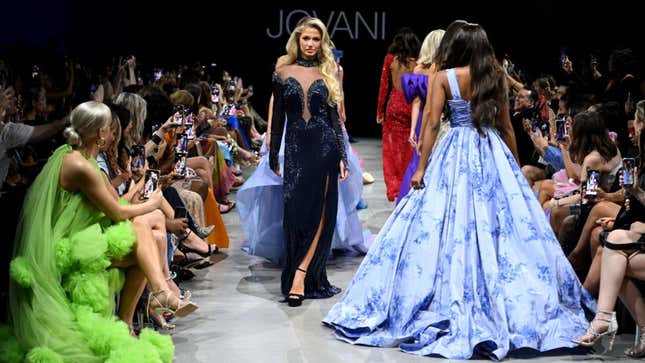 It's New York Fashion Week! Chanel made a designer diner in Williamsburg; Mayor Eric Adams hosted a fête for "fashion folks" like Anna Wintour, Thom Browne, and Vera Wang at Gracie Mansion amidst backlash for his comments on the city's "migrant crisis"; and each day, Getty teems with fresh photographic evidence that all of the culture's It Girls are afoot and really fucking sweaty. But between the faux pas and forced photo ops though, one major brand made history.
On Friday, Jovani—the famed fashion house known to Real Housewives fans as something akin to a punchline, thanks to Countess Luann De Lesseps' 2019 single, "Feelin' Jovani"—made its NYFW debut after 40 years in business. The show convened a cortege of content creators, some reality stars with faces you recognize but names you can't quite remember, and enough pageant girls to renew one's empathy for Abigail Breslin in Little Miss Sunshine. There was also a champagne wall, a kaleidoscopic catwalk, and seated front row, the Countess, herself. For some reason, I was there to witness it all, and...dare I say it? It was kind of refreshing.
When quiet luxury reigns supreme and other NYFW runways like Proenza Schouler, Khaite, and Staud, presented little but clean lines, structured silhouettes, and neutral palates, that Jovani, in all of its campy glamour, hasn't just stood firm in a fickle industry, but came out—in all its fuchsia feather capes, sparkly suits, and gravity-defying bows—blazing, is a radical act. Allow me to explain.
Jovani has been around since 1983, but the brand rose to fame in the mid-2010s when a slew of celebrities suddenly opted for its signature sequins. Though it might now be beloved only by a certain kind of reality star, Miss USA contestants, and wealthy suburbanites who just want their little girl to have the most magical prom night, once upon a time it was the same A-listers who now exclusively sit front row who wore Jovani. That's right. Taylor Swift, Kim Kardashian, Mariah Carey, Ariana Grande, and Selena Gomez have all worn the brand—some of them even more than once. None of them, however, thought to show up to Jovani's debut. I get it. Excess is only chic when it's entirely inaccessible to the middle-class...and when Sophia Richie says it is, etc. etc. Somewhere after 2015—likely when ordinary women started showing up to rose ceremonies in the brand's designs on The Bachelor—Jovani lost the same cool cache.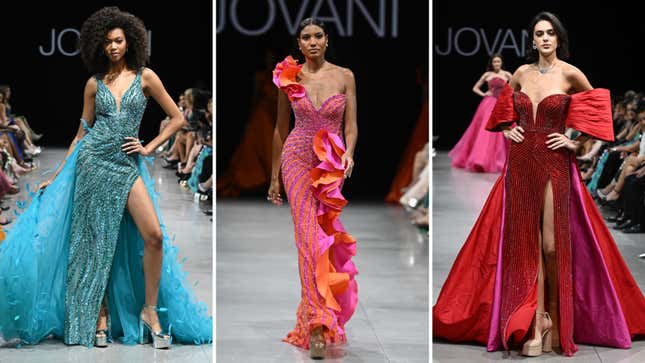 That said, there's something special about a show with designs that seem ripped from the sketchbook of your adolescence. You know, back when glamour wasn't a boxy blazer, but a beaded mermaid bodice paired with elbow-length gloves, a cape, and perhaps—if it didn't distract too much from the gown—a headpiece. Why be understated when your ensemble can make at least ten different statements? This, as it became abundantly clear after the fourth thigh-high slit, is the Jovani ethos. And you know what? I respect it.
There was a scarlet frock reminiscent of Jessica Rabbit, followed by a pumpkin orange mullet gown, then a series of bejeweled midnight blue sheaths, and a parade of frilly purple hoop skirts. Basically, the runway was a rainbow. Or a bag of textured Skittles.
Sure, the brand's designs—now helmed by Julie DeRocher—could be called unserious. But what makes this gown by Aknvas any more legit? Or, frankly anything from the Ralph Lauren presentation? Somewhere between my second and third glass of lukewarm champagne, I had an epiphany. If NYFW were a holiday, and Jovani is the deliciously tacky cousin that shows up with wine coolers and a dessert they saw on Pinterest, frankly, I'm happy they're there. Every family—or completely un-fun institution—needs one.
What I'm really saying is: Enough with the haughty couture already. I want to see Ayo Edebiri be an absolute terror in florescent taffeta. Or, Zendaya ruin a red carpet in a rhinestone-ruched gown. Fuck, can you imagine if Florence Pugh just went full Dancing With The Stars?
It's time. Make the next Met Gala theme Jovani.