The "don't look at me" hoodie is an important part of celebrity culture, but recently, while discussing the costume design of The Handmaid's Tale, Jezebel history expert Kelly Faircloth posed an interesting question: why hasn't the bonnet made a comeback?

While it might signify isolation and the illusion of chastity in Margaret Atwood's dystopian estimation, the bonnet could serve an entirely utilitarian purpose in 2017: making it so you, the wearer who is presumably sick of everything, doesn't have to look at this shit. Rather than hiding your identity, or acting like it, as celebrities do in airports and to and from the gym (the only places celebrities actually exist outside of your screen), the proletariat bonnet can exist as a way to isolate yourself from the weight of the world, whatever that weight may be—catcallers, a guy jerking it in the subway, the creepy neighbor you try to avoid, those extremely annoying "do you live here?" guys in Union Square, headlines about whatever unhinged racist shit Trump is doing today, and everything else. Not counting Holly Hobbie ('70s) or Strawberry Shortcake ('80s), the last era the bonnet was super popping was the late 1860s, according to Kelly, because "the 1870s transitioned over to what were basically just fascinators, and hats took over in the 1890s—big, stunning hats."
Since Reconstruction, then, you can surmise that outside of certain sects of Mennonites and Amish, the closest thing U.S. fashion has had to the bonnet functionally and structurally (in that it hides your eyes and protects you from the sun) is the bucket hat, which comes in varying degrees of cool, depending on the year and who's wearing it.
But we're not trying to see that. And so designer Angel Chen has come up with a solution, as seen today on her Spring 2018 runway in Milan: headwear that both protects the skin from harmful UV rays, and also projects the sensation of "NO" to those outside of it. Presenting a range of bonnet-style hats, disembodied windbreaker hoods (the windbreakers with the hood in the collar are the best windbreakers), and more traditionally set buckets, the London/Shanghai-based designer recognized the human necessity of getting away from it all, and gave us the tools with which to satisfy that need. There were also petal-like collars blooming from blouses and protective shrugs on jackets, in case you specifically don't want anyone looking at your damn lips. (Seriously, stop looking at my fucking lips!)
G/O Media may get a commission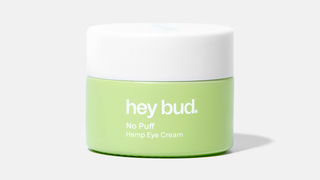 15% off
Hey Bud - No Puff Hemp Eye Cream
Protecting oneself from the psychic damage of the outside world was not far off, as it happens; Chen was inspired by Noah's Ark, with garments that both reflect the tale (she sent pieces down two-by-two, and referenced animals in the prints) and acknowledge the need for practical wear to weather it.
I refer back to my colleague Kelly, who had a fashion prediction that may be in line with Chen's thinking: "Honestly," Kelly wrote me in Slack, "I would not be surprised if the American prairie style bonnet comes back in our global warming hellscape." Looks like we have ourselves a trendsetter!