There have been dozens of TV detective shows, but The No.1 Ladies' Detective Agency presents two things rarely seen on American TV: An African female lead character and a flattering portrait of the continent.
The new series, which premieres on Sunday night on HBO, is about Precious Ramotswe, a 35-year-old divorcee played by Grammy winner Jill Scott. After her father dies, leaving her 180 cows and making her a wealthy woman, Precious decides to move from her rural town to Gaborone, the capital city of Botswana, and set up the nation's only female-run detective agency (thus making it "No.1").
The series is based on a popular series of books of the same name by Alexander McCall Smith, who set out to write "a book about a cheerful woman of traditional build." In an interview with Reuters, Smith explained that his books (and the new series) focus on the positive aspects of Africa, rather than the conflicts and crisis on the continent.
"Many outside writers, when writing about African countries concentrate on the bleak, and on what's wrong," said Alexander McCall Smith.

"Obviously, there are problems in many of these sub-Saharan African countries, but there are positive aspects and this series celebrates that," he said.
Some people have criticized the series, saying the sunny portrait of Africa is unrealistic, but Botswana (where the series was shot) is actually one of the most prosperous countries on the continent, and Smith says he didn't want to focus solely on the negative because:
"That's actually treating African countries as being something quite different, mythologized in a sense, made abnormal. Which actually really is, I think, wrong."
G/O Media may get a commission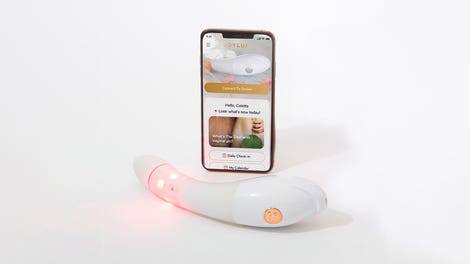 $50 Off
Joylux vFit Gold Device
The show doesn't focus mainly on solving crimes, but on the lives of Precious and her friends, Grace (Anika Noni Rose), her straight-laced secretary, BK (Desmond Dube), the gay hairdresser whose salon is next door to the agency; and JLB (Lucian Msamati), a lovable mechanic who develops a crush on Precious.
So far, the show has received mostly positive reviews. Ginia Bellafante of the The New York Times writes that the show's feminist theme is interesting, especially in light of HBO's biggest female-focused hit:
[Precious] has longed for the independence of city life, but she loves her printed caftans and bush tea (the equivalent of coffee in a Greek cup on "Law & Order"), contentedly resisting the newly cosmopolitan pressures to remodel her body closer to a Western dictate.

The tension between tradition and modernity is rendered as broad subject and passing detail: in an early scene three young women right out of "Sex and the City: Manolos Below the Sahara" walk by the newly opened No. 1 Ladies' Detective Agency to ask how a woman could be a detective, and how anyone at all might go undercover who is "the size of a small elephant."
Even if for some reason you're not sold on discussions of women's issues amid beautiful shots of Africa, Jill Scott's peformance makes the show worth checking out, according to the L.A. Times:
Even before we see her on-screen, Scott, a three-time Grammy winner, is a revelation; her summer-glazed creamy tones are the reason the voice-over was invented. Precious slowly tells of her loving father and his insistence that she learn everything a boy would, and soon we learn that, as a child, she solved a village argument over the ownership of a cow. Then somewhere amid the rising white dust and glimmering insects, it becomes clear that this show will restore the premium cable network to its former stature as the most surprising place on television.
No. 1 Lady Detective Series Focuses Cheery Africa [Reuters]
No.1 Ladies' Detective Agency [The New York Times]
'The No. 1 Ladies' Detective Agency' on HBO [The Los Angeles Times]