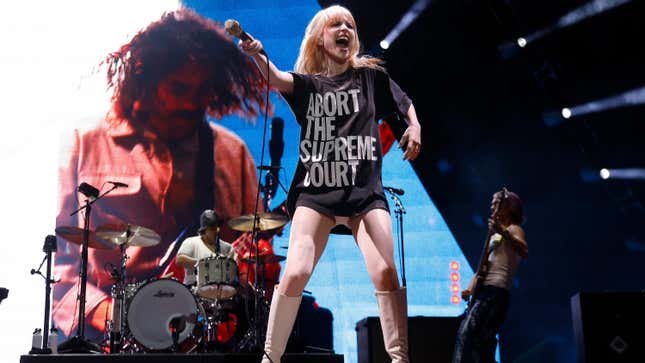 Let it be known that the only performance Paramore lead singer, Hayley Williams, is putting on these days is a damn good concert. Performative allyship with LGBTQ+ folks? Nah. That's for corporate America and pandering politicians. Williams, as evidenced at a recent show, is the real deal.
Last week, at a concert in New Jersey, Williams proved how her personal politics don't allow for flip-flopping and fake shows of solidarity. How? Oh just by condemning any fans who might vote for Florida's fascist governor and 2024 presidential candidate, Ron DeSantis.
"I'll be happy to tell you I'm very fucking comfortable talking politics," Williams appears to tell the crowd in a fan-recorded video. "And if you vote for Ron DeSantis, you're fucking dead to me."
"So, is that comfortable enough for anyone?" Williams tacked on for emphasis. A word to all politicians, celebrities, and public figures: When it comes to supporting LGBTQ+ folks, it is just that simple.
It's worth noting that Williams has long been a staunch advocate for LGBTQ+ rights. In March, the Nashville native played in her hometown's "Love Rising" benefit concert alongside Maren Morris and Sheryl Crow in protest of the state's legislation that would restrict drag show performances. Last year, she also quietly opened an inclusive hair salon called Fruits Hair Lab, alongside best friend and hairstylist Brian "B" O'Connor.
"I do believe that [the LGBTQ+] community—everything I've ever known about B or any of my queer friends—those are people that were born into the world to survive the bullshit and then put out something that's better, to leave it better than the way that they found it," she told Them in April.
Given we're likely to see an onslaught of bad faith attempts at aligning with LGBTQ+ folks—from crooked elites to corporations (Target's Live Laugh Lesbian t-shirt doesn't count) to, yes, even cops—just in time for Pride month, it's cool to know there are people with platforms like Williams that aren't just capable of, but courageous enough, to do a lot more than wield a rainbow flag on stage.