Beth Fukumoto, once a rising star in Hawaii's Republican state legislature, has officially resigned from the Republican party and seeks to join the Democrats. Her resignation comes nearly two months after her Republican colleagues ousted her for condemning sexist and racist statements and policies made by Donald Trump.

"This election, I saw members of my party marginalizing and condemning minorities, ethnic or otherwise, and making demeaning comments towards women," Fukumoto wrote in her resignation letter. "So, when I listened as our now top office holder refused to condemn the internment of Japanese Americans during World War II, speaking out didn't seem like a choice."
"In serving my district at the Legislature, I've found significant common ground with my Democratic colleagues. Enough common ground that I believe that we can fit comfortably in the same tent," she said in a statement released Wednesday. "For me, I think the Democratic Party of Hawaii allows enough diversity of opinion that the values and ideas that I've always held can find a home there. Democrats that want to change the status quo in Hawaii are still fighting to do it, and I want to help them."
Fukumoto, 33, made history when she became Hawaii's youngest House Minority Leader in 2014. "This should have been the place that we could have launched a whole different Republican Party that reflects what America's going to be," she told The Outline of Hawaii, where the majority of residents are not white.
Fukumoto is a third generation Japanese-American. She had set her sights on ascending the ranks in the Republican Party until Donald Trump's regime came along and called for a ban on Muslims and expressed support for Japanese internment camps. At that moment, she became a vocal Trump critic. "I couldn't not say something. I had to say something," she said. Fukumoto called out Trump's sexism and racism at the Women's March event in Hawaii.
G/O Media may get a commission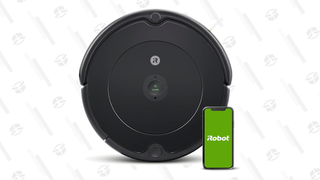 35% Off Black Friday Deal
iRobot Roomba 694 Robot Vacuum
While Fukumoto saw Trump turn his backs on women and people of color, Hawaii Republican lawmakers felt that Fukumoto was turning her back on them. They then voted Fukumoto out of the party's leadership. "They told me they would keep me in this position if I would commit to not disagreeing with our president for the remainder of his term," she said at the time of the ouster. "Mr. Speaker, I am being removed as I refuse to make that commitment. I believe as Americans, and members of this body we have a responsibility to criticize power when power is wrong."
But in Hawaii, Republican intolerance is pushing them to irrelevance. Without Fukumoto, the state legislature only has five Republicans left. "They took away the face of moderate Republicanism when they removed Beth as our minority leader," Rep. Cynthia Thielen, who was outraged by how her fellow Republicans treated Fukumoto, told The Outline. "It signals the end of our Republican Party. Hawaii is a very tolerant, diverse society. And when you come in with a hard right-wing social conservatism, it's just not going to be accepted by the people."
Fukumoto is aware that while her anti-Trump stance made waves in the Republican Party, it's won't be enough to make headlines or launch a platform among Democrats who control the blue state. "This could be the peak of my political career," she said.
Hawaii Democratic Party leader Tim Vandeveer told the AP that it would consider Fukumoto's candidacy, but had some concerns with her voting record. Fukumoto voted against same-sex marriage in 2013 and is pro-choice, but supports limiting access to certain terms. "Changing political parties is not like changing jackets, just because the weather's better on our side of the street," said Vandeveer.