Ever had a "crush" on someone because they, like, wrote something clever on the internet or something like that? Yeah, I don't know, apparently it happens. Anyway, so: "Ally" is a popular writer for a blog that may be owned by Nick Denton. And she has, let's not mince words here, admirers. And she is, let's also not mince words here, single. Single, and easy. -GOING! So whatever; she has drinks with an admirer and maybe three bottles of wine; sex ensues; it's good; she gets this steaming pile the next day. The great thing about this is that not only did pretty much the exact same thing happen to the blogger in this book I read before I started blogging, but it's happened to pretty much every lady writer I know, presumably because we're all heartless uber-realists whose emotions don't need heeding because, you know, we don't have them. That stinging sensation — that must just be the herpes.
Ana Gasteyer Satirizes the Girl Boss in 'American Auto'
Ally,
Was that a one night stand? The start of being fuck buddies? Because it doesn't resemble the start of anything serious that I've been in before.
G/O Media may get a commission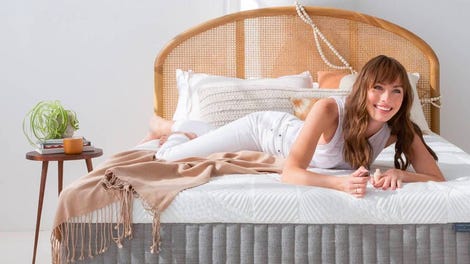 Sleep Sale
Sleep Sale - Brentwood Home
It's clear there is chemistry, but is there more than fucking and witty banter? I say this ESPECIALLY since you have this on again, off again thing with another guy. For the past FOUR years. If there's one thing I know in my life it's that I don't do drama and if you're sharing your bed with another guy that's drama and if you have feelings for him that's DRAMA. In reality fucking you is far more complicated than the fantasy of fucking the you.
Last night I got to live out that fantasy when really I hadn't expected it at all. I'd certainly visualized meeting you at that bar and eventually fucking you, but last night by no means did I intend to fuck you until you were giving me that amazing head which I'd ruled out until you had your hand on my junk - Jiminy Cricket says I should have paid for your cab instead of driving you home. But having lived out the fantasy of fucking you I don't think I can date the real girl. It's the old Rita Hayworth complaint, "Men go to bed with Gilda, but they wake up with me".
I would apologize for spewing this all out in an email, but email is what got us here so it seem appropriate. (you strike me as the kind of girl who wouldn't care if I had apologized) Also I think it's important to be honest with these things and express them once I've made up my mind.
Feel free to hate me. It will only fuel further fantasies about nailing you on future Wednesdays. (In said fantasies you will be taller and more Irish looking, the boobs will stay the same. I imagine if you fantasize in the future the role of Colin will be played by Brad Pitt)
-Colin