Long before Jared Kushner served as the president's shithead senior adviser, he was a massive shithead slumlord in New York.

Much has been written about the Kushner family's real estate company, which reportedly filed false housing paperwork and allegedly charged tenants excessive fees, among other things, and on Thursday, another former tenant wrote about the horrific conditions in the building owned by Kushner's Westminster City Living, the property management arm for the Kushner Companies' residences in New York City.
Dahl wrote about foul, brown water leaking into his apartment:
In October, murky water began spurting from my bathroom wall. The wallpaper cracked and distended before it burst like over-blown bubble gum, exposing the drywall behind it and short-circuiting the bathroom's light and only outlet. For days, I shaved in the dark, more fearful of being electrocuted than missing some hairs under my jaw.
He wasn't the only one experiencing this, it turns out:
My water problems, however, were nothing compared to those of other tenants. Kushner Companies has a history of using coercion, bullying, and "construction as harassment" to force tenants out, gut renovate the empty apartments, raise the rent, and make way for high-paying condo buyers. In fact, Kushner Companies' apathy for its tenants' well-being borders on hostility.

Elsewhere in my building, workers drilled a wide hole directly above one tenant's shower, she told me, dripping dirty water onto her for a month. Residents Mark Fritsche, Mary Ann Siwek, and Christine Davis have all endured ceiling collapses due to pipe leaks — including, in Davis' case, a sewage pipe. Siwek told the Daily News, "The trauma of having your bathroom collapse in the middle of the night is the most frightening experience."
G/O Media may get a commission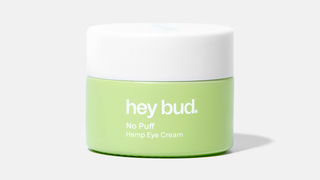 15% off
Hey Bud - No Puff Hemp Eye Cream
One dude had to get stitches from a rusty nail. How did he stab himself? Because he slipped on vomit that was not cleaned up. Other tenants "developed respiratory problems — including, for six weeks in January 2014, pneumonia — from an infestation of black mold that grew after her apartment flooded."
Also, more issues with the water:
For a week straight at Kushner-owned 201 East Second Street, brown water came out of "everyone's faucet," former tenant Alessandro Harabin told me recently. "I know this because all the neighbors on my floor would talk about it — we had a whole email thread." He showered at the gym and was forced to buy bottled drinking water.

At 331 East Ninth Street, "dirty liquids emanat[ed] from the ceiling and [fell] onto the floors and bedding, causing unsightly stains and foul odors," according to former tenant Hannah Barr. Her washer/dryer once leaked so much water that it set off the fire alarm. In the same building, three days before Thanksgiving in 2013, contractors renovating the apartment above Uta Winkler's ruptured a pipe, sending 19,000 gallons of water — "similar to the intensity of water released from an open fire hydrant," she said in a lawsuit filed in 2016 — gushing through her ceiling.
You can read more about the horror over here and take no solace in the fact that Kushner is now in charge of peace in the Middle East.